Inspiration forged by participation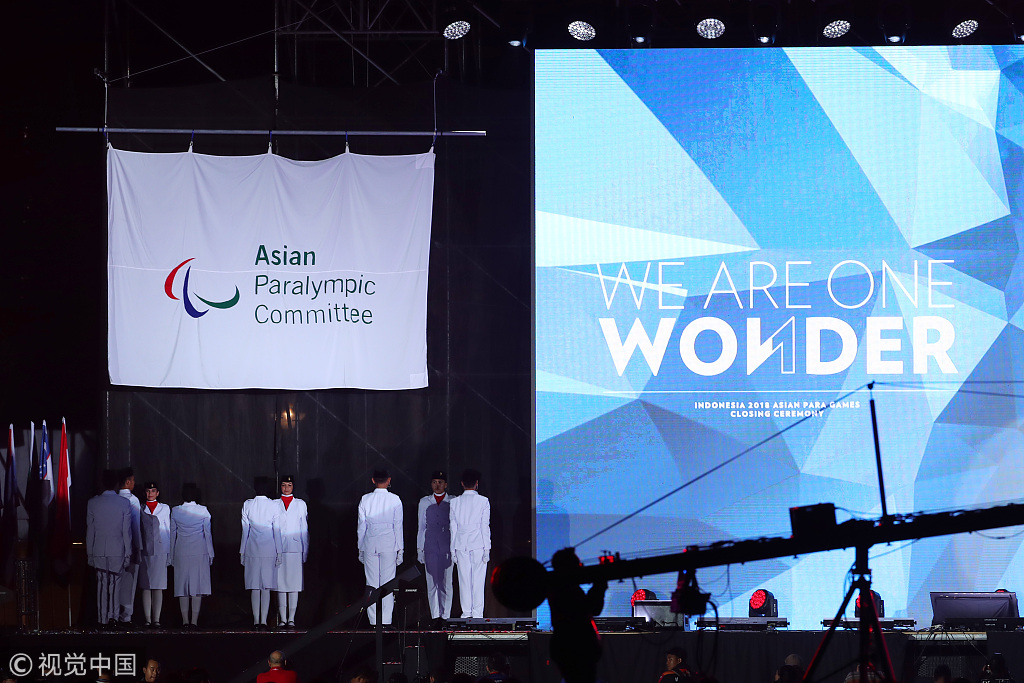 Medal haul underlines China's commitment to para-athletes
The dominant performance of Chinese athletes at the Asian Para Games is helping promote sports participation among disabled people while boosting social integration.
As the 3rd Asian Para Games wrapped up eight days of action in Jakarta on Saturday, the 232-member Chinese delegation topped the medal table with 172 gold, 88 silver and 59 bronze-winning the quadrennial event for the third straight time after Guangzhou in 2010 and Incheon, South Korea, in 2014.
China's largest delegation in the event's history competed in 15 of the 18 events, winning medals in all of them, with athletes in track and field leading the way with 56 golds.
Chinese athletes also broke seven world records and 21 Asian records in the competition, which attracted around 3,000 athletes.
Beyond their athletic accomplishments, the stories of Chinese para-athletes striving to realize their dreams while overcoming disabilities deserve to be hailed as inspirations, said Zhang Haidi, president of China's National Paralympic Committee and head of the delegation.
"The biggest reward for our para-athletes is the proof that they can be as strong as ordinary athletes on and off the playing field," said Zhang, who also chairs the China Disabled Persons' Federation.
"Sports participation has a decisive significance for people with disabilities, allowing them to live better lives, encouraging them to get out to get more involved in social integration and giving them confidence to communicate with people," said Zhang, who formerly competed in 10-meter wheelchair air pistol.
South Korea finished second to China in the medal standings with 53 gold, 45 silver and 47 bronze, while Iran placed third.
Hangzhou, capital of East China's Zhejiang province, will host the next Asian Para Games in 2022. Wang Hong, vice-mayor of Hangzhou City, received the Asian Paralympic Committee flag during the closing ceremony after a six-minute handover performance delivered by Hangzhou.
China has dominated the Far East and South Pacific Games for the Disabled, a precursor to the Asian Para Games, since it competed for the first time in 1982, topping the medal standings on eight occasions.
Hua Qingpang, a Paralympic sports promoter and former official of the National Paralympic Committee, said the key for Chinese athletes to dominate at these events is improved access for the disabled to training facilities and guidance.
"The improvement in facilities, guidance and accessibility to sports, both for recreation and rehabilitation, has steadily progressed, making sports participation among the disabled easier and more fun," he said.
According to the CDPF, the country has trained more than 42,100 fitness instructors for disabled people and built 225 provincial and 34 national para-sports training centers as of 2016.
The number of registered para-athletes has reached 10,000, with about 3.35 million of the country's 85 million disabled people participating in sports at least once in the past five years.