Retiree sees world on a saddle
By Liu Kun in Wuhan and Li Hongyang in Beijing | China Daily | Updated: 2018-10-15 09:57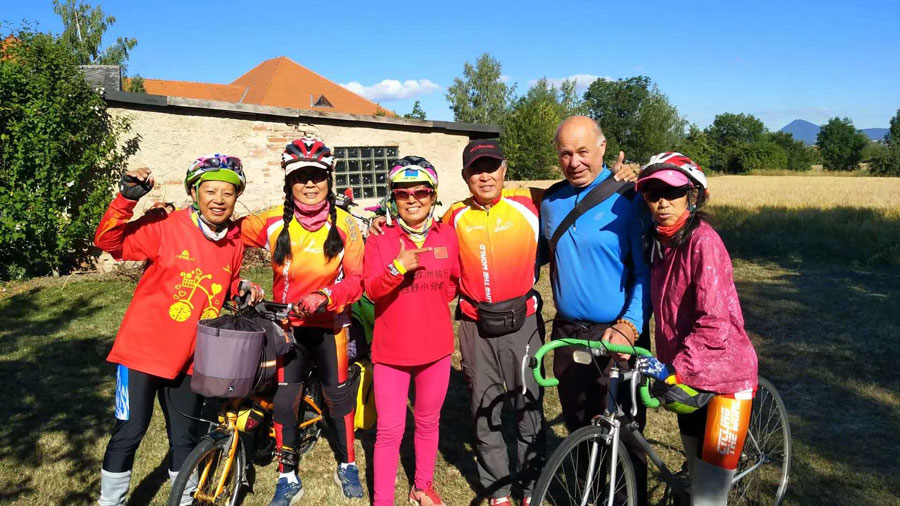 Lin Heping led team of elderly cyclists on 89-day tour of Europe
Retired police officer Lin Heping, 61, did not put his feet up after returning from an 89-day bike ride around Europe on July 23.
Instead, he finalized plans for a cycling tour of the Tibet autonomous region, setting out on Aug 12 with 13 other cyclists and returning on Aug 31.
"I wanted to experience high-altitude regions, to hone my adaptability to that kind of environment," he said. "We also enjoyed good views along the way."
Next year, he plans to form a team of at least two to cycle around Central and South America for eight months.
Lin, from Wuhan, Hubei province, has spent his retirement cycling around the world. He developed heart disease when he was 53, and in 2011, he was diagnosed with bladder cancer, which required surgery. The next year, he decided to spend the rest of his life seeing the world on his bike.
"I felt the shortness of life and the importance of a healthy body and exercise after these treatments," he said. "I chose to ride because I had problems with my knees. At first, I would feel dizzy after an hour's riding. But later I did not feel that nervous and became more confident."
In 2012, he organized a team of more than 100 cyclists, all aged between 50 and 70, in Wuhan. They rode to nearby cities, as well as cities in provinces like Anhui, Henan and Jiangxi, once a month.
His first overseas cycling trip, which covered Singapore, Malaysia, Vietnam and India, was in 2013.
"In November last year, I started to prepare for the European journey and select my teammates," Lin said. "About 60 people applied online. A one-month journey around Hong Kong, Macao and the Guangxi Zhuang autonomous region was planned to test their physical strength, finances, cycling experience and living habits."
On April 25, Lin and seven fellow riders - one man and six women, all dressed in red uniforms and carrying flags - took a train from Wuhan to Beijing and then flew to Amsterdam in the Netherlands. The average age of the team was over 60 years old, with the oldest member 68.
Four completed the 4,500-kilometer journey, passing through 30 countries, including Belgium, France, Italy, Spain and Denmark, in 89 days before returning to China on July 23.
One of the women dropped out in Amsterdam because her bike was stolen. Other bumps in the road included being unable to find accommodations - they were reported to the police in France for sleeping in tents beside the road - and language barriers.
"The biggest challenge during the journey was language," Lin said. "Though I attended a few English classes, I couldn't maintain my interest. I would usually say 'Do you speak Chinese?' every time we needed to communicate with foreigners."
After completing more than half the trip, three other cyclists - a man and two women - quit one after another.
"Tu Shaolin went back home to see his mother who was in hospital; Jiang Nan felt physically exhausted because there were so many mountain roads in Italy and she had never cycled a long distance before; and Ma Li caught a severe cold and broke her bike frame," Lin said.
Lin and the other three remaining riders kept going until they reached Copenhagen, the Danish capital, and flew back to Beijing.
"We spent 28,000 yuan ($4,090) per person on average for this journey, which is relatively cheap," Lin said.
"Smiles, appreciation and help from tourists and police officers along the way were encouragements to us. We'd like people from the world to see the vigor and vitality of Chinese senior cyclists."