Military-civilian integration a necessary step
By Wang Lu | China Daily | Updated: 2018-10-17 07:58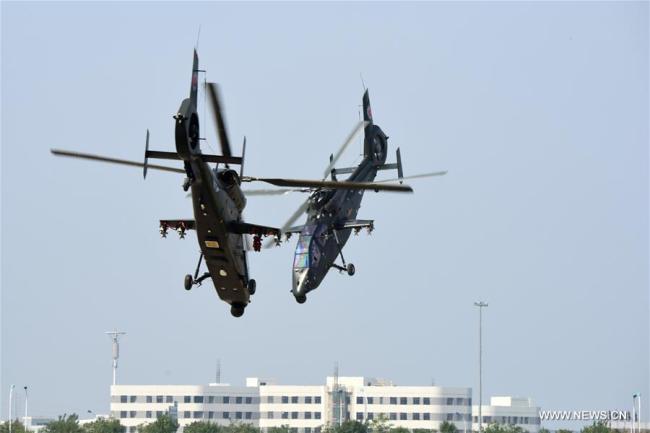 Against the backdrop of the intensification and upgrading of competition among major countries, combining efforts to make the country prosperous with efforts to make the military strong, and making overall plans for development and security are essential to consolidate China's economic and national strength.
The flow of information, technologies, talents, capital, facilities, services and other elements between the military and local governments, gives emphasis to joint development and the sharing of military and civilian facilities to improve the efficiency of innovation in military technologies and promote the high-quality development of the economy.
Historical experience shows the greater the disparity among major powers' military strengths, the more likely confrontation, conflict and war are to occur. The United States launched a military-civilian integration strategy in 1994, with the aim of combining the foundation of its national defense technology industry with the larger foundation of civilian technologies into a united foundation for the national technology industry to support its hegemony.
Despite China's military modernization efforts so far, the disparity in military strength between China and the US is still obvious. Nevertheless, the US has defined China as a rival and formed alliances with surrounding countries to contain and pressure China, leading to high risk of military conflict in certain areas.
Real-world solution to regional security threats
Chinese military-civilian integration aims to solve real security threats and accomplish the mission of maintaining peace and stability. In recent years, the Chinese military's performance in international peacekeeping, escort services in outer ocean areas, international humanitarian assistance and other tasks has been widely recognized. However, the surrounding regions such as the South China Sea still offer potential threats of war, unprecedented external military disruption is the biggest threat to the South China Sea's peace and stability. If the Chinese navy does not have a strong deterrent capability, the maintenance of regional peace will be empty talk.
History tells us that it is dangerous to forget war. But while on the one hand, we should deploy the military facilities necessary for national defense on our islands and reefs in the South China Sea. On the other hand, there should be more civilian facilities than military ones, it should be emphasized their function is to provide public services for all countries, by providing meteorological observation and facilitating maritime and aviation safety and ocean rescues. The Chinese government has emphasized repeatedly that after being built, the islands and reefs will offer related public security products and services to the region and countries to assist the international community in anti-terrorism and anti-piracy efforts and jointly maintain the South China Sea's peace and stability.
Fairer governance of cyberspace
Likewise, Chinese military-civilian integration pursues peace and order in cyberspace. Global nontraditional security threats represented by cyberspace security are increasingly prominent, and cyberspace has become a new domain for national security and a battlefront determining the outcome of wars. However, some developed countries monopolize international cyberspace governance with overwhelming technological advantages, keep strengthening their military cyberspace capabilities and are escalating the risk of global cyberspace confrontation, while all countries with less developed cyberspace capabilities face common challenges such as online ideological infiltration, cybercrimes, network attacks, and intelligence theft. As President Xi Jinping has said: Cyberspace should be in the hands of all countries, which should work together to jointly build a community with a shared future in cyberspace. China with the largest population of internet users in the world should contribute to maintaining global cyberspace peace, and seek to break the monopoly of global cyberspace governance. In the face of the constantly growing cyber security threats, only by taking military-civilian integration as leverage to fully upgrade China's cyberspace security defense system and actively strengthen its voice in global cyberspace governance will it be able to encourage the building of a democratic and transparent global cyberspace governance order.
Support for national rejuvenation
Chinese military-civilian integration will adhere to the ultimate goal of building and maintaining a community with a shared future for mankind. China advocates building an open, inclusive, clean and beautiful community with a shared future for mankind. A community that enjoys lasting peace, universal security and common prosperity is the historical trend and the changing world situation. China will steadily realize the dual goals of making the country prosperous and making the military strong, so it can share the dividends of peace and development with the world, and shoulder its duties and responsibilities as a major power, actively and appropriately strengthen its ability to solve international conflict through peaceful and just means and unswervingly contribute to building a community with a shared future for mankind. This is not only the goal pursued in the course of national rejuvenation, but also the faith in peace cherished by the Chinese nation as a member of the community of nations forever.
The author is a researcher with China Society of Administrative Reform.