A hands on enterprise
By Jiang Yijing | China Daily | Updated: 2018-10-17 07:00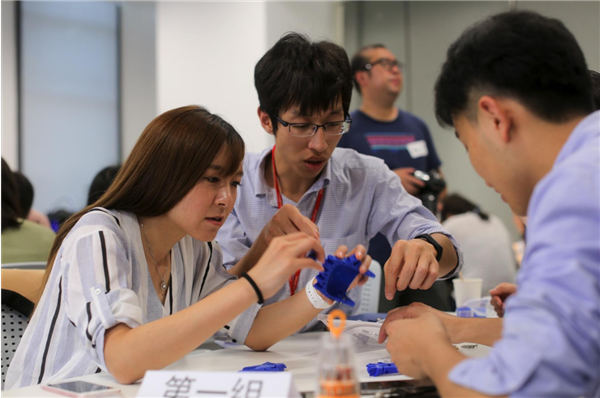 A social program is pioneering the emergent and cost-effective field of 3D-printed prostheses, especially for children.
The best package 11-year-old Zhang Jingtian ever received was his 3D-printed prosthetic hand.
The courier delivered the box a day after Spring Festival in 2017.
"I've got my hand!" he yelled, repeatedly, after his mother helped him open it.
Zhang, who was born without a left hand, had long wished for a prosthesis, but it had always been too expensive.
However, his prosthetic came from the social enterprise, Hands On.
The group's founder, 30-year-old Zhang Yan, who works in Google's Beijing office, started to learn about the 3D printing of prosthetics through online research about three years ago.
"The high-tech production of prostheses caught my attention," he recalls.
"The more I learned, the more excited I became."
Realizing possibilities
While conducting research, he came across Yu Yang, who was raising money to produce a 3D-printed prosthesis for her son, Nan Nan, who's now 9 years old.
Yu told Zhang Yan that China has many children like Nan Nan with limb disabilities, but some parents can't afford the costs of surgery or prostheses.
Traditional prosthetic hands cost at least 150,000 yuan ($21,000), but 3D-printed hands are about 1,000 yuan.
"The huge price gap made me realize the value of 3D-printed prosthetics," Zhang Yan says.
"I decided to do something."
Yu introduced Zhang to a QQ chat group called Zheyi Tianshi (Angel With Broken Wings). The group had about 2,000 members, including parents, doctors and other people willing to help children with limb disabilities.
Through the group, Zhang Yan met 24-year-old Su Jiangzhou, a mechanical-engineering postgraduate student at the Beijing Institute of Technology, who has long focused on 3D printing.
Su won a prize for a 3D-printed hand he designed in a 2014 contest, but his creation wasn't that useful in application.
"I'm passionate about mechanical design and eager to see my work's value," Su says.
"I wanted to improve my design to make one that could be used."
Su later made contact with Enabling the Future, a global network sharing open-source designs of 3D-printed hands and arms.
"The designs they shared far exceeded mine at the time," Su says.
"I learned that their models hadn't been used in China. I asked for the group's support to introduce them to the country."
Zhang, Su and three friends founded Hands On in late 2015, and started using their free time to provide free 3D-printed hands for children.
Improving technology
Hands On initially relied on Enabling the Future's designs, but Su continued to do research and Hands On eventually developed its own products.
"Once we'd made progress with design, we found more families of children without prostheses and also started to contact people we'd helped before to offer them better replacements," Su recalls.
Their social enterprise has donated over 90 prostheses and helped 55 children, Su says.
It provided Nan Nan with upgraded 3D-printed hands.
"Nan Nan's palm and fingers were small, making it difficult to design a functional prosthesis for him," says Yu, who lives in Weihai in East China's Shandong province.
"Su has tried several times and has sent us three hands by now. Nan Nan couldn't hold much with the first model, but the later ones continued to improve.
"The newest hand can hold a cup using less strength than before."
The mother says she's grateful to see her boy become more outgoing and confident.
Related Stories