Sichuan students make US friends
By LINDA DENG in Olympia, Washington | China Daily USA | Updated: 2018-10-18 01:57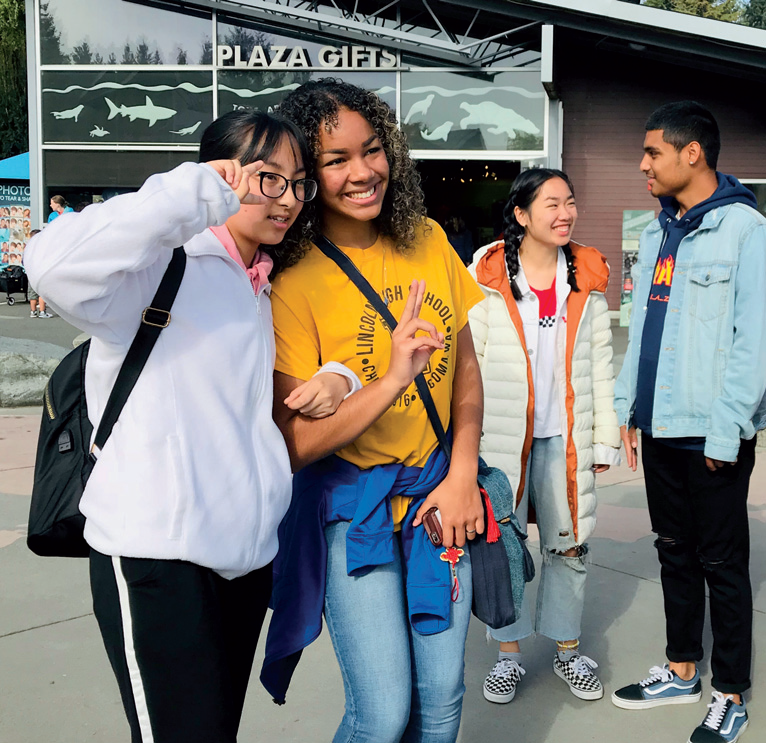 After spending a week in Washington state, 25 students from Sichuan province in Southwest China said they have gotten an authentic American experience and felt so lucky.
Huang Yulin, a student at Ziyang Middle School, completed her to-do list as she arrived with her peers in the delegation at Sea-Tac International Airport last Thursday.
"I want to know how the daily life of American people looks; I want to talk to the students in the United States to see the similarities and differences between us; I want to sit in the classroom at an American school, to see what they are learning," Huang said on the second day of the trip.
The students spent the first night with host families, sampled some local cuisine and toured the Point Defiance Zoo & Aquarium in Tacoma last Friday.
Accompanying Huang were two students from Tacoma's Lincoln High School. The girls talked about their classes, favorite games and songs. Huang's American peers also frequently mentioned their previous trip to China.
Two years ago, 100 students from Lincoln High School visited China as guests of President Xi Jinping.
Haley Naparan was a junior at Lincoln when she was part of the trip to China. Naparan, now a college student, said she was excited that Chinese students were visiting Tacoma.
"It is so good to be reconnecting with friends from beautiful Sichuan province, the hometown of giant pandas," she said. "China has a place in my heart. Our old friends had showed us around town while we were in China. Now it is like our roles switched. It is our turn to show them our language, culture and our perspectives. It feels like I was back in China," Naparan said.
Araya Zackery was a sophomore when she traveled to China. She was smiling the entire time as she answered the Chinese students' questions.
"The warm welcome and sincerity really made us feel right at home," she said. "I feel so lucky to be able to be exposed to a completely different culture with so many teachers and Chinese students."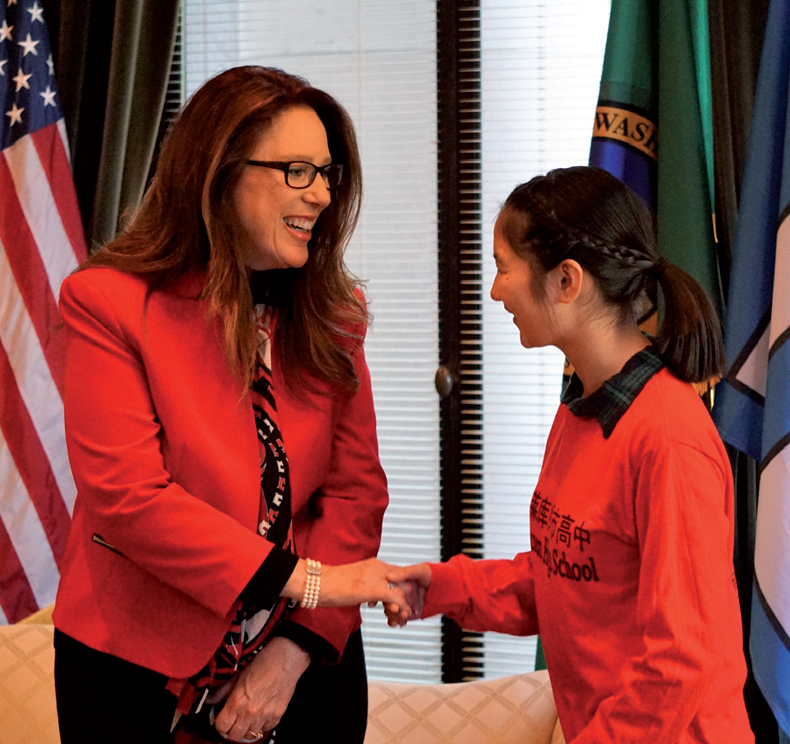 The principal and students from nearby Steilacoom High School also accompanied the Chinese students on their tour.
"The ability to create friendships on the other side of the world is really awesome. We are thrilled to encourage and continue it in the future," said Principal Mike Miller.
To the students' surprise, Washington Secretary of State Kim Wyman met the delegation at her office in Olympia on Tuesday, where she discussed her responsibilities and took questions. She said she hoped that as the students look into the future, they will be inspired to do something big.
"I want to say thank you to the state of Washington, as the state had helped my hometown after the earthquake. I am here because of help from so many people, and I feel so lucky," said Luo Shuxin, a ninth-grade student from Beichuan, a hard-hit county in the 2008 Wenchuan earthquake.
The trip's organizer, the Department of Foreign and Overseas Chinese Affairs of Sichuan provincial government, said the golden opportunity for Chinese students to learn also planted the seeds of friendship.
The visiting students were drawn from 10 schools from seven cities and counties in Sichuan province.
The delegation also toured Mount Rainier, Seattle and Tacoma. The trip was sponsored by the US-China Youth and Students Association. The Sichuan and Washington state governments, Hainan Airlines, and the Washington State Panda Foundation helped coordinate the trip.
Contact the writer at lindadeng@chinadailyusa.com