Propelling toward prominence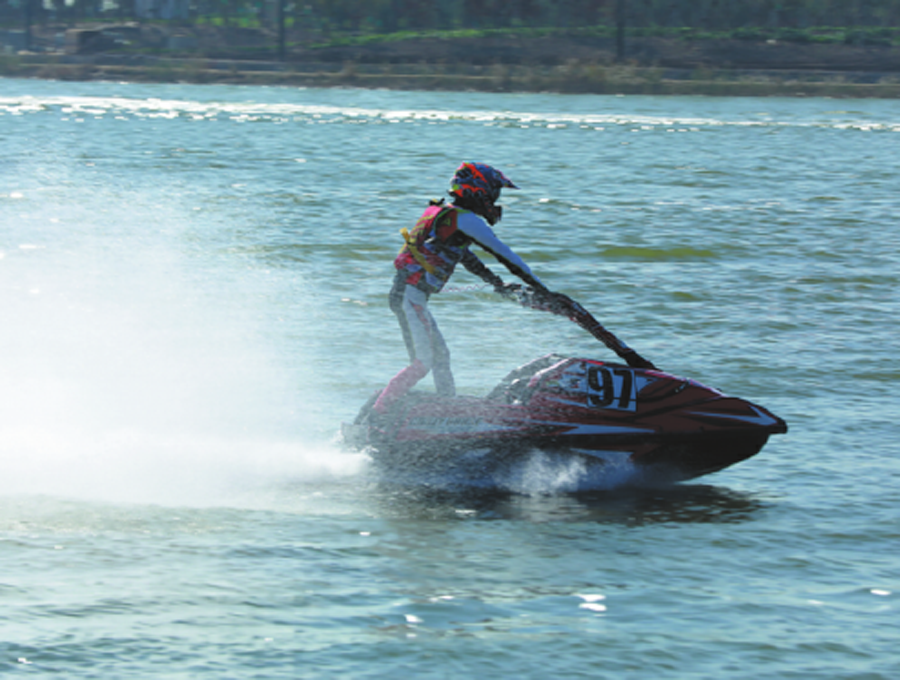 Young Chinese racer making waves in burgeoning world of competitive jet skiing
Jet skiing tends to be thought of as something fun to do on vacation, however for a small but increasing number of Chinese the adrenaline-fueled activity is a much more serious pursuit.
The water sport's credibility as a viable sporting career received a significant boost this summer when it made its debut at the Asian Games in Indonesia.
Wang Xiaowei represented China in the runabout limited competition at the Games, and although the 21-year-old was disappointed not to pocket a medal-with teammate Wu Ronghua finishing fourth-he has not let that setback dampen his enthusiasm.
Indeed, Wang is already eyeing glory at the next Asiad, in Hangzhou in 2022.
"I was not lucky in Jakarta. I was in second place until the end of the third round, but I encountered engine failure which meant I had no points in the final round," Wang told China Daily at last week's China Shandong Beihai Jet Ski Racing Open at Beihai Wetland Park in Binzhou, Shandong province, where the talented 21-year-old was the undoubted star of the show.
"Although we did not win in Jakarta, we are still very competitive compared with athletes from other countries. There's no apparent gap.
"However, I have to say that the Japanese athletes, although they did not come to Jakarta, are very strong and they're our main opponents."
Wang had been on a roll before heading to Jakarta, bagging Asian and national titles several times since 2014 and ranking first among China's stand-up jet skiers.
However, with the sport in its infancy here, foreign racers still have the upper hand-especially because, as Wang explained, they benefit from training more on the sea as opposed to lakes, making them better able to negotiate waves.
An influx of crossover athletes is helping China catch up to its rivals.
"More and more talents from provincial team have joined us, and we have good quality training equipment," said Wang. "Some of them are crossover athletes who started their athletic lives as swimmers or divers."
Wang discovered his passion for jet skiing when he was just a boy.
With his parents pushing him towards artistic pursuits, drumming and calligraphy classes failed to spark his interest. As far as sports went, snooker proved too sedate for his liking before a holiday in Shanghai turned out to be a life-changing experience for the youngster.
"I jet-skied for the first time in 2007 when I visited Shanghai jet ski team as a little boy with my father on a summer vacation," recalled Wang.
"I could not stop after my first ride. Years later, I started to take it more seriously.
"The career of a jet ski racer can be very long. Some of the world's best racers are over 40 years old. This is my passion, and my goal is clear that I want a gold at the Asian Games in Hangzhou in 2022."
And with Wang possessing such steely determination, it would be a brave man to bet against him achieving that.