Share your Chinese culture emoji designs and win prizes
chinadaily.com.cn | Updated: 2018-10-22 14:54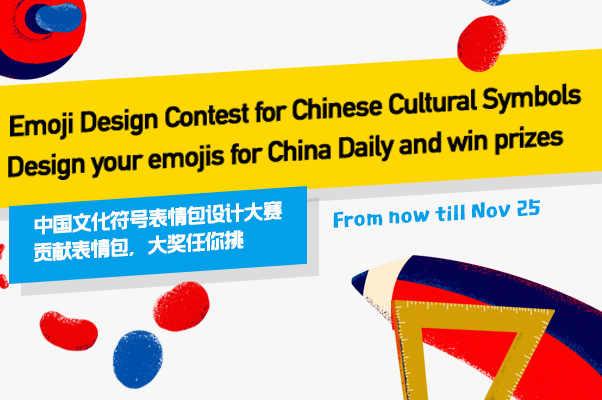 Which symbol best represents Chinese culture in your eyes? Is it the panda, kung fu, or the Great Wall? Here's your chance to decide what emojis best represent Chinese culture!
The China Daily Emoji Design Contest of Chinese Cultural Symbols is calling for entries from all over the world! No matter the style, share your creative ideas with us!
All winning designs will be shared and promoted on the China Daily app, and winning designers will receive prizes! So let your creative juices flow!
Theme
The emojis should be centered around the subject of Chinese culture, presenting classic or popular cultural images in the form of emojis.
Who can participate?
Professional designers
Design enthusiasts
Anybody who loves emojis
- All nationalities are welcomed.
Awards
First prize: 6,000 yuan, with certificate of honor
Second prize: 3,000 yuan , with certificate of honor
Third prize: 1,000 yuan, with certificate of honor
Most popular award: prize-winner voted by online users
When to submit?
From now till Nov 25
Online voting
Nov 26 to Dec 7
Result announcement
End of December
Requirements
1. Work should be submitted online with required personal information. Maximum of three works can be submitted by each applicant. Only one prize will be awarded to participant even if more than one work by the same designer is selected.
2. Submitted works must be a group, with 8 to 16 emojis in each group. Formats: jpg/png/gif/jpge. Size: 240x240px. Each picture should not exceed 100K, and the size of each group should not exceed 1.6M.
3. Work title, designing ideas and cultural meaning should be submitted as required.
Organizer
China Daily Website
Open this page on PC to participate!