University launches global governance studies school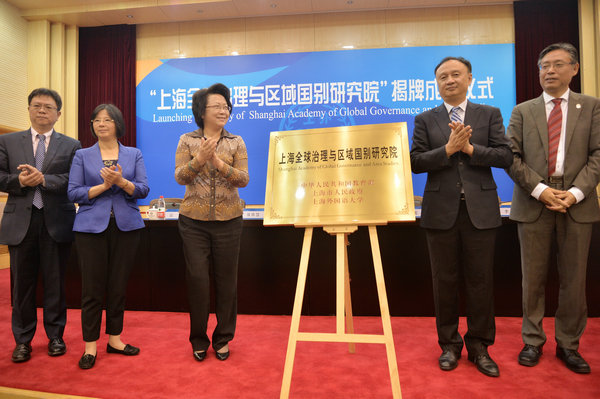 Shanghai International Studies University has opened a new institute to promote Chinese participation in global governance as well as help Shanghai become an "excellent global city".
The Shanghai Academy of Global Governance and Area Studies, established on Sept 28, aims to become a platform for international public-opinion research and a professional information and data center to provide suggestions to policymakers and business leaders and educate the general public, the university says in a statement.
The new institute also aims to integrate with similar institutes in the city's other universities to play a larger role, Jiang Feng, Party secretary of SISU, says.
There are 52 regional and country-studies centers in 14 other universities in Shanghai. The new institute will collaborate with these centers and 30 think tanks based in the universities in the city.
The preparation for its recent launch had started a while ago, with SISU receiving national-level delegations and think tank experts from countries and regions involved in the Belt and Road Initiative. SISU also undertook field research, focusing on national and social conditions in the Middle East, Africa, South Asia and Central Asia.
Several reports have been compiled by the university and adopted by governments, the university says.
Weng Tiehui, deputy mayor of Shanghai, says that the new institute is of significance to "mutual political trust, economic integration and people-to-people bonds between China and the other countries and regions involved in the Belt and Road Initiative".
Weng adds that it could help Shanghai meet its five goals: becoming an international economic center, a financial center, a trade center, a shipping center and a science-and-technology-innovation center.
Several master's programs, including global-civilization-history research, mutual learning and integration of civilizations, and European-integration studies will be available at the academy.
The master's degree program in Eurasian civilization began this fall semester. Students are expected to spend three years in mainly Russian and Central Asian studies.
"We aim to cultivate graduates who are outstanding in academic research on Eurasian affairs and practical research on China-Eurasian relations, and churn out a new generation of experts for relevant government departments, society and academia," Jiang says.