Legendary Chinese-American artist gets the Google nod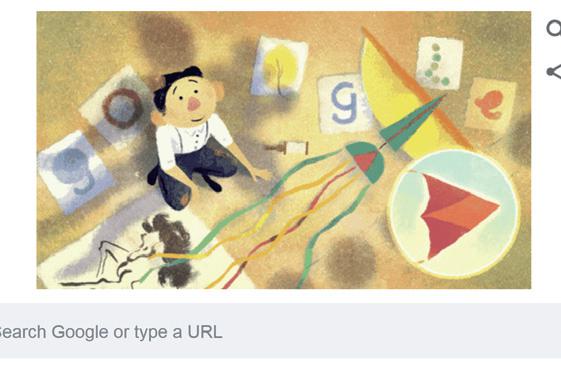 Google users got a delightful surprise today. The coveted Google Doodle banner on their home page was devoted to the 108th birthday of Chinese-American illustrator and painter Tyrus Wong, who passed away in 2016.
Wong, whose paintings served as the visual inspiration for Disney's animated classic Bambi, was born in China before immigrating to the US at age 9, his family settling in the San Francisco Bay Area.
His high school teachers recognized his talent early on and arranged for a summer scholarship for him at the Otis College of Art and Design.
He left junior high to attend Otis full time and upon graduating took a low-level animation job in 1938.
Hearing about Walt Disney's Bambi project through the grapevine, he created a series of lush pastels of deer in a forest — in classical Song Dynasty style — and Uncle Walt was so impressed he used them as the basis for the film.
Wang worked on Bambi for nearly four years but was fired from Disney in the wake of an animators strike in 1941.
As a film production illustrator for Warner Brothers from 1942-1968, Wong drew set designs and story boards for Rebel Without a Cause, Around the World in Eighty Days, Harper and The Wild Bunch.
In his long career, Wong went on to work as a painter, lithographer, muralist and designer. His paintings grace the walls of several museums around the world, including the Art Institute of Chicago.
In 2001, Wong was named a Disney Legend, and in 2013 he had his artwork featured in the Walt Disney Family Museum.
In October 2006, Wong received two honors at the Asian World Film Festival. He was awarded with a lifetime achievement award on the opening day, with the following day (his 106th birthday) being the screening of the documentary about him titled Tyrus, directed by Pam Tom.
"To get an idea of how talented he was, in his early 20s his work was exhibited with artists like Matisse and Picasso," Tom told China Daily last year.
The group that Wong was exhibiting with was referred to as the California Orientals, said Tom, which represents a group of Japanese- and Chinese-American artists who were helping to shape modern art in California in the 1930s.
"Once World War II came along and the Japanese were placed in internment, that whole movement fell apart," said Tom.
She is convinced that Wong never achieved a proper level of acknowledgement because of the war.
When Wong died, Nelson Coates, president of the Art Directors Guild, said, Wong's "work and life inspired so many of us with his passion, originality and creativity."
Contact the writer at chrisdavis@chinadailyusa.com.