No longer a follower, but a leader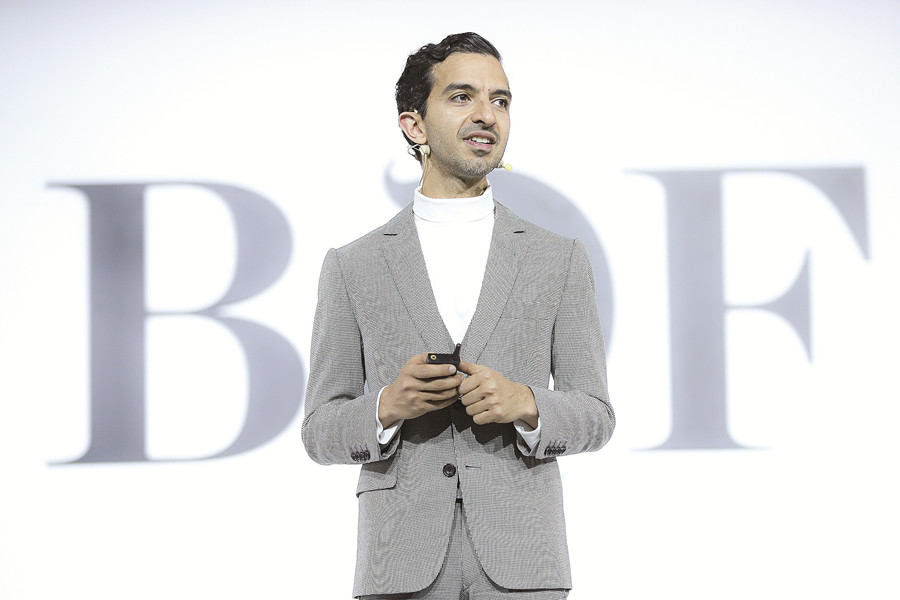 Imran Amed, founder and editor-in-chief of The Business of Fashion, speaks about China's rise in the global fashion scene and how it's an important part of the industry's evolution
While the white tent at Shanghai's landmark Xintiandi area was teeming with a galaxy of celebrity designers showcasing their present creations at the 2019 Spring Summer Shanghai Fashion Week, a group of executives, entrepreneurs and icons of fashion circles from China and overseas were seated in a conference room just blocks away, engaged in a task that involves the future of the industry.
Known as the BoF China Summit, this gathering of the top minds of the global fashion industry is managed by fashion website The Business of Fashion and has, according to organizers, quickly risen to be one of the most important events of Shanghai Fashion Week. This was the second consecutive year the summit took place.
Themed New Frontiers, this year's summit was attended by high-profile fashion gurus such as Marco Bizzarri, president and CEO of Gucci, Ermenegildo Zegna, the fourth-generation CEO of his family's fashion house and brand, Michael Ward, managing director of Harrods, as well as representatives from a dozen Chinese retailers.
"These are the people pushing the boundaries and propelling the industry forward in an ever-challenging and uncertain world where values are as important as profit," said Imran Amed, founder and editor-in-chief of The Business of Fashion, which is headquartered in London.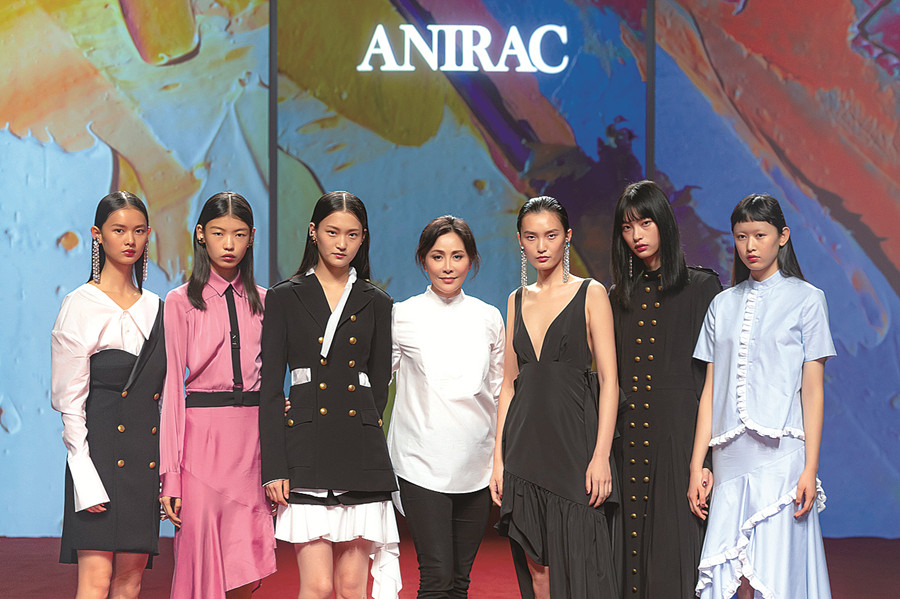 A leading fashion commentator and influencer himself, the 43-year-old Canadian-British was appointed by Queen Elizabeth II as a Member of the Order of the British Empire for services to the fashion industry in 2017. His website receives 1 million visitors from around the world every month, including designers and executives. In 2014, the media and technology company entered China and launched its Chinese version.
Following the summit, Amed spoke to China Daily USA exclusively about his views on China, fashion and the Chinese fashion industry.
What's your main takeaway from the summit?
Millennials. They are just such an integral part of consumption. It's not just about viewing millennials as consumers. Rather, it's about what this generation of consumers are doing to change consumer behaviors across demographics. Everyone is a bit more casual today. Everyone is wearing sneakers. Even Mr Zenga isn't in a stiff suit today, but something that can be put into a washing machine.
What's so interesting is that brands are coming to China to test all of their new concepts and ideas. Now, the markets in the East are being prioritized. That is how vital this market is.
What's your view of the likes of Li-Ning having a fashion show at New York Fashion Week?
In the world right now, there are still four major fashion weeks. Everybody else is kind of at a lower level. Fashion weeks in Shanghai, India and Brazil may be gaining momentum and attention, but if you want to make a splash on the global stage, you really need to have a presence in the big four where all the international buyers and presses gather. It's not about communicating to French, British or Italian audiences — it's about sending a message to the world. On the other hand, the brands that are showing up in the West are also gaining attention at home. I think such a move by Li-Ning will drive awareness. Other things like sales will come later.
Do you think China can grow from a major consumer into an equally influential producer of fashion?
I don't have the crystal ball. But what I know is that when I go into the stores here and look at the quality of the things made in China, they are very good and of great value. What I also know is that consumers everywhere in the world care about value.
There is the ability to produce here in China. There is very good creativity. The segment that still needs work is branding and communication. All of the brands that have existed for such a long time have had to communicate in a really sophisticated way. It requires international levels of photography, styling and marketing.
One of my favorite designers here is Uma Wang, whose show in Paris is the one I try to attend every season. Her works are of a global standard.
Does Uma Wang showcase a unique Chinese touch?
What does it mean to be Chinese now? If you walk around the streets here in Shanghai, there is no uniform anymore. People are dressing up so differently. I think what fashion is and what makes fashion exciting is being able to express your own individuality and personality.
You don't buy Chanel because its founder is French but because it's Chanel.
So is Uma Wang Chinese? Which part of China? I don't know. But I know she makes her fabrics in Italy. She bases her business in Shanghai. And she sells in London. She is operating on a global level.
Do you think it's just a matter of time before China has its own Chanel?
I don't know. Chanel did spend more than 50 years to be what it is. Some other brands may take a century. But I think it also takes other things like a really clear brand signature, strong creativity, high production quality, excellent communication and capital to become such a brand.
The latest BoF 500 list (a fashion power list compiled and updated by the website every year since 2013) has a record number of 33 people from China, including Jack Ma and Pony Ma.
How have internet and tech been shaping the fashion industry?
Online B2C e-commerce sales reached almost $500 billion last year. Over 52 percent of customers in China shop using their mobile phones at least once a week. This mobile-first e-commerce landscape has been enabled by social networks and digital payment platforms developed by Alibaba and Tencent. Both Jack Ma and Pony Ma have been instrumental to the daily lives of Chinese consumers with their creations such as Taobao and WeChat.
There is also Kevin Systrom (co-founder of Instagram) on the BoF 500, which shows that this is a list not just for people in fashion, but for people shaping fashion. Tech today is like air — it's merged with everything.
How do you think the global fashion world would evolve in the next few years?
I am not sure if it's going to be faster. It's already so fast. But I am sure there will constantly be changes. We live in an era with unprecedented changes. One of the things Marco Bizzarri said today is that "I just focus on things I can control". That's what we should get used to.
What role would China play in this evolution?
A lot of what we heard today is that China is no longer a follower, but a leader. Zegna is increasingly using this market as a testing ground because they believe things that work here tend to work elsewhere.
Marco also said that the first consumer that responds to a new Gucci product is the Chinese.
Contact the writer at xujunqian@chinadaily.com.cn