Bike-sharing company to launch London JV
By Angus Mcneice in London | China Daily | Updated: 2018-10-31 09:45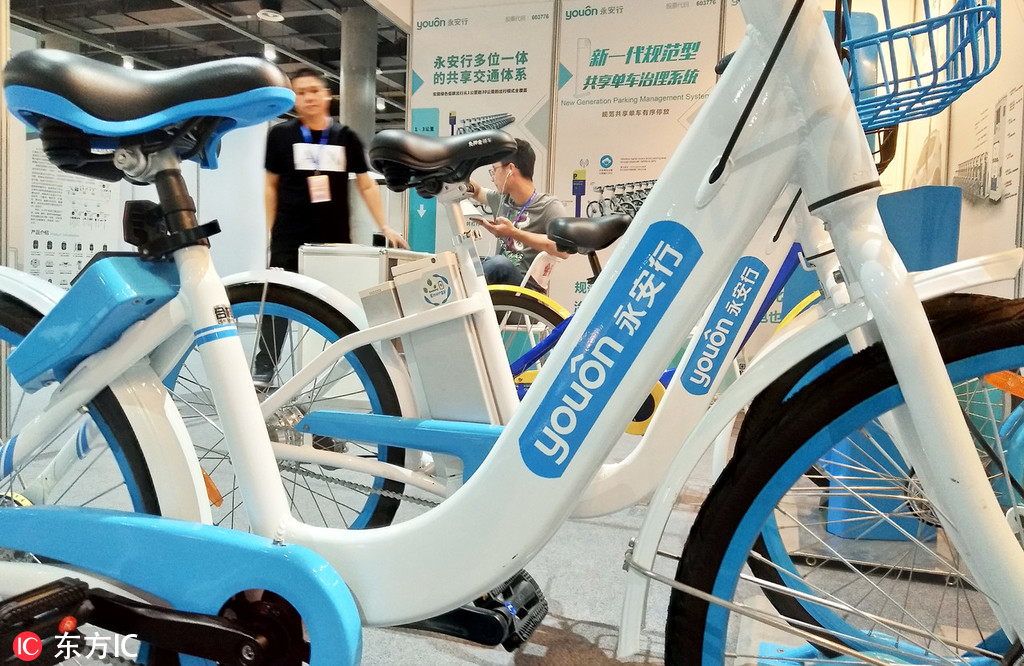 Chinese bike-sharing company Youon Technology Co Ltd will form a joint venture with United Kingdom operator Cycle.Land to roll out 1,000 new dockless bicycles in London in March, the enterprises announced on Monday.
The companies have signed a strategic partnership and will soon establish a UK-based joint venture company. Youon will provide the bicycles and Cycle.Land will operate and maintain the new project.
"What makes this partnership work is that Youon has the scale, and we can bring a lot of local knowledge that is invaluable," said Cycle.Land co-founder Agne Milukaite.
Jiangsu province-based Youon has 42.5 million registered users and runs both dockless and docked bike-sharing platforms in 220 Chinese cities.
In October 2017, Youon acquired China's third-largest dockless operator Hellobike. In December, Alibaba-owned Ant Financial became the largest stakeholder in the company, when it increased its ownership to 32 percent with an investment of 2 billion yuan ($290 million).
Unlike domestic rivals Ofo and Mobike, which control all aspects of their international platforms, Youon has chosen to enter foreign markets via partnerships with local companies.
The joint venture with Cycle.Land means Youon now operates in four international territories, following similar cooperation agreements with transport companies in Russia, India and Malaysia.
Cycle.Land is a peer-to-peer bike-lending service that was founded in 2016 by University of Oxford graduates. The company runs an online marketplace where users rent out and hire bicycles from each other. Cycle.Land also provides management services for bike-sharing operators.
Milukaite said Cycle.Land already has permission from local authorities to run the new project.
"It's important to work with local decision-makers to understand the city," Milukaite said. "It's important to ensure that the bikes are managed well, that the community perceives them as an asset, and are educated on the benefits of the scheme. And you have to work with local councils to understand the best placement for the bikes."
Milukaite said Cycle.Land and Youon plan to work together in other cities in Europe following the London launch.
Youon's dockless bikes are unlocked and paid for using a mobile application. In London, the company will compete with two other Chinese companies - Mobike and Ofo - as well as domestic operators.
Mobike and Ofo operate around 2,000 bicycles each in London, while Dublin-based Urbo has 500 bikes in the UK capital. London's docked bike share scheme, Santander Cycles, runs 13,000 bikes in the capital.
After a rapid expansion that saw 9,000 bicycles deployed across Britain in less than a year, vandalism and low rates of usage have caused Ofo and Mobike to scale back operations in the UK.
Mobike pulled out of Manchester in September due to high rates of theft and vandalism, while Ofo canceled its launch in Leeds and pulled out of Sheffield and Norwich.
The company said that, while the Norwich project began strongly, usage was not high enough to keep the service in the city. Ofo will instead focus on growing its London user base.
Related Stories