Chinese aim to deliver thunder Down Under
China Daily | Updated: 2018-10-31 10:17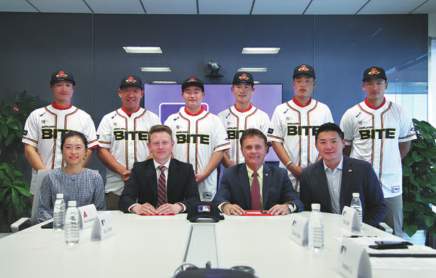 A quartet of Chinese teenagers from the MLB Development Center in Nanjing will be looking to take a Bite out of Aussie baseball in the upcoming season Down Under.
Bruce Wang Yang, a 19-year-old catcher who was signed by the Philadelphia Phillies in August, right-handed pitcher Owen Wang Zhenya (18), southpaw hurler Roger Huandancairang (16) and utility player Feng Qiang (16) will train and play with the Adelaide Bite of the Australian Baseball League.
"Today is a great day for us as the Adelaide Bite joins our MLB family," Rick Dell, general manager of baseball development for MLB Asia, said in announcing the agreement on Monday.
"It creates additional pathways for players in our MLB Development Centers to progress in their baseball and academic careers. At Adelaide, they will be able to develop their baseball skills, their academics and be able to develop themselves socially."
Seven graduates of the three DCs in Jiangsu province have signed MLB contracts in the past three years, with Wang being the latest. Other players inked deals with the Baltimore Orioles, Boston Red Sox, Pittsburgh Pirates and Milwaukee Brewers.
Australia is ranked No 8 in global baseball, and a total of 34 players have made their MLB debuts after a stint in the ABL.
"MLB DCs have become the hub for baseball development in Asia-Pacific and we are very pleased to host MLB DC players and coaches," said Adelaide Bite executive GM Shane Smallacombe.
Smallacombe said the Chinese players will train with the Bite, suit up for home games and compete for spots on the travel roster. They will be billeted with host families, and the club will provide them with English lessons.
This marks the second time MLB DC is sending players to the Australian Baseball League. In 2015, Huang Liwei and Chen Yanpeng trained with the Canberra Calvary, but this time it's a long-term relationship, said Dell.
"Three years ago we sent two young players for professional experience, but this time it is creating pathways, with the long-term hope of Adelaide becoming a center of Chinese baseball development in Australia.
"Baseball is the easy part; it's also about learning to thrive in a new environment, learning to be a good teammate and learning to work independently.
"The main reason Bruce Wang is with the Phillies is because he's independent, he's bilingual and he can thrive in other cultures.
"We believe training in Australia will help Bruce prepare for his first spring training with the Phillies in four months, both baseball-wise and language-wise.
"Many current MLB players played in the ABL, so we believe this will also be a golden opportunity for Bruce to have a taste of high-level competition."
Celine Shao, director of marketing and communication for MLB China, said Tencent Sport will livestream ABL/Super League games. A schedule will be announced at a later date.
"Frequent updates on the development of MLB DC players will be posted on Tencent Sport and social media," she added.