A-share securities remain sound, despite profit decline
By Wang Junwei | chinadaily.com.cn | Updated: 2018-10-31 16:25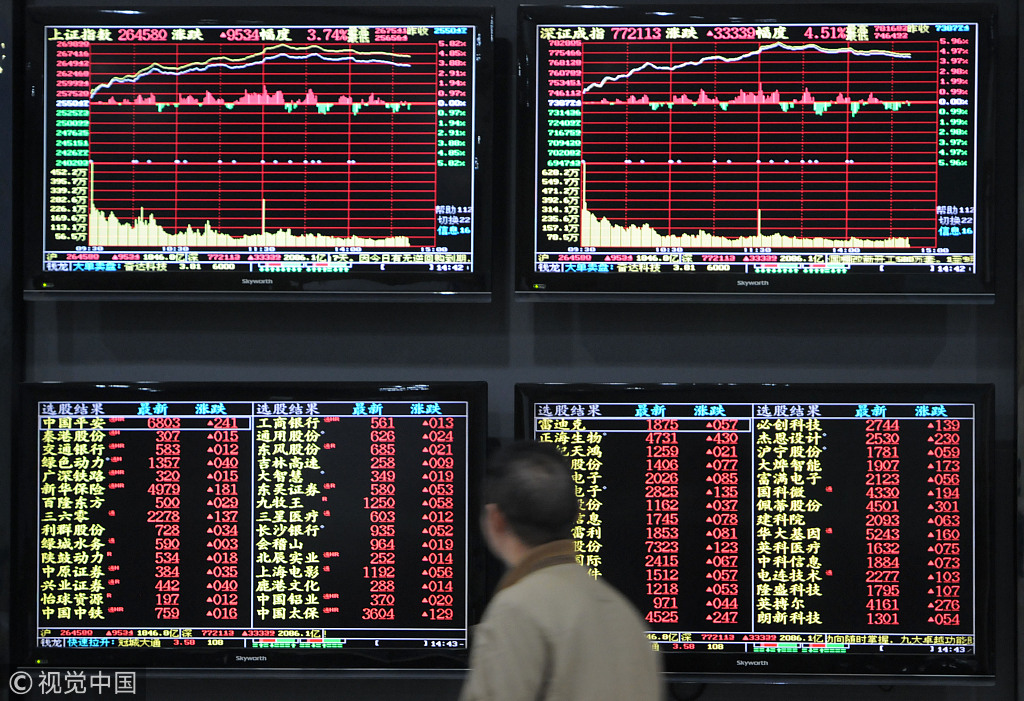 A-share listed securities brokers saw a sound performance in the stock market, despite their declining profits for the first three quarters of this year, Securities Times reported.
Total revenues of the 34 listed securities companies were registered at 184.55 billion yuan ($26.5 billion) in the first three quarters, down 12.29 percent year-on-year, and net profits belonging to owners of parent companies stood at 47.82 billion yuan, down 32.91 percent compared with a year earlier.
CITIC Securities topped the list of revenues with 27.21 billion yuan, followed by Guotai Junan Securities (16.79 billion yuan ) and Haitong Securities (16.18 billion yuan). CITIC Securities also had the highest net profit at 7.32 billion yuan, above Guotai Junan Securities (5.51 billion yuan) and Huatai Securities (4.48 billion yuan).
Credit services, including securities margin trading and pledge of stock rights, are regarded as one of the brokers' biggest risks this year. In the first three quarters, the listed securities companies saw a year-on-year decline of 32.66 percent in credit services, with revenues of 16.70 billion yuan.
Investment banking and brokerages also faced a decline in the first nine months, while different performances among brokers were seen in proprietary business and asset management business. In these two areas, First Capital and Huaxi Securities saw the largest increases, up 82.99 percent and 234.81 percent, respectively.
Since Oct 22, thanks to favorable policies, experts said, stocks of brokers have posted a rise of 18.24 percent, well above the benchmark Shanghai Composite Index, which has increased only 0.69 percent.
Chinese Vice-Premier Liu He said on Oct 19 that China will strive to maintain steady economic growth and prevent financial risks with a relatively stable macro leverage ratio. On the same day, heads of the nation's three major financial regulatory authorities -- People's Bank of China, China Banking and Insurance Regulatory Commission and China Securities Regulatory Commission -- expressed their support to bring back confidence in the stock market.
On Tuesday midday this week, CSRC released a statement, saying it will "improve the quality of listed companies, optimize transaction supervision and encourage value investment", which will "give concrete policy expectations and confidence to the market", Economic Daily reported.