Sheepish Sabalenka 'so sorry' for berating ball boy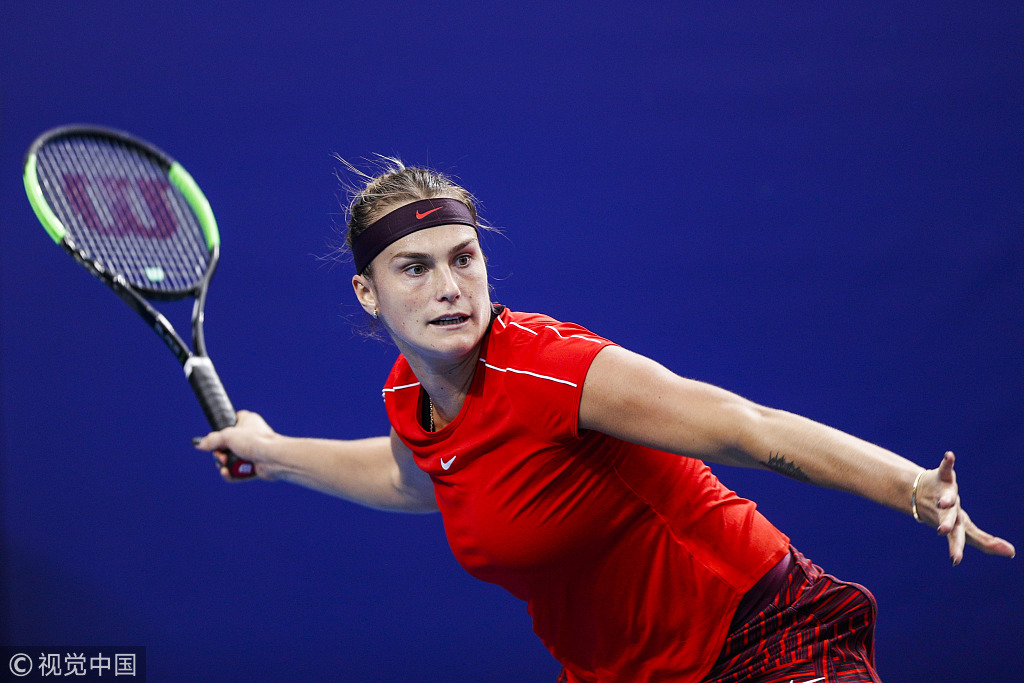 ZHUHAI, Guangdong province-World No 12 Aryna Sabalenka has apologized for an on-court tantrum in which she shook an empty bottle in the direction of a ball boy before tossing it to the floor.
The big-hitting Belarusian faced criticism after footage of the episode during her quarterfinal loss to Wang Qiang at Beijing's China Open in early October was shared widely on social media.
But following a winning start at the WTA Elite Trophy in Zhuhai, the 20-year-old vowed to "never do it again".
"Well, I'm so sorry," she said at her post-match media conference after beating Australian Ashleigh Barty 6-4, 6-4.
"It was emotional and I was losing my mind and after I saw it on Twitter I was just like, 'Oh my God, what did you mean?'.
"I didn't even remember this, and I was just like, 'Wow, I'm sorry for this guy'."
The controversy came ahead of a similar incident in which Spain's Fernando Verdasco ranted at a ball boy for not bringing his sweaty towel quickly enough during a semifinal loss to Yoshihito Nishioka at the Shenzhen Open.
Footage went viral on social media, with Verdasco heavily criticized.
Judy Murray, the former British Fed Cup captain and mother of three-time Grand Slam winner Andy, tweeted: "What about a rule that makes players get their own towels?"
At the Shanghai Masters, Roger Federer said tennis sets the standard for many sports when it comes to respectful behavior-and that must extend to the treatment of ball boys and girls.
"The ball kids are really important to us because they are also maybe the future of our game, like I was," said the Swiss superstar, who worked as a ball boy in his youth before becoming a 20-time Grand Slam champion.
"You don't want to have them leaving with feeling 'oh my God, I was not appreciated' or 'I was not liked' or 'it was a horrible thing'."
But Federer pointed out that emotions run high in the heat of a match and that tennis is more intense now than in the past.
In 2015, world No 2 Novak Djokovic apologized to a Wimbledon ball girl after he screamed in her direction, leaving her looking shaken.
Following Sabalenka's actions in Beijing, Anne Keothavong, Britain's Fed Cup captain, tweeted: "I don't care how good a tennis player you are-this type of behavior needs to STOP."
An apologetic Sabalenka said: "It was bad of me and now I will never do it again, and I will try and be nice with the ball boys, even if they're sometimes so slow!
"They're just small kids, and you can't do anything to them. Yea, I'm so sorry for that guy."
Sabalenka has shot up the world rankings from 39th to 12th place in just three months and was recently named WTA Newcomer of the Year.
Asked about her strong finish to the season, she said: "I didn't expect to do this well, but now I am just enjoying it and trying to improve more and more.
"It's a really good feeling."
AGENCE FRANCE-PRESSE