UN renews effort to bring Greek, Turkish Cypriots back to negotiating table
Xinhua | Updated: 2018-11-01 09:50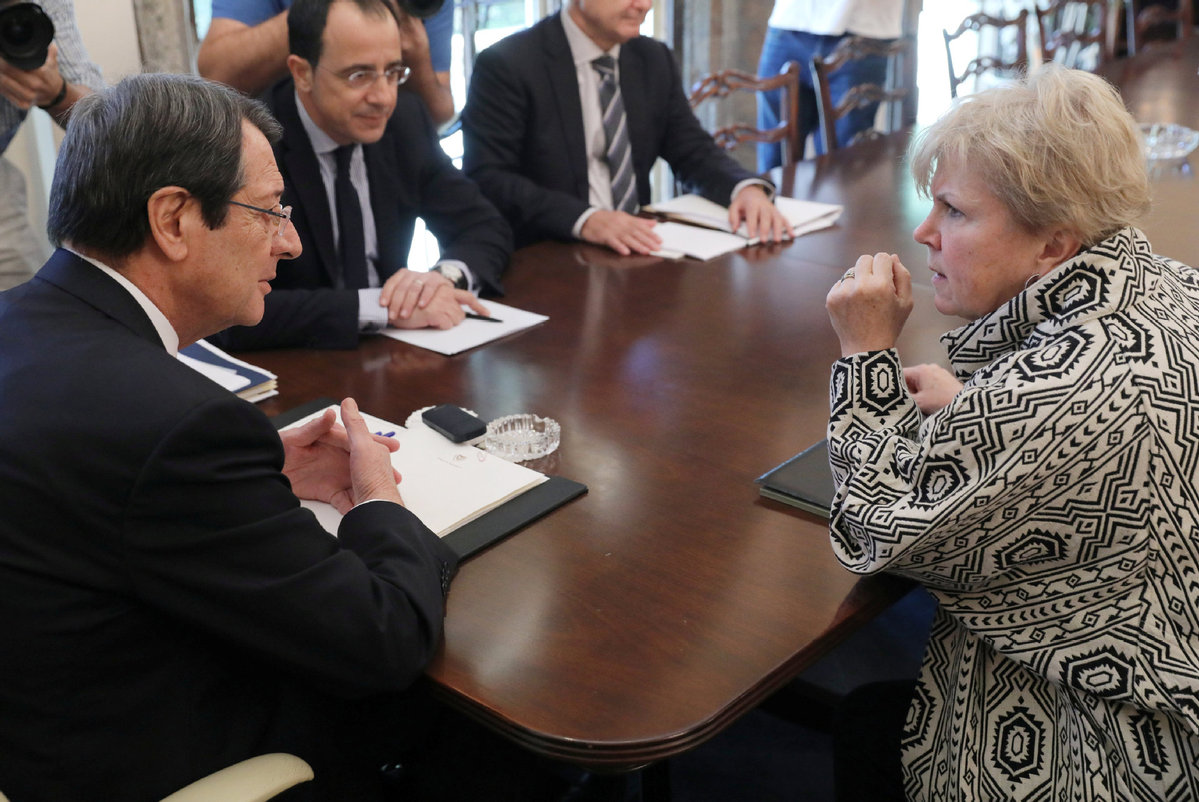 NICOSIA - A personal envoy of the United Nations Secretary General completed the first part of a fresh tour on Cyprus on Wednesday, in a new effort for the reunification of the divided eastern Mediterranean island.
Jane Holl Lute, an official based at the UN Headquarters in New York, separately met Cyprus President Nicos Anastasiades, representing Greek Cypriots, and the leader of the Turkish Cypriot community, Mustafa Akinci, to assess the prospects of bringing them back to the negotiating table.
The UN did not make any statements after Lute met for several hours Anastasiades in the morning and Akinci late in the afternoon.
The United Nations-led negotiations to solve the long standing Cyprus problem have been going on since 1974 but collapsed at an international conference in Switzerland in July 2017.
UN Secretary General Antonio Guterres, who chaired the conference, sent the parties to reflect on the outcome and come back to him when ready to enter result-oriented negotiations.
The UN Security Council on Tuesday endorsed a report by Guterres urging the two Cypriot communities and the three "guarantor powers" of Cyprus, namely Greece, Turkey and Britain, to agree on restarting negotiations based on a six-point blueprint submitted by the Secretary General.
The report also urged the parties to come forth with fresh ideas to fill the gaps in Guterres' framework proposal.
Cypriot government spokesman said that Lute conveyed to Anastasiades the position of the Secretary General that the parties should determine and agree, the soonest possible, the terms of reference for the resumption of substantive negotiations in the near future.
He welcomed Guterres' position that good preparation is needed prior to the resumption of the talks.
The spokesman also hailed the Secretary General's call to the leaders to agree on the modalities for the resumption of negotiations.
Cypriot government sources were quoted by the official Cyprus News Agency as saying that an agreement on the terms of reference for the resumption of the talks will most probably be sought through shuttle diplomacy, with Lute consulting separately with the two parties.
UN sources said Lute will complete her tour on Cyprus by visiting Greece, Turkey and Britain.
She will also confer with European Union officials in Brussels as the agreement sought on Cyprus must be in line with EU norms.