Facilities essential to sector's future success
By Liu Zhihua | China Daily | Updated: 2018-11-01 10:14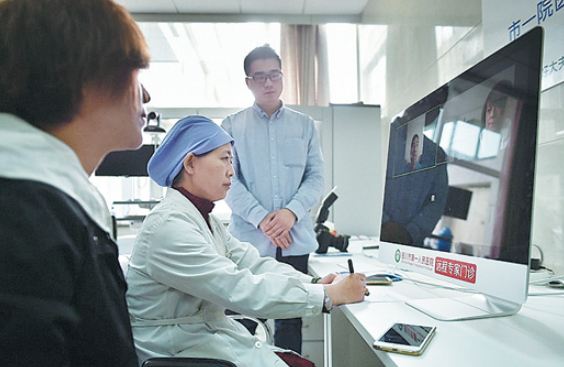 Online hospitals' development will depend on the establishment of more supporting facilities, including third-party franchised drugstores, medical examination centers and co-working surgery studios, said Wang Hang, founder and CEO of Haodf.com, one of the largest online healthcare companies in China.
Meanwhile, allowing doctors to have greater freedom to practice across multiple hospitals is another important factor, he said.
Haodf.com was launched in 2006 as a doctor review and inquiry website. In 2016, it established an online hospital in Yinchuan, capital of the Ningxia Hui autonomous region.
More than 16,500 doctors nationwide had registered with the online hospital by August, and it has served 7.5 million patients, including 54,000 from Ningxia, the company said.
The online hospital had saved patients from Ningxia about 40 million yuan ($5.76 million) due to reductions in transport, and accommodation costs, it said.
"Big hospitals in China are often packed with patients, and in many cases online consultations are a better choice than revisiting a brick-and-mortar hospital," Wang said.
He said it is very time-consuming and costly for patients to repeatedly visit a hospital, especially for those who live in remote places but need to meet with doctors in big cities.
If patients can consult doctors in far-off cities through the internet for follow-up medical advice, it will not only benefit the individuals, but also improve the overall efficiency of the medical care industry, Wang said.
But, when online doctors decide that the patients need to have further in-person examinations or take medication, easy access to quality examinations and medicines is needed. Therefore, the development of medical examination centers and other supporting facilities will be of great importance, Wang said.
Huo Jian, marketing director of Haodf.com, said the company is focused on its goal to profit through building easily-accessible channels to help users secure convenient healthcare-related services rather than through commissions from drug sales.
"Haodf.com adopts a light-asset business model and does not plan to open any brick-and-mortar medical facilities, because we know the internet is able to remove resource allocation bottlenecks and raise efficiency by connecting all involved parties," Huo said.
"What we want to do is to become the bridge connecting people and facilities to improve healthcare quality, so that medical resources will flow with increased freedom to where they are most needed," she said.
In recent years, the company has been successful in helping patients to identify and contact the most suitable doctors, and the next phase is to help them establish steady doctor-patient connection as a basis for long-term online health management, Huo said.
Achieving this goal depends on improving supporting facilities near patients, especially at the county level, where patients can undergo medical examinations and surgeries that are most convenient to their needs, Huo said.