First plane flies on new London-Shenzhen air route
chinadaily.com.cn | Updated: 2018-11-02 01:48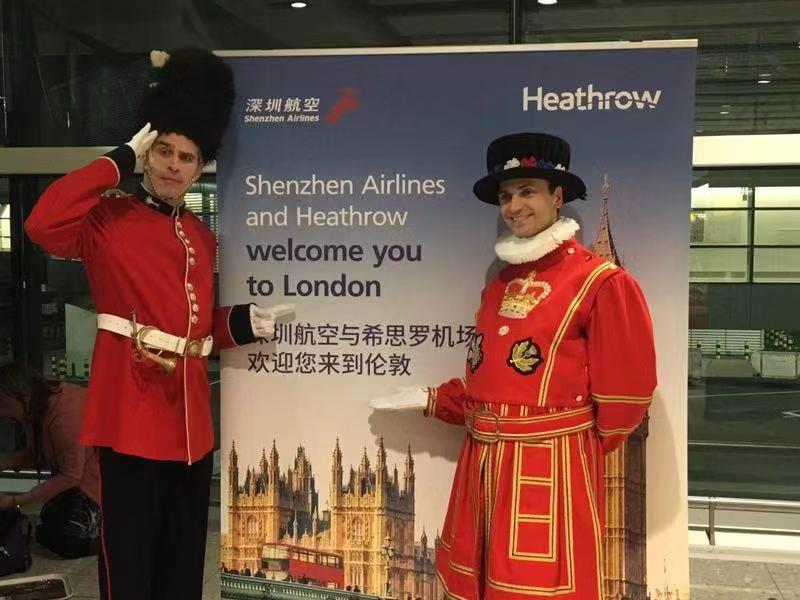 A new direct airline service connecting London and China's first special economic zone, Shenzhen, was launched on Tuesday, establishing the first direct connection between the two cities.
Departing Shenzhen Bao'an International Airport with 172 passengers on board, the inaugural flight landed at London's Heathrow Airport 13 hours later. Just after two hours, this Airbus 330 aircraft made the return trip. There will be three such round flights per week, with the other two being on Thursdays and Sundays.
This service is the first intercontinental route for the operator, Shenzhen Airlines, which was founded in November 1992 and now has almost 300 domestic and international routes, carrying nearly 25 million passengers per year.
Wang Jie, vice-president of Shenzhen Airlines, who was one of the passengers on the flight to London, said afterwards "As this is the first long haul intercontinental route we have launched, it is a crucial starting point for Shenzhen Airlines as we step out into the world."
This year marks the 40th anniversary of China's reform and opening-up, which started in 1978. Shenzhen, located in the south of the country, was one of the first areas to benefit from this process, as it became the China's first special economic zone. Over the course of 40 years, it has been transformed from a small fishing village into one of China's first-tier cities, famous for its youth and innovation. Such world renowned brands as Huawei and ZTE have set up their headquarters there.
"Shenzhen – Heathrow is a very significant route not just for Heathrow but also the city of London and connecting the 'Silicon valley of Asia' with London, regarded as Europe's technology hub", said John Holland-Kaye, the CEO of Heathrow Airport.
Shenzhen is the 10th city in Chinese mainland to have the direct flight with Heathrow, and Wang said that despite their contrasting ages, the two cities were well matched.
"Shenzhen, the youngest city in China, and London, a historically renowned city in the UK, in my view, share a lot in common since both of them are immigration cities featured by innovative spirit and metropolises with diversity, openness and inclusiveness," he said.
Han Baoyi contributed to this story.