Kenyans primed for Everton test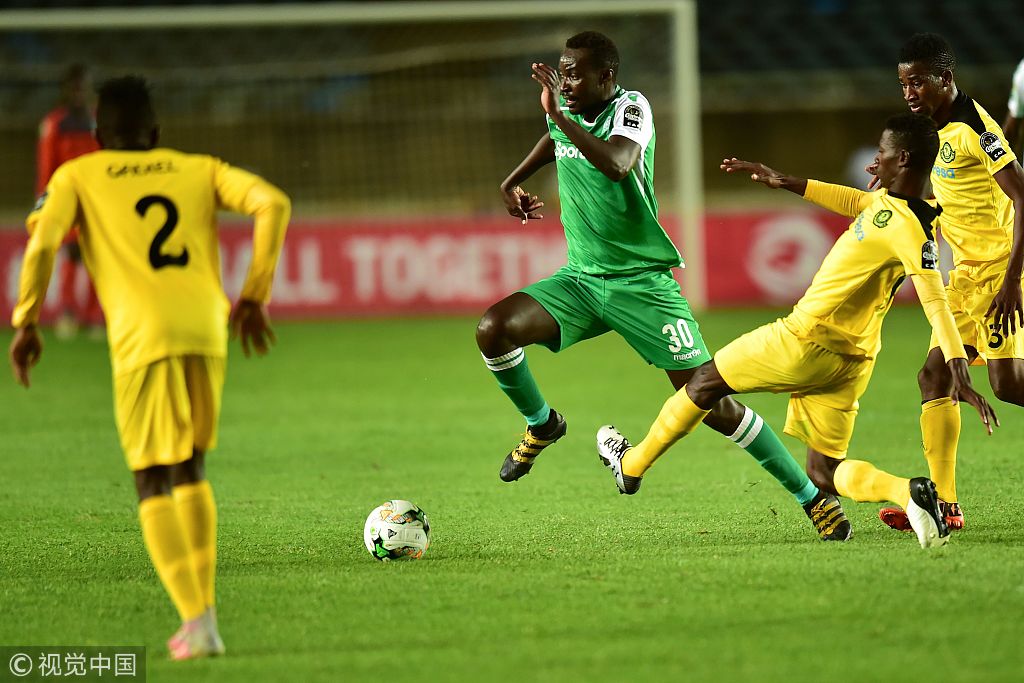 Gor Mahia set to make history in UK friendly
Excitement, anticipation, anxiety and a bit of skepticism has been building as Kenyan league champion Gor Mahia prepares to leave for Britain on Friday for a match against Everton.
On Nov 6, Gor Mahia will become the first club side from East Africa to play a Premier League club in the UK when the teams clash at Merseyside's iconic Goodison Park.
The Kenyan side, which wrapped a record-extending 17th domestic crown in the just-concluded season won the chance to play the Toffees by defeating Tanzania giant Simba SC 2-0 in the final of an eight-team regional invitational tournament dubbed the SportPesa Cup on June 10.
Last year, Everton and Gor Mahia met in Dar-es-Salaam, Tanzania, where the EPL side prevailed 2-1 in a game remembered as the first outing for former England captain Wayne Rooney since returning to his hometown club after 12 trophy-laden years at Manchester United.
Rooney, who has since left for DC United in North America-based Major League Soccer, opened the scoring with a scorcher from range before Gor Mahia's Jacques Tuyisenge tied it 1-1 at halftime. A late Kieran McDowell strike sealed victory for Everton.
"Our performance against such a big side inspired us to come back home and win the league. I told my players they had the qualities to play against the best and from there it was easy for them to find the motivation," said coach Dylan Kerr, who took charge of Gor for the first time in that match.
Former Brazilian international Jose Marcelo Ferreira took over Gor Mahia at the start of July 2017 and subsequently led the side to reclaim the domestic title it had lost to local rival Tusker FC in 2016.
In the past season, Gor Mahia defended its crown with six games to spare, finishing third in the regional Cecafa Club Championships in Tanzania and qualifying for the first time for the group stages of the CAF Confederations Cup, Africa's second-tier club competition.
Amid a busy schedule that saw the team tail off towards the end of the campaign, Gor Mahia also retained its Super Cup crown before a crippling player's strike over delayed salaries saw its season end in a whimper, losing six of its final eight matches.
"The playing unit, both young and experienced, played a significant role in delivering the 17th trophy home despite the tight season that also saw us engage in CECAFA, Super Cup and CAF competitions," Ferreira said.
Ahead of the showdown with Everton, opinion has varied between those who see it as a positive step in exposing East African soccer to the world and others who are calling the match a public relations gimmick.
Gor Mahia and Everton share a shirt and title sponsor in SportPesa, the African gaming giant with roots in Kenya that has since expanded to open offices in the UK, Italy, South Africa and Tanzania.
The company has thrown its weight behind a huge promotional campaign that has managed to capture the attention of Kenyans on television and radio, in newspapers and online.
Besides the Gor players and staff, a group of local journalists and a number of Gor fans and other guests will make the Everton trip.
Last year, the two sides played to a jam-packed National Stadium in Dar and in May this year, Gor Mahia took on visiting English second-division side Hull City in Nairobi in front of 60,000 spectators at Moi International Sports Centre in Kasarani.
Organizers are hoping the story of a Kenyan side playing a team from the most popular soccer league in the world will be a big international draw and serve the dual purpose of exposing talent from East Africa and leveraging their product in an age where sport is one of the biggest commercial drivers.
"Everton is one of the most established clubs in the UK, being the only one to play over 100 seasons in England's top flight. This friendly will be good exposure for Gor, which has given their best to put Kenya on the global and regional map," company CEO Ronald Karauri said when the game was confirmed in August.
"I'm very grateful to our partners and coach for making this trip possible. Most of us have never been to the UK and this is a once in a lifetime opportunity for us to showcase our talent," said 20-year-old forward Edward Lokuwam.
Raphael Asudi, who grew up in Donholm, a settlement east of the Kenyan capital Nairobi, is another youngster keen on making an impression at Goodison Park as his promising career continues to take shape.
"It will be great to meet the entire Everton team and especially (Theo) Walcott. I have always admired him and it will be amazing to show them that we can handle the challenge they pose," said Asudi, a huge fan of Arsenal, where Walcott spent a decade before joining the Toffees.
Xinhua