Upgraded online shopping can meet demands
By Zhang Zhiye | China Daily | Updated: 2018-11-03 09:55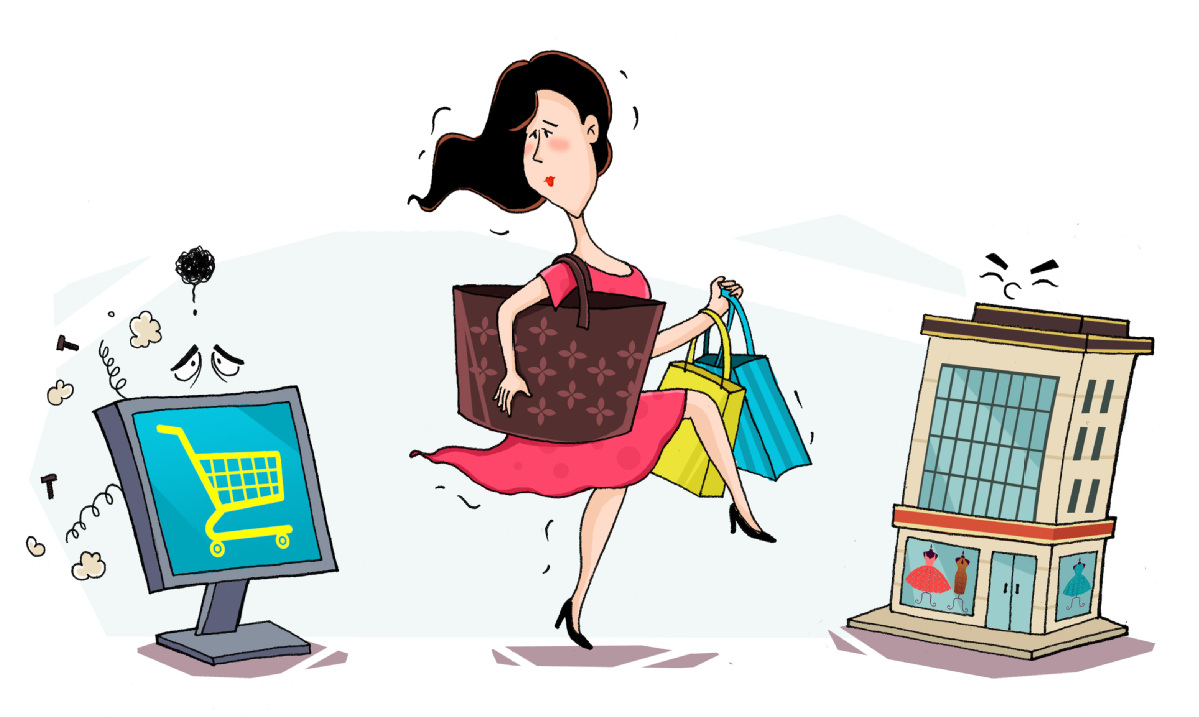 With "Double Eleven" (or Nov 11) a week away, it would be good to know what young people expect from the annual online shopping gala.
In a recent China Youth Daily survey covering 1,969 respondents aged between 18 and 35, 68.1 percent said they value the price-performance ratio when shopping, while 58.3 percent said they would take into consideration the practicality and necessity of the goods they purchase, and 61.1 percent said they believe young people should purchase goods online to fulfill their real interests and for self-improvement.
Experts believe today's youths have a more rational approach to consumption, and the incorporation of knowledge and the fitness element into their daily lives has increasingly become a habit among them.
That young people attach more importance to the quality and price-performance ratio of the goods and services they purchase, and have a more mature consumption approach suggest they are nurturing "higher-quality consumption" as a result of China's qualitative economic development in recent years.
During the four decades of reform and opening-up, China's consumption has grown rapidly - for instance, total retail sales of social consumer goods increased from 155.86 billion yuan ($24.39 billion) in 1978 to 36.6 trillion yuan in 2017.
Once people's "quantity" demand for consumer goods is met, they tend to demand "quality" goods. This is true for consumption habits in any country.
No wonder an increasing number of young people in China are bidding adieu to indiscriminate "one-click purchase" on the internet. The rapid growth of non-living necessities in China's consumption market in recent years indicates people's consumption demands have become increasingly diversified. In general, people today attach more importance to quality products and seek more value experience from shopping. If the unrestrained online shopping in the past was a "lower stage" of consumption, then the current trend means the upgrading of consumption from quantity to quality.
Good quality and fast delivery of goods constitute the core of good online shopping experience. Many Chinese people like online shopping because the prices of goods online are lower compared with those in brick-and-mortar stores. But online shopping may not necessarily ensure the supply of quality goods. So, the guarantee of quality goods in online stores can give consumers a true and assured sense of gain.
If the price advantage in online shopping is offset by shoddy products, then the advantage could become a disadvantage. As consumers focus more on rational shopping and quality goods, it means that the consumption supply chain is being upgraded.
Given these facts, it is important to build a scientific and efficient quality control mechanism, introduce at-source quality management, and establish a set of mature basic service and after-sales service system, to address the rising diversified needs of consumers.
Some e-commerce platforms have been working hard to meet consumers' diversified demands for high-quality shopping. For example, JD.com, one of China's leading e-commerce giants, set up a special customer experience department this year to improve a series of services for consumers, from assured purchase and quick refund, to compensation for delayed delivery, replacement of old products with new ones through home calls, and other tailored after-sales services.
Fast delivery can bring consumers a sense of instant gratification, which is particularly important during big shopping events such as "Double Eleven" when there is a high probability of express delivery congestion. So it is of vital importance to have an independent and high-quality logistics platform. The business of providing comprehensive and integrated logistics solutions for the diversified demands of consumers and consumption scenarios, and of offering better quality services to consumers and merchants, is becoming a competitive area for major e-commerce platforms.
That young Chinese have become more mature means that during shopping galas such as "Double Eleven", every link in the demand and supply chain - from production and sales to delivery, after-sales services, technology upgrading and operation mode optimization - must be continuously strengthened to provide high-quality services for consumers. In other words, only when the online shopping supply chain is upgraded can it meet the needs of rational and high-quality consumption.
The article was first published in China Youth Daily.