That's A-OK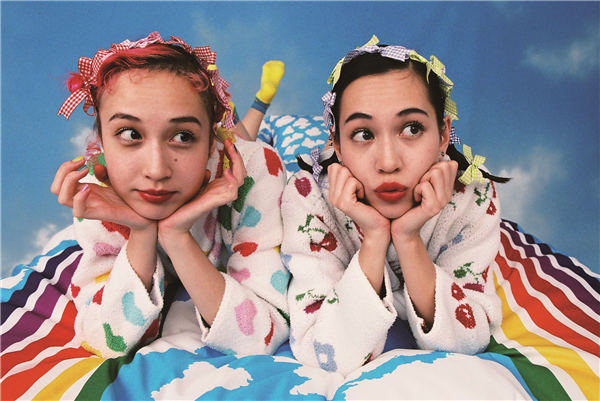 It-girl Kiko Mizuhara and her sister Yuka spread some happiness and retro-hip with their newly launched, highly collaborative clothing label
"Couture is not easy to wear," says Kiko Mizuhara, "so when I designed for my own brand, OK, I didn't want anything too complicated or hard to wear. Every product should be affordable so that young people can easily get it." There are icons - and then there's mega-wattage Mizuhara, the Tokyo-based Korean-American actress, model, stylista, singer, photographer, designer and all-round cultural polymath, whose Instagram @i_am_kiko boasts 5.1 million followers. She's the 21st-century It-girl of the digital global fashion ecosystem, and she mashes-up her singular stylish spin from haute couture to street fashion with effortless chic. That adaptability sees her walk the runway for heavyweights such as Dior, while she's also brand ambassador for Dior Beauty and Coach, and represents a range of brands from the likes of Chanel and Adidas, to Marc Jacobs and Diesel. And when she's not in fashion, she's a regular muse for controversial Japanese photographer Nobuyoshi Araki, acts in Japanese film and television titles, and appears in music videos for Daft Punk and The Weeknd's I Feel it Coming, and The Internet's La Di Da.
Little wonder, then, that not unlike her idol Alexa Chung in England, Mizuhara launched her own label last year. This comes after her collaboration with Opening Ceremony in 2014 saw her designs worn by Rihanna and Beyonce. "I first had this idea to launch about one year ago and I created this company with the name Office Kiko, or OK," she says from inside the buzzy, happy, fun-festooned and collaborative I.T Blue Block pop-up store in Hong Kong where we first met in August. She was sitting beside her similarly muse-y sister, Yuka, who DJed at the store's launch. "OK felt like a good name for the brand because everybody gets it and there's an instant likeability about that. It's simple and easy to remember."
The dynamic duo designed all the looks for the collaboration, incorporating colorful girly motifs - think blue skies and cotton-candy clouds - across a variety of products including accessories, swimwear, yukata and limited-edition pink crewneck T-shirts with embroidered peach-coloured Kiko logos. They also created a special showroom featuring OK bedding and decorations, with pyjamas, slippers and socks. The pop-up is a joyous fantasy world.
"I wanted to do the clouds because everywhere I go, I watch the sky," says Mizuhara. "It always makes me happy. When you're having a stressful day and you look up at the sky, you chill out and feel better. So for this very positive feeling and effect, I wanted the sky and also the idea of the rainbows - a sort of cute, happy element, with lots of flowers, butterflies, fruits and more. So designing wasn't that hard. I went through all the old Japanese magazines from the '90s and had a feeling about the patterns we wanted to go for."