Nation's poverty relief efforts bearing ripe fruit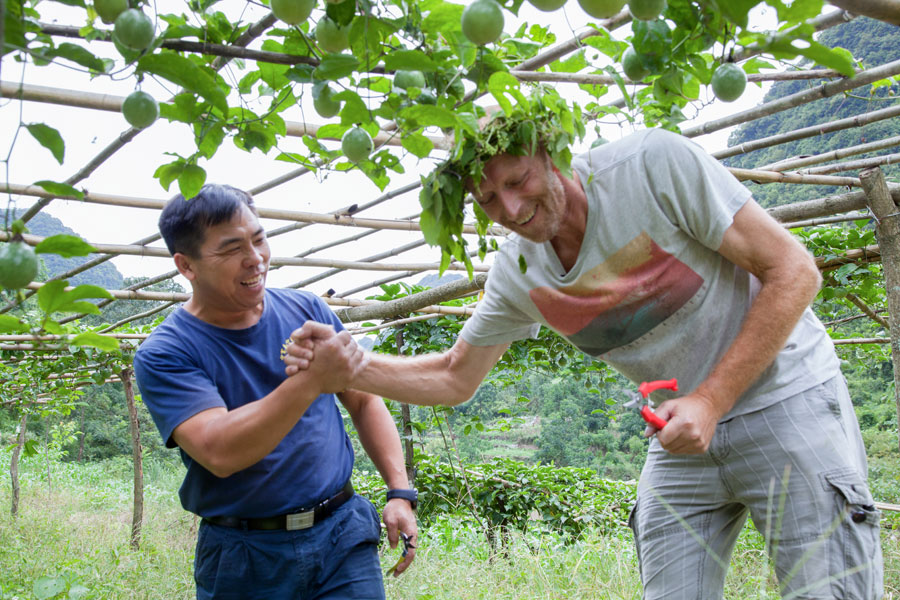 Government measures improve lives in rural areas
Increased poverty relief efforts, along with better rural infrastructure, means that millions of rural poor in China can now access safe drinking water, move out of unsafe housing and receive better education and medical care.
According to the State Council Leading Group Office of Poverty Alleviation and Development, in the past five years, 14 million people have gained access to safe drinking water, and the homes of 7 million poor families have been renovated.
During this time, some 970,000 rural schools have received extra government funding, and 4.2 million poor patients have been treated promptly.
This year marks the fifth year since President Xi Jinping put forward the concept of targeted poverty alleviation during a field inspection in an impoverished village in Hunan province.
The country has developed its own measures to combat poverty, and these were summarized at the International Forum on Reform and Opening Up and Poverty Reduction in China, which opened in Beijing on Thursday.
The measures include: a targeted approach, which calls for methods to be tailored to local conditions; the participation of enterprises and nonprofit organizations in the government-led fight; and the inclusion of poverty relief jobs in local governments' annual assessments.
The way in which poverty has been alleviated through these measures can be seen in a 600-square-meter workshop at a glove factory in Xintiaohe village of Jiaxiang county, Shandong province.
Late last month, nearly 200 women sat behind rows of sewing machines, making sports gloves.
"This factory produced 300,000 pairs of gloves last year. The number of gloves we produce here has increased in recent years, providing steady income for local workers," said Jiang Haiying, who is in charge of the plant.
The factory is one of more than 200 in Jiaxiang. Over 30 years, the county has become the country's largest producer and exporter of sports gloves.
Jiaxiang produces more than 70 million pairs of gloves annually, according to the county's glove industry association. These are mainly sports gloves used for skiing, hunting and shooting.
The county accounts for just over 76 percent of China's sports glove exports, and its gloves have been sold to more than 30 countries and regions, including Europe, Japan and the United States.
The industry, which is labor intensive, has proved to be an efficient way to lift farmers out of poverty, said Chen Jianhua, head of the county's glove industry association and chairman of Jianhua Zhongxing Glove Industry Group, the largest sports glove manufacturer and exporter in Jiaxiang.
At the Xintiaohe factory, the women's wages vary according to their output - from 1,500 to 5,000 yuan ($218 to $727), Jiang of the factory said.
"This is a decent income for farmers. The most important thing is they don't need to leave home to work as migrants," she said.
Chen is happy to see how the industry is improving farmers' lives.
"Ten years ago, dozens of buses would come to our county after Spring Festival to take hundreds of women to work in cities in the south. It was heartbreaking to see elderly people and children seeing these women off, with tears in their eyes," he said.
Jiaxiang has about 700 small workshops in nearly 600 villages, accounting for more than 80 percent of the villages in the county. These workshops have created jobs for 50,000 farmers, according to the county government, and the glove industry has lifted 260 families out of poverty.
Li Xianqing's left leg is paralyzed due to polio, which he contracted when he was 2. The 53-year-old now runs a glove production company that produced 600,000 pairs last year. About 90 percent of his gloves are sold overseas, he said.
Li's company has provided jobs for about 50 physically challenged workers.
At an industrial park in the county that specializes in glove manufacturing, a barrier-free factory has been built in line with standards set by the China Disabled Persons' Federation, including a parking lot, toilets and antiskid ramps.
To enable physically challenged farmers to master skills, the county frequently organizes training sessions for them and has provided jobs for more than 40 farmers.
Taking the opportunities offered by the Belt and Road Initiative, the county's glove industry has extended to Kashgar, Xinjiang Uygur autonomous region, bringing wealth to more people.
In 2015, the Jianhua Zhongxing Glove Industry Group built a branch in Kashgar, which has provided jobs for more than 2,000 locals.
"The Xinjiang production base not only provides us with a more convenient and efficient route to export our gloves, but jobs for local people," Chen said.
With the 2022 Winter Olympics being held in China, orders have increased and have kept the workers busy.
"The abundance of skilled, experienced workers is important for the glove production industry," Chen added.
A good worker needs at least two years' experience. The tiniest flaw can result in a customer canceling an order, so experienced farmers are valued highly by companies, he said.