New St. Regis chef brings Shunde cuisine to Beijing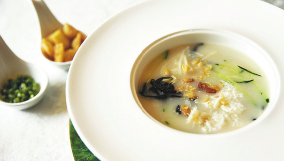 To release the taste buds from the heaviness of summer and embrace the breezes of mid-autumn, chef Jackie Fong, the newly appointed executive chef of St. Regis Beijing, is bringing authentic Shunde cuisine to the city's foodies at Celestial Court.
Fong was born and raised in Hong Kong, where he learned traditional Cantonese cuisine, and then he traveled around Asia, learning cooking skills from the Philippines to Vietnam.
He never hides his secret to cooking: "Choose good ingredients and cook with your heart - that's all." He has always shown full respect to local flavors and believes in maintaining traditional cooking methods.
Shunde in Guangdong province, one of the best-known centers of Cantonese cuisine, is also recognized as "The City of Gastronomy" worldwide. Fong once won a cooking competition by making his signature Shunde flavor dish - fish soup soaked crispy rice with seafood grains.
Mastering the traditional Shunde cooking style of seafood, Fong adds his own innovation by mixing crunchy rice and seafood grains together to enrich the flavor and texture. The aroma of the rice and freshness of the seafood are fully derived when the hot fish soup is drizzled over the rice.
"I am trying to cook very simple food with a warm heart. It's also my life philosophy - be simple but warm," says Fong, who has brought this signature dish to diners in Beijing.
Fong also brings another praised Shunde dish - Shunde style fish soup - the first dish of "one dish in eight flavors" invented by chefs in Shunde. It bears the philosophy of Shunde cuisine: "Treat simple ingredients in a delicate way to extract the best flavor."
Fish soup in a Shunde style is the most commendable dish representing the fine cooking of Shunde cuisine. Apart from diced fish meat, other ingredients including slices of loofah, snake butter, eggs and bean curd sheets, balancing nourishing animal and plant protein in one bowl.
According to Fong, the fish soup is a flavorful and nutritious dish best enjoyed in early autumn.
Dace is the most famous specialty in Shunde, though it can be full of annoying fish bones. The traditional Shunde style fried dace with more than 100 years' history eliminated all fish bones but keeps the fish as a whole.
The fish is diced and mixed with preserved meat, snake butter, shrimp and other ingredients, then the mixture is put back into the fish skin for presentation. This dish requires exquisite cooking skills to make it perfect.