10 must-watch movies in November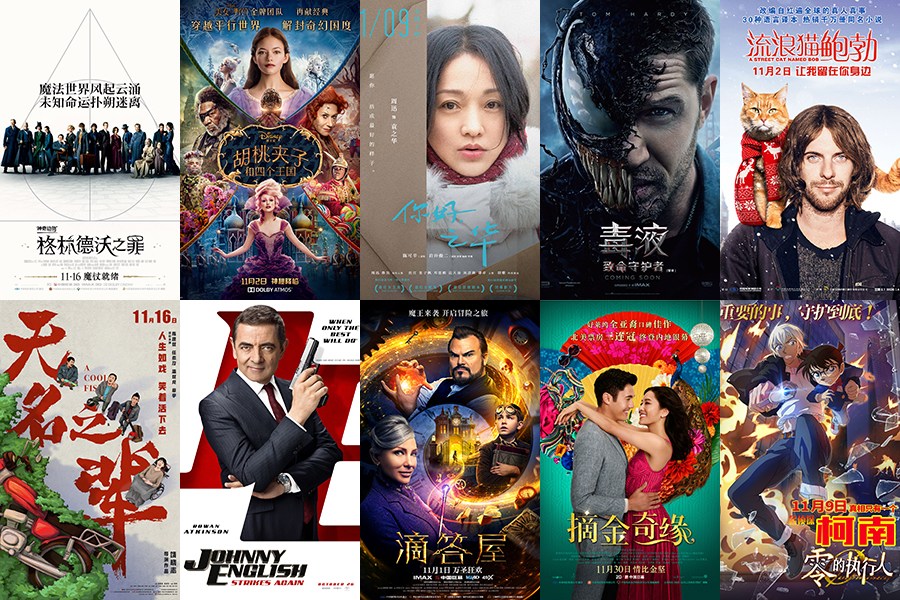 November is definitely an exciting month for Chinese viewers who love Hollywood blockbusters, as more foreign movies are set to hit the screens before the year draws to an end.
As the family fantasy film The House with a Clock in Its Walls lifts the curtain on Nov 1, various genres ranging from superhero, fantasy movies to comedies and animation are scheduled for release.
The superhero film Venom based on the Marvel Comics character of the same name, is a big surprise for Chinese Marvel's fans while Fantastic Beasts: The Crimes of Grindelwald is bound to stir up another wave of magic for Chinese moviegoers.
Japanese manga adaptation Detective Conan: Zero the Enforcer is another highlight for detective lovers as the fantastic "little glass-wear boy" Conan has a big following in China.
The flood of foreign movies does not mean domestic films are far behind. The Golden Horse Awards-nominated film Last Letter is set to be screened on Nov 9. Starring Zhou Xun, Qin Hao and Zhang Zifeng, the film tells the story of a Chinese woman named Zhi Hua (Zhou Xun) who plays a key figure in resolving a conflict that has lasted three generations.
Also, the black comedy A Cool Fish is another fierce contender in this month's battle, given the fact that Chinese black comedies, from Mr. Donkey to I Am Not Madame Bovary, to the latest Dying to Survive, have seen box office success in recent years.
Here are 10 selected films to watch this month.