Steady development helped poverty reduction
By Zheng Yongnian | China Daily | Updated: 2018-11-06 07:58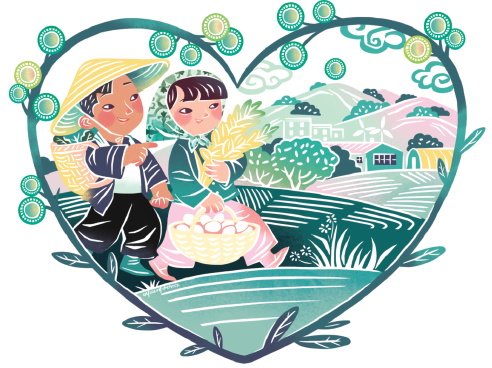 Editor's note: Some senior officials and scholars delivered speeches on China's contribution to global poverty reduction at the two-day International Forum on Reform and Opening-Up and Poverty Reduction in China that concluded in Beijing on Friday. Following are the full text of consensus reached at the forum and excerpts from the speeches of four of the speakers:
Consensus Reached at the International Forum on Reform and Opening Up and Poverty Reduction in China
On Nov 1-2, 2018, the International Forum on Reform and Opening Up and Poverty Reduction in China, jointly hosted by the Chinese Government and the World Bank Group, was held in Beijing. Representatives exchanged ideas under the theme of "International Cooperation on Poverty Reduction: Building a Community with a Shared Future for Mankind" and reached the following consensus:
· Reform and opening-up policies are the critical decisions that have led China to where it is today. They are the source of China's economic dynamism and social progress, and have served as a great driving force for China's poverty reduction efforts. China has become the world's second largest economy and the largest contributor to global economic growth, and has transformed from a low-income to a middle-income nation.
· The Chinese Government is pursuing supply-side structural reforms in a range of areas that are focused on achieving higher quality and productivity driven growth under its new development philosophy. China has been actively transforming the way its economy grows, optimizing and upgrading economic structures, building modern economic systems, and promoting high-quality development. China's economy has continued to grow across all sectors, and its pattern of growth has become more balanced and sustainable.
· Comprehensive opening-up is the only way to prosperity and an important guarantee of China's modernization. The Chinese Government adheres to the principle of opening-up, welcomes foreign participation in its domestic development, and actively develops global partnerships. China follows the principles of extensive consultation, joint contribution, and shared benefits, to promote international cooperation under the Belt and Road framework. It is committed to developing an open economy of higher standards, actively participating in global governance reform, and building a community of shared future for mankind.
· Through reform and opening-up, as well as large-scale poverty reduction efforts, China blazed a trail in poverty reduction with Chinese characteristics, enabling more than 700 million rural people to lift themselves out of poverty, which accounts for more than 70 percent of global poverty since the early 1980s. China wrote a new chapter in mankind's fight against poverty. China was the first developing nation to achieve the poverty reduction target set by the UN Millennium Development Goals, and offers Chinese wisdom and approach for global poverty reduction.
· Reducing poverty is the basic prerequisite and a significant indicator of achieving a moderately prosperous society, a priority for the Chinese Government. Chinese President Xi Jinping has stressed repeatedly that poverty alleviation should focus on targeting people and areas and has made important decisions, which greatly enrich and extend the concept of poverty reduction with Chinese characteristics. China carries out targeted poverty reduction measures. While working to reduce poverty, China highlights the importance of helping people increase confidence in their own ability to lift themselves out of poverty, while making education easily accessible in poverty-stricken areas. The joint efforts of government, society, and the market to fight poverty have yielded decisive progress, achieving the biggest success in China's efforts to poverty reduction and hence making a great contribution to the global cause of poverty eradication.
· The world is facing insufficient drivers of growth and deep North-South development disparities. We call for safeguarding and developing an open global economy, building an international economic and financial system that is fair, just, inclusive and orderly, so as to create a sound environment for poverty reduction efforts worldwide. All nations should enhance their practical cooperation in poverty reduction strategies to achieve common and sustainable development. Nations should draw lessons from each other's experiences and methods, in order to achieve the 2030 Agenda for Sustainable Development and contribute to global poverty reduction efforts.
· There is a need to increase and optimize financial support for poor people to effectively champion global poverty reduction efforts. Key to success will be to strengthen communications and collaborations among the different players providing financial support, including multilateral development financial institutions, individual countries' policy-based financial institutions, development-oriented financial institutions, and commercial financial institutions. Financial institutions can play an important role and join the global fight against poverty by granting loans, joint financing, and equity investment, promoting sustainable economic development, while achieving inclusive growth and shared prosperity.
Leadership in poverty alleviation welcome
In the past four decades, China has fundamentally changed. More than 800 million people have been lifted out of poverty, and the country is on target to eradicate extreme poverty by 2020. However, addressing the remaining challenges will require new thinking and approaches, especially to address the serious disparities between the rich and the poor, the coastal and interior areas, and rural and urban communities.
I welcome China's progress on these and other issues of sustainable development. China's experience provides valuable lessons. When I visited Beijing in September I saw a strong commitment to collaborate with other developing countries to help them achieve their development aspirations. I encourage China's continued leadership.
We are at a critical juncture in the implementation of the 2030 Agenda for Sustainable Development. With the right tools and partnerships, we can make sure that no child is born into poverty, and that everyone has a chance to thrive in a more equitable, prosperous, peaceful and sustainable world.
António Guterres, secretary-general of the United Nations
Political commitment translated into policies
Five key elements, in my view, underpin the China story:
First, China's emphasis on basic agricultural reforms and associated investments in agriculture, animal husbandry, fisheries, water and flood management that were followed by measures to boost the rural non-farm economy was critical in reducing poverty.
Second, China has invested enormously in building infrastructure across the country, and not just in the developed coastal provinces. Massive investments in roads, railways, telecommunications and electricity have contributed to improving access of the poor to new and more distant markets, thereby enhancing economic opportunity and reducing poverty.
Third, China focused on the development of manufacturing and other industrial sectors. Between 1978 and 2015, the number of people in non-farm jobs as a share of total employment increased from 29 percent to 70 percent. And low-income rural households have benefited enormously from the changes in the country's employment patterns engendered by the dual processes of rapid industrialization and urbanization.
Fourth, China is now using technology to develop its services sector. Local governments have helped agriculture leapfrog to modern practices using digital technology to ensure improved access to critical information on plant and animal diseases, better production techniques, and quality standards. Thanks to tech-giants such as Alibaba, e-commerce now connects more remote areas to the markets, contributing to improved incomes. Villagers in remote areas are now able to consult doctors through video chats in local clinics, eliminating the need to travel to a large city.
And fifth, China's systems of compulsory education, rural medical cooperatives, and social pension for rural residents, and a minimum living allowance scheme have played major roles in helping low-income households secure a share of the benefits of China's overall growth.
Of course, the importance of strong leadership and sustained dedication in achieving these outcomes cannot be underestimated. Few other countries have made the kind of consistent and unequivocal policy choices aimed at poverty reduction as China has done. This strong political commitment has been effectively translated into policies that are implemented at all levels of government and supported by society.
K.V. Kamath, president of the BRICS New Development Bank
AIIB has achieved much in a few years
From the 57 founding members, the Asian Infrastructure Investment Bank has grown into an institution of 87 members from across the world. China's idea of establishing this multilateral development bank was to promote multilateral cooperation to further facilitate economic development.
This came at a time when globalization was unfairly blamed for certain unintended consequences-a time when free trade and cross-border investment were being questioned and unilateralism was raising its head.
Since the AIIB's establishment is based on 21st century governance and designed to promote multilateralism and international cooperation, there is a strong case to make for this initiative.
Over the last 40 years, multilateral institutions such as the World Bank and the Asian Development Bank have played an important role in providing financial assistance and advisory services for China's reform and opening-up. The country benefited greatly from the access to capital, knowledge sharing and institution building these organizations offered.
While establishing the AIIB, we took special note of countries such as Japan, the Republic of Korea and China, which had invested heavily in infrastructure to boost development. We also studied international institutions that were established before us. We are benefiting from what they have learned-it has helped us formulate a "Made in Asia" approach to developing infrastructure solutions for the 21st century.
China is keen on sharing its development fruits with the world that helped it grow into a global powerhouse. Due in part to the strong support we have received from China, the AIIB as a new multilateral development bank has achieved much in a few years. I look forward to a future when we will have many other examples of countries that have successfully transformed themselves.
Demographic shifts, technological innovations and the rapid urbanization of Asia are creating new opportunities, prompting us to think outside the development box, as economies driving global economic growth are better positioned to play a leadership role in this area. Built on their own experiences, these economies can help redefine development, and promote shared benefits for all. With all of us, they can create a better tomorrow.
Jin Liqun, president of the Asian Infrastructure Investment Bank
Social miracle greater than economic miracle
Westerners do not recognize China's market economy status. But it is true that no matter how much it changes, China will not become a market economy like the West. China still has a three-tier market, which have been developing in coordination. Such a system has its downside, though: it is less efficient than the markets in the West. But it has the advantage over the West when it comes to preventing big economic crises, building massive infrastructure and effectively reducing poverty.
Western capitalism, as Karl Marx analyzed, leads to periodic economic crises, such as the Great Depression of the 1930s, the Asian financial crisis in the late 1990s, and the global financial crisis of 2008.
China has been largely free of economic crisis in the past 40 years, because of its ability to regulate the political economy. Since the launching of reform and opening-up, China has made great economic achievements-advancing from "poor socialism", as Deng Xiaoping described it, to the world's second-largest economy.
But what is more important for social and economic empowerment is not how many people have become rich in China, but how many have emerged out of poverty. Over the past four decades, China has helped lift mope than 800 million people out of poverty. This social miracle is far more important than the economic miracle, and it should be attributed to the political economy of ancient China and the political economy that evolved from this idea.
Zheng Yongnian, a professor at and director of East Asian Institute, National University of Singapore