Display at UN building shows true picture of human rights record
chinadaily.com.cn | Updated: 2018-11-07 00:56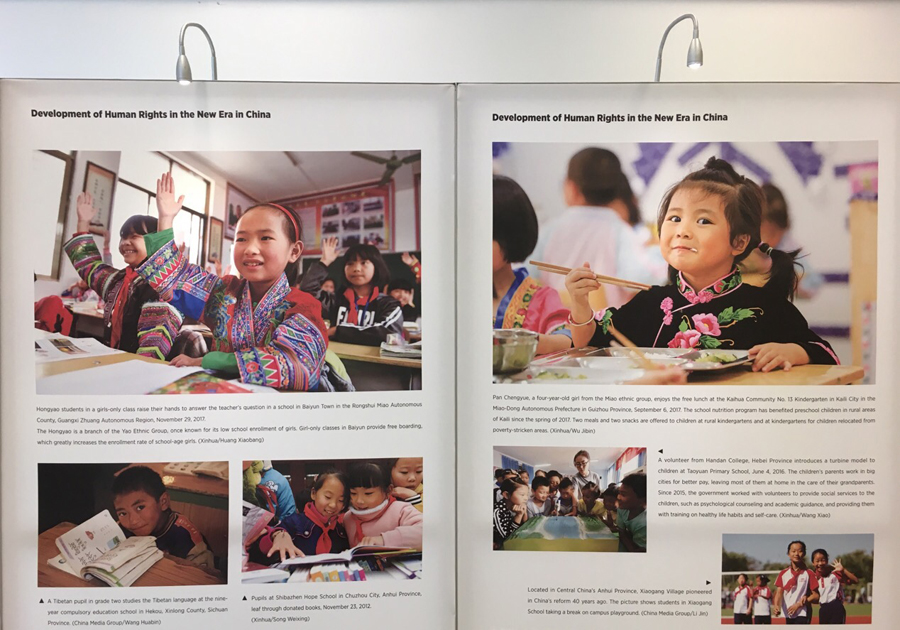 A collection of photographs and videos titled Development of Human Rights in the New Era in China went on display at the United Nations' Palace of Nations in Geneva on Monday.
Le Yucheng, the head of Chinese delegation and China's vice-minister of foreign affairs, said in his keynote speech at the opening that the exhibition shows "China has made remarkable progress in promoting the right to subsistence and development".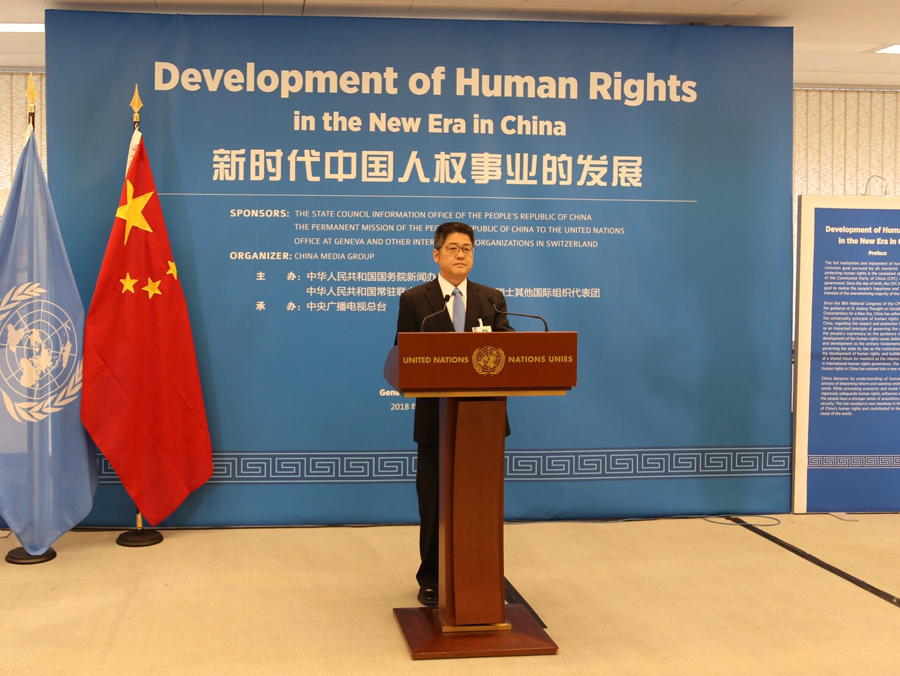 "In the past five years, we have placed high importance on development," Le said. "As a result, China's GDP has grown from 54 trillion yuan ($7.8 trillion) to 82.7 trillion yuan, contributing more than 30 percent to global growth."
He said he hopes the exhibition will offer a true picture of human rights in China and "serve as a window to help (people) learn more about my country, better understand and support China, so that we can join hands for peace, development, and prosperity of the world".
The exhibition of more than 100 pictures and 10 short videos showcases China's efforts in relation to legislation, education, and health and their contribution to domestic and global advances in human rights.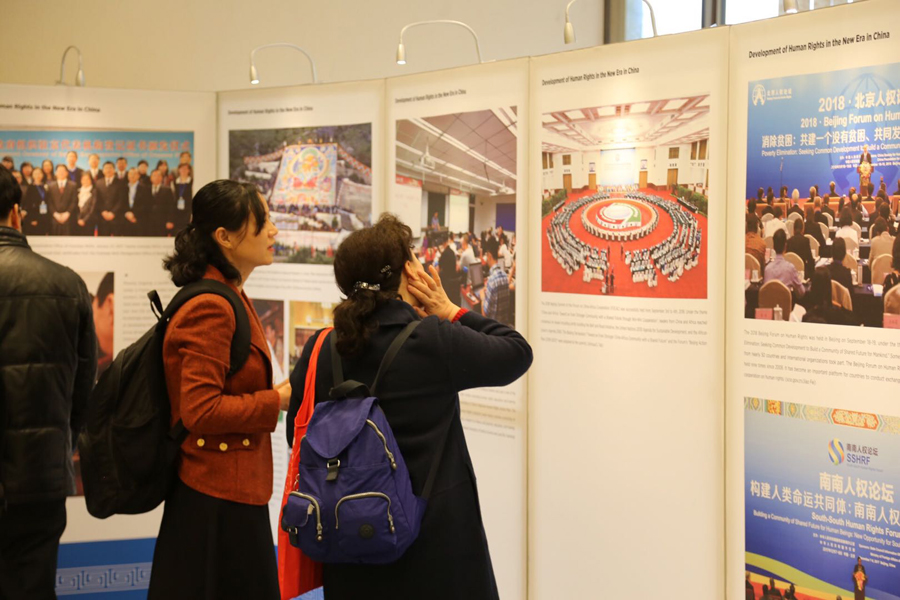 The event preludes the third round of review of China's human rights development by the UN Human Rights Council, which is also known as the Universal Periodic Review. China passed two earlier rounds, in 2009 and 2013.
Lu Guangjin, secretary-general of the China Society for Human Rights Studies, said: "China has combined the principles of universal human rights with its actual situation, while successfully embarking on a route toward the development of human rights that are compatible to its national conditions."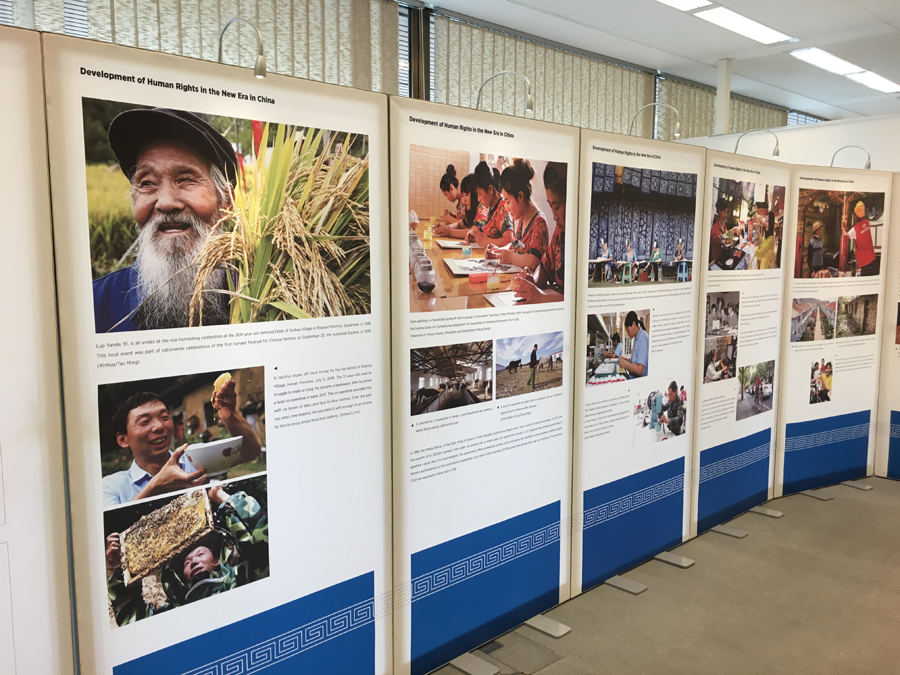 Lu said China is working hard to realize its Two Centenary goals and the Chinese Dream, which is the great rejuvenation of the Chinese nation, and these will guarantee better protection of the basic rights of the Chinese people and "enable all of Chinese society to have a greater sense of personal gain, happiness, and security".
More than 500 people attended the opening ceremony.
Ambassador Farukh Amil, the permanent representative of Pakistan to the UN, said at the opening that the exhibition tells an important story.
"There can be misapprehensions and misconceptions on exactly what has been going on in China … So, it is extremely important for China to show its true face and all that is taking place," he said.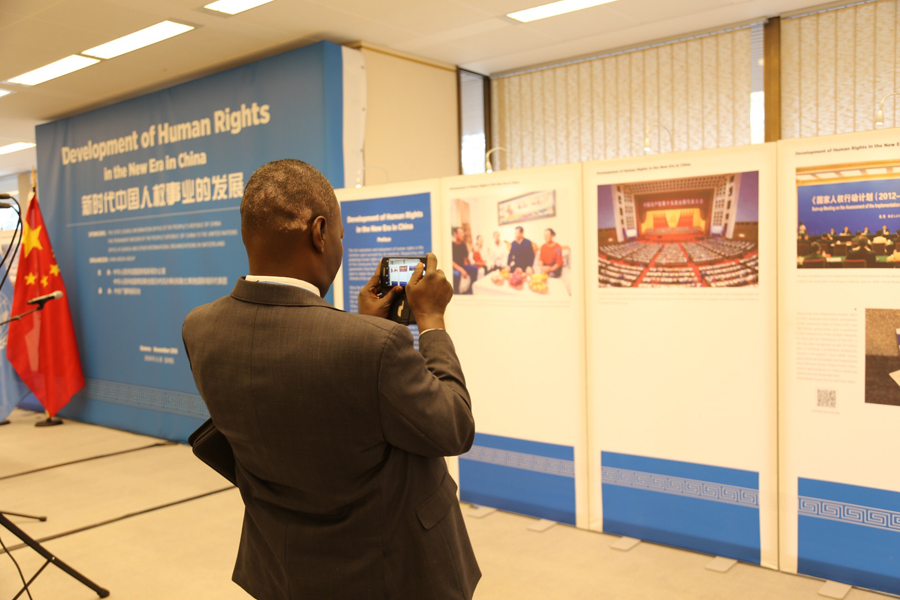 Le said: "We are ready to engage in the review in a serious and responsible manner and with an open and inclusive mind. We expect to carry out constructive dialogue with various parties on the basis of equality and mutual benefit. I hope, and I do believe, that the parties will participate in the review under the principle of objectivity, impartiality, and non-selectivity. And we'll take this review as an opportunity to share experience and make progress together."
He said the China International Import Expo in Shanghai also offers a "creative and unprecedented step in the history of international trade" and is another example of China further opening itself up to the world.
Han Baoyi in Geneva contributed to this story.