Pernod Ricard exhibits brand portfolio at first CIIE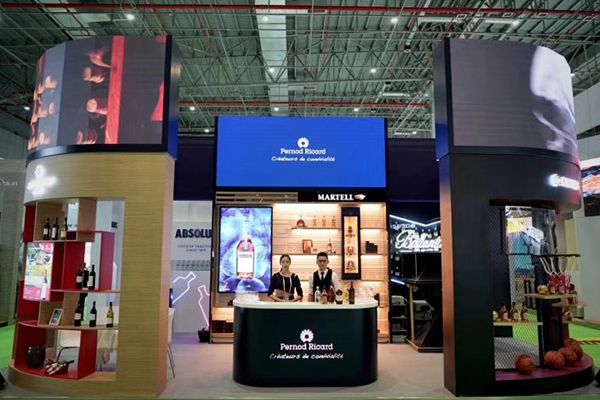 Pernod Ricard, an international wine and spirits giant, is making its official appearance at the first China International Import Expo held at the National Exhibition and Convention Center in Shanghai from Nov 5 to 10.
As one of the first contract exhibitors of the CIIE, Pernod Ricard will exhibit five brands from its portfolio, namely Martell, Chivas Regal, Ballantine's, Absolut Vodka, and Jacob's Creek. The brands will appear in Hall 8.2 (Food & Agricultural
Products).
Since its beginning, Pernod Ricard has been committed to building one of the world's most comprehensive portfolios of premium brands in the industry. Its key brands such as Chivas Regal and Martell have been in the Chinese market for more than 20 years and grown into leading imported spirit brands in China.
In response to the booming middle class and constantly emerging young consumer groups in China, Pernod Ricard has made bold reforms to adjust its imported product lines and improve its market operations model.
While vigorously developing its traditional businesses, it has also established premium brands and created more consumption occasions for middle class consumers in China, with a view to better meet their needs by expanding effective supply.
Pernod Ricard's brand portfolio has played an important role in promoting the sustainable development of China's imported wine and spirits market.
Co-sponsored by the Ministry of Commerce and Shanghai Municipal Government, the CIIE is the first national-level import-themed expo in the world.
At its booth in Hall 8.2 (Food & Agricultural Products, Booth C7-01) at the CIIE, Pernod Ricard will showcase its brand portfolio represented by Martell, Chivas Regal, Ballantine's, Absolut Vodka, and Jacob's Creek, covering not only high-end luxury products targeted at high-end consumers but also affordable entry-level brands targeted at middle-class and young adult consumers.
Additionally, Pernod Ricard will interact with visitors in multiple ways including the use of holographic projections, online games, sensory projections and touchscreens, to display the charms of its brands.
Speaking of the company's participation in the CIIE, Jean-Etienne GOURGUES, managing director of Pernod Ricard China, considers the CIIE not only as a major initiative of China to further open its market internationally, but also an important opportunity for participating companies to comprehensively present themselves to the whole world.
He hopes that through the CIIE platform, Pernod Ricard can fully demonstrate its overall strength and leadership in the imported wine and spirits industry as well as the company's efforts and contributions in promoting the development of China's import trade.