Chance encounter proves rewarding
By Cecily Liu | China Daily | Updated: 2018-11-07 10:07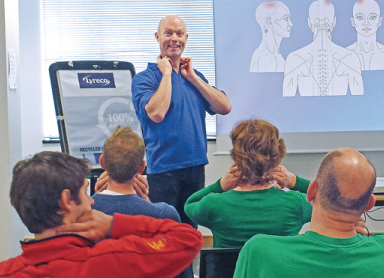 Mike Cummings' first encounter with acupuncture came about by chance in 1989, when he was a young general duties medical officer with the Royal Air Force in Britain.
One day, he noticed the door to the senior doctor's office was shut and asked the duty sergeant what was going on.
"The squadron leader is doing some acupuncture," came the reply. Cummings was stunned. What was more, the sergeant told him, "The queen is paying for it."
It turned out that the RAF had funding that allowed doctors to train in a variety of different areas of medicine to broaden their knowledge. One of these sectors was acupuncture.
Cummings was so fascinated by his discovery that he took an acupuncture course run by the British Medical Acupuncture Society.
"For me, it was a moment of revelation," he said. "As a doctor familiar only with needle injections, I was pleasantly surprised to find that acupuncture treatment is effective with just plain needles inserted into the skin, with no actual substance injected into the body."
After his training, Cummings returned to the RAF, where he used acupuncture extensively to treat officers.
"I could see that patients' muscles relaxed quickly and easily," he said. "My observations convinced me that there was some wisdom to the ancient idea of sticking needles into people to make them better."
After leaving the air force, Cummings became an acupuncture specialist, and has never looked back.
He is now medical director of the British Medical Acupuncture Society and, through its training programs over the years, has taught hundreds of British specialists how to practice acupuncture.
His students, who are qualified UK doctors, have added acupuncture to their range of treatments.
In addition to teaching, Cummings writes an acupuncture blog to explain the latest clinical trials and scientific research into the alternative medicine. He frequently travels the world to exchange views with other acupuncturists, and also continues to treat patients.