Qianlong period pieces among highlights in auction
By Bo Leung in London | China Daily UK | Updated: 2018-11-07 23:42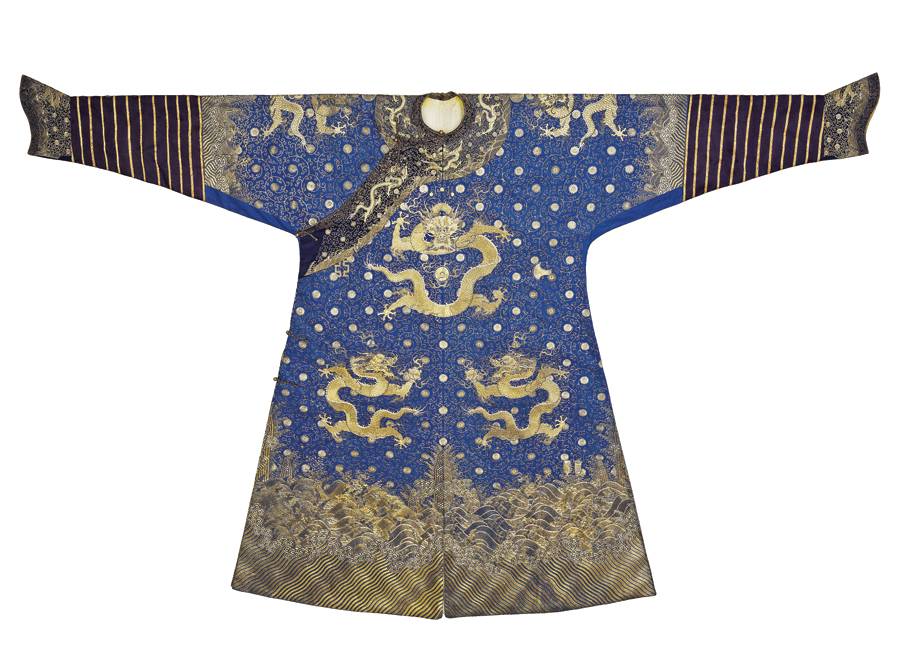 A rare imperial dragon robe acquired by a British army officer more than 100 years ago in Beijing will be sold at Bonhams Fine Chinese Art sale on Thursday as part of the London saleroom's Asian Art Week.
The auction house said the superb quality of the embroidery and the painstaking attention to detail suggests that the robe would have been tailored to be worn by the Qianlong Emperor (1736-95).
The robe was purchased by Brigadier-General Offley Shore during a visit to Beijing in March 1912 while he was serving in the Indian Army.
A letter written by Shore's wife dated Sept 24, 1913 describes the army officer wearing the robe to a fancy-dress ball, saying "Offley wore the beautiful Chinese coat of blue and gold and silver that we bought in Peking."
The robe was then passed down the generations and is now up for auction with an estimate of 150,000 pounds ($197,000).
The 12-symbol dragon robe is embodied with varying tones of gold and silver-wrapped threads with nine imperial five-clawed dragons.
Blue-ground robes decorated with the 12 symbols are exceptionally rare and were worn exclusively by the rulers on formal occasions.
Colin Sheaf, chairman of Bonhams UK and Asia, said: "This robe is an outstanding example of an 18th century ceremonial robe embroidered expressly for a specific imperial ceremony, and therefore only worn very infrequently for this annual purpose."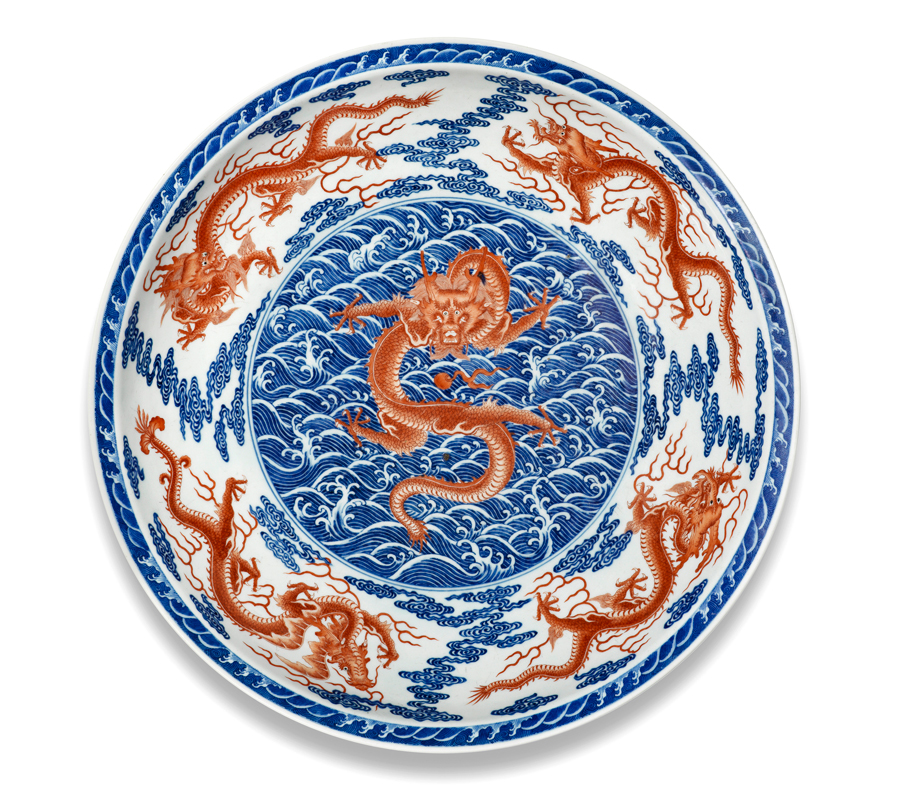 Another lot also from the Qianlong period is a large imperial underglaze-blue and iron-red enamel nine-dragon dish.
Only a handful of Qianlong dishes from this period, of such size and decoration and bearing the mark of the imperial seal are known to exist in either public or private collection.
"At the center is a full faced five-clawed dragon, the five claws confirming that this was a commission for the personal use of the Qianlong Emperor following the precise restriction imposed by imperial decree in 1343," Sheaf said.
"However, this dish has four subsidiary dragons chasing each other around the center; two have five claws as one expects, two have only three claws, suggesting it was for the use of an imperial prince anticipating elevation to become emperor in the future."
The dish was purchased by British businessman David Newbigging on the Chinese mainland in 1960 and brought from Hong Kong to the United Kingdom in spring 1984. It is expected to sell for between 400,000 and 600,000 pounds.