Munich future in doubt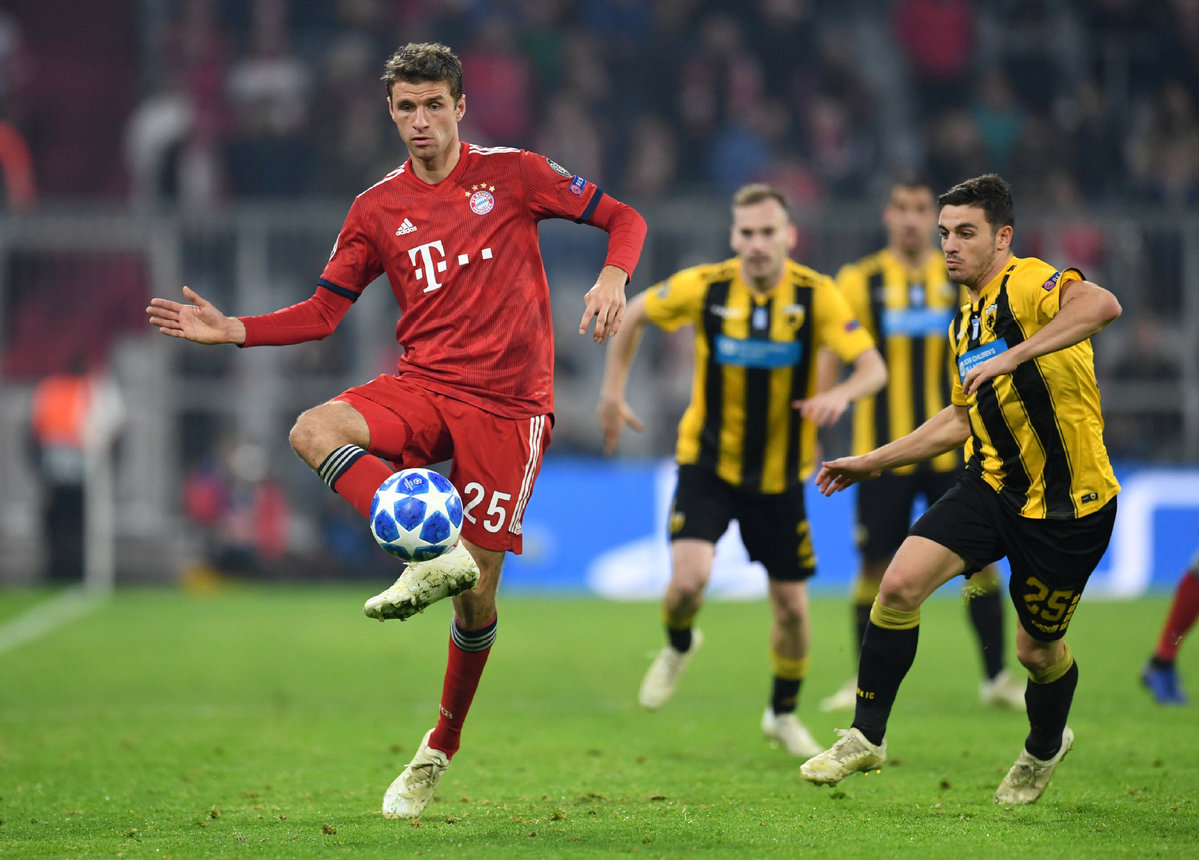 What once seemed unimaginable is now becoming a real possibility: Thomas Mueller could be leaving Bayern Munich.
The 29-year-old - for the bulk of his career a virtual stalwart in Bayern's starting XI - is appearing with increasing frequency on coach Niko Kovac's bench.
Now German media reports the fan favorite could be headed for the Bayern exit door despite being contracted until 2021.
Mueller, who was born in the small Bavarian town of Weilheim and has been at Bayern since he was 10, is the very embodiment of the region at a club which boasts an increasingly international roster.
But it's not merely his local heritage that has endeared him to fans. He has been an integral part of a Bayern side that has dominated German soccer for the last decade, with his goals helping it to seven Bundesliga titles since making his debut with the first team in 2008.
Mueller remains one of the last members of the 2013 treble-winning squad to feature in the current panel.
It is no longer the case, though, that "Mueller always plays," as ex-Bayern boss Louis van Gaal once remarked.
Now, Mueller's ungainly style no longer seems to fit the tactical systems used by Kovac, and even Germany boss Joachim Loew, under whose leadership he won the 2014 World Cup.
Mueller's playing style is hard to pin down. He is not blessed with the quick feet of a tricky winger nor the vision of an eagle-eyed playmaker. His strength has always been his positional sense. A new term was even coined to describe his anticipatory skills - "raumdeuter", which translates as "space interpreter" or "space investigator".
His attacking instincts helped him score five goals at both the 2010 and 2014 World Cups, eclipsing bigger names at those tournaments.
Now, though, the naysayers expect his poor showing at last summer's finals in Russia to be his last World Cup appearance.
Kicker magazine claims a number of clubs are swirling for Mueller's signature.
In 2016, Manchester United had a 100 million euro ($114 million) bid for Mueller rejected by Bayern.
At the time, he admitted to thinking about the offer intensively. "It will be difficult to leave a club like Bayern, but a new challenge doesn't sound too bad either," he said. Since then, Mueller has been on a downward slope. After a goalless campaign at the 2016 European Championship, his scoring touch began to desert him at club level, too.
Successive managers in Pep Guardiola and Carlo Ancelotti benched Mueller for many big matches and things haven't improved under new boss Kovac during a bumpy start to the season which sees the Bavarian giant sit third in the Bundesliga, four points off early leader Borussia Dortmund.
Dieter Hoeness, a former Bayern striker and brother of club president Uli Hoeness, said: "Thomas lacks the easiness of the past years".
However, Mueller insists he is determined to stay and fight for his place.
Uprooting for a new life elsewhere wouldn't be easy, in any case. His family is settled in Bavaria and owns a horse ranch, where his wife Lisa works.
The frustration of her husband's continuing role as a benchwarmer boiled over during last weekend's 1-1 draw with Freiburg.
Just as Mueller was about to come on as a substitute, Lisa tweeted: "It takes over 70 minutes until he has a flash of inspiration", apparently referring to coach Kovac.
Mueller said the post wasn't a such good idea but added with a smile: "What can I do? She loves me."