Ningxia wines wow UN diplomats
By HONG XIAO at the United Nations | China Daily USA | Updated: 2018-11-09 00:59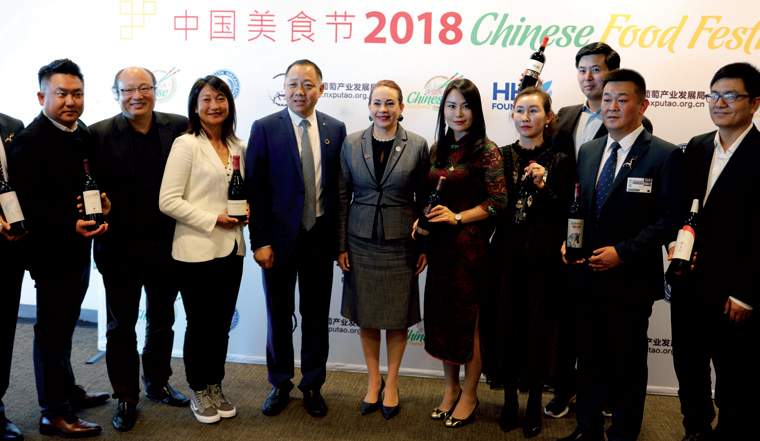 They raised their glasses to the wines of Ningxia at United Nations headquarters in New York this week.
As part of the Chinese Food Festival, which runs from Monday to Friday this week, more than 20 UN ambassadors and diplomats attended an exclusive luncheon on Wednesday.
Cuisines for the luncheon were prepared by chefs from the Ningxia Hui autonomous region, and international award-winning wines produced in the eastern foothills of the Helan Mountains in the Northwest China region were featured.
Ravi Batra, adviser to the Permanent Mission of Ukraine to the UN, shared a story about Chinese liquor during the luncheon. He recalled the time that India's ambassador was hosting a Chinese diplomat, and Maotai, the most renowned Chinese baijiu, was served.
"It scared me that nothing had never gone down off my palate that is stronger than Maotai, but today, it (Ningxia wine) changes my view; this is so wonderful!" he sighed after tasting the wine.
Cao Kailong, director of the Ningxia Grape Industry Development Bureau, told the guests that the wine was made from grapes planted in the eastern foothills of the Helan Mountains in Ningxia located between 37 and 39 degrees north latitude.
"It is believed to be the 'golden zone' for wine-grape cultivation in the world," he added.
"The soil, sunshine, temperature, precipitation, altitude, hydrothermal co-efficient and other conditions constitute a perfection combination to produce grapes with well-developed aroma, good chromogenesis and a balanced acid-sugar ratio," Cao explained.
The wine region of the Helan Mountains in Ningxia has 86 wine chateaus and plants nearly 40,000 hectares of wine grapes, which can produce nearly 100,000 tons of wine per year. It is the only chateau wine-producing area in China.
"It has become China's most promising wine-producing area on a par with the world's best wine-producing areas," Cao said confidently.
Alexandru Cujba, former permanent representative of Moldova to the UN, recalled his visit to the Ningxia region last September.
"I was deeply impressed by what I have seen over there. This region is remarkable. The results achieved by Ningxia in the area of agriculture, particularly the grape and wine industry, are extraordinary," he said.
"China is an example that there is kind of a global awakening of thoughts on wine that more and more people are going into wine(making)," said Kaha Imnadze, permanent representative to the UN.
Imnadze said that there's competition in most industries, "but in wine, the more people go into wine, it's better for every winemaking country".
The great advantage that Ningxia has is its variety and potential as a winemaking region that is becoming globally known.
"People tend to look for new wines, because they want to indulge themselves in different wines, not necessarily wine coming from a big name, but quality wine may come from a chateau."
Imnadze, who has been to China several times as a tourist or a government guest, said he has seen the success that China has achieved in many fields.
Imnadze said his country, Georgia, is a cradle for winemaking and has more than 500 grape varieties. "And not all of them are fully commercialized," he said.
He invited the Ningxia delegation to visit Georgia to promote exchange and cooperation in grape planting and winemaking between the two countries.
"You can be a leader in producing and giving the world some of the newest tastes that many do not know about," he said.
The 2018 Chinese Food Festival is co-organized by the Human Health Organization, the Administration of Development of Grape Industry of Ningxia and the UN Delegates Dining Room.
The festival features authentic Chinese food, blending traditional Chinese flavors, such as imperial court dishes and regional cuisines from Ningxia.
Contact the writer at xiaohong@chinadailyusa.com