Wu lease of life for CSL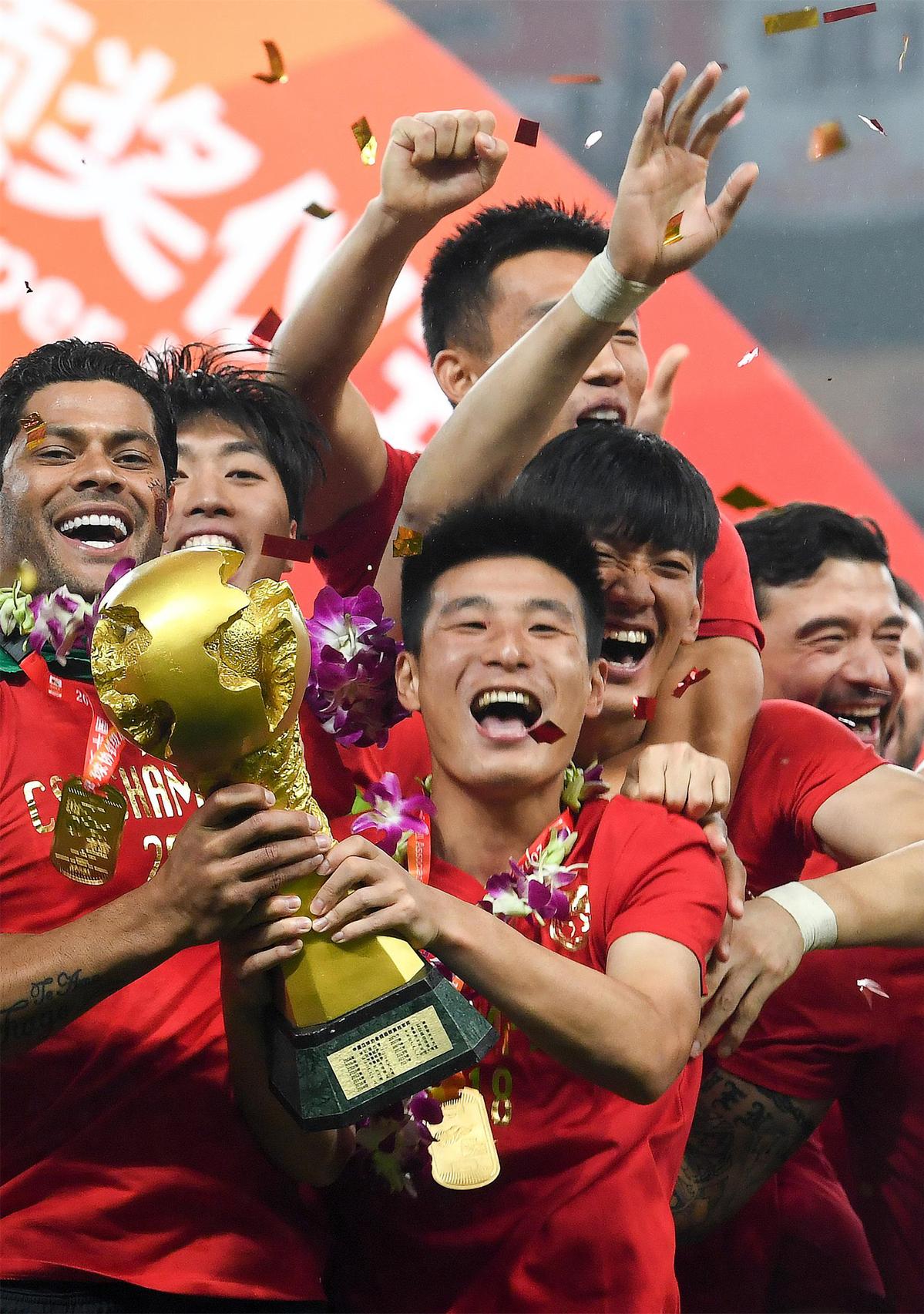 Homegrown hotshot's super season a victory for league's youth policy
The rise of an exciting young scorer is a sign the Chinese Super League's efforts to nurture young talent is paying off.
There were wild celebrations after Shanghai SIPG clinched the CSL title with a 2-1 victory over Beijing Renhe on Wednesday, and while foreign imports certainly played their part in ending Guangzhou Evergrande's seven-year stranglehold on the championship, it was the goals of striker Wu Lei which really did the damage.
Anchoring a starry attacking lineup that also includes Brazilian duo Oscar and Hulk, Wu has netted 27 goals for SIPG, six more than Nigerian Odion Ighalo of Changchun Yatai.
With one round remaining, he's netted the most by a Chinese player since former national team star Li Jinyu in 2007.
To put Wu's prolific form into perspective, he's the only Chinese among the league's top 10 scorers and the only one in the top five with no converted penalties.
The breakout season for the 26-year-old in a league in which pricey imports draw most of the money and headlines, underlines the benefits of a youth training program initiated by former national team coach Xu Genbao in 2000 on eastern Shanghai's remote Chongming Island.
Wu, who was drafted into Xu's soccer academy in 2003, was grateful for the tutelage he received from the program, which has also produced SIPG goalkeeper Yan Junling and leftback Wang Shenchao.
"A lot of credit for winning this championship should go to coach Xu," Wu said while shedding tears of joy after scoring the winner on Wednesday.
"It was his long-cherished dream to bring the league title back to Shanghai and we are so excited to help him realize it."
Xu, 74, led Shanghai-based Shenhua to the city's first topflight league championship in 1995 after a short stint with the national squad in 1991-92.
His earlier disciples, such as centerback Fan Zhiyi, attacking midfielder Qi Hong and winger Wu Chengying, played a key role in the national team's successful qualification for the 2002 World Cup, the country's only appearance in the marquee FIFA tournament.
After witnessing the celebration at a packed Shanghai Stadium, Xu expects to see more resources and funding invested in youth training.
"I hope it's just the start of something bigger. It's critical for Chinese soccer to attach greater importance on nursing our own players in the league," Xu told Shanghai-based newspaper Oriental Sports Daily.
"Only when we have more local players like Wu in the league can we start to think of another World Cup appearance."
Wu's success, though, is something of a rarity in an import-dominated league, where most teams invest heavily in signing high-profile foreign players-even if most of them are past their prime.
SIPG's $72 million purchase of midfielder Oscar from English Premier League side Chelsea in December 2016-the CSL's transfer record-was typical of a spending spree that triggered concerns over the nation's flimsy youth development system.
Evergrande, the league's seven-time champion and two-time AFC Champions League winner, generated revenue of $83 million in 2016 but operated at a $155 million loss due to staggering transfer fees and salaries, according to the club's financial report.
To curb excessive spending on foreign imports, the Chinese Football Association has imposed a series of radical and controversial rules, including limiting the number of foreigners each club can field in a league match and charging a levy for foreign player transfers costing more than 45 million yuan ($6.5 million).
The effects of these mandatory regulations have resulted in increased playing time for young local players. A total of 102 under-23s had played a combined 48,090 minutes in the league by the 25th round, while the equivalent numbers last season were 71 and 39,866.
Claiming it's too early to make any judgment on the rules, Tan Jianxiang, a sports sociology professor with South China Normal University, said all efforts to developing local talent are worthwhile.
"No doubt big money can lure a flux of star players to make the league fun to watch and attractive for media and sponsors," said Tan. "But it doesn't guarantee success at international level."
"For an underdog competitor internationally like China is, the investment in making the sport more accessible at grassroots level while offering any promising young talent adequate coaching and facilities is more important for its soccer ambition."