The language of success
By Xing Wen | China Daily | Updated: 2018-11-14 07:49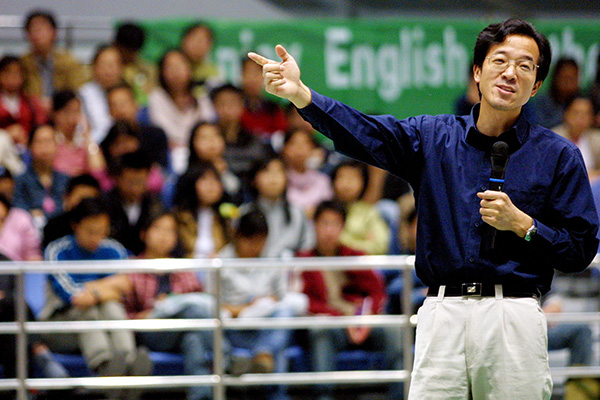 Celebrating its 25th anniversary, Chinese education giant New Oriental continues to fulfill its mission to imbue Chinese English learners with a global outlook, independent character and a sense of social responsibility, Xing Wen reports.
In 1972, Dong Jianping, a 16-year-old junior middle school dropout began working as a truck driver at Liaohe Oilfield in Northeast China's Liaoning province, but his career took an unforeseen turn when he demonstrated English skills quite by accident.
A new career path opened up to him after he surprised his boss and co-workers by explaining the English introduction to the manual of a German-made vehicle as they were unsuccessfully attempting to repair its cooling system. After that, his boss recommended he pursue mid-career studies, which led to his promotion and eventually saw him become a branch manager of a China National Petroleum Corporation office.
"There were few people around me who could speak or read English then," says Dong, adding that in the 1970s before the reform and opening-up, Chinese people lacked awareness about the importance of learning English and employing such resources.
During the "cultural revolution" (1966-76), a key source from which he could gain a basic grasp of English was abandoned bilingual books which he bought from salvage stations at a price of 0.4 yuan ($0.06) per kilogram. "I managed to read such novels as The Adventures of Huckleberry Finn and Uncle Tom's Cabin, even though most of them were incomplete, missing covers, or missing their beginnings and endings," recalls Dong.
Dong's experience may seem unimaginable for today's English-language learners in China, who embrace a wide range of rich learning resources, have free access to numerous learning tools and enjoy ample opportunities to travel, study or work in English-speaking countries.
This November, Chinese education giant New Oriental Education and Technology Group Inc, a private company with its roots in English-language teaching, is celebrating its 25th anniversary as a milestone in its remarkable growth. The company-which was founded in 1993 and later grew to become the first private company in China's education industry to list on the New York Stock Exchange-has stayed ahead of the latest trends in China's education system and has tapped into the ceaseless fervor among Chinese youth for learning English.