Tiger Brokers fund to track Chinese US internet firms
By Shi Jing in Shanghai | China Daily | Updated: 2018-11-14 11:06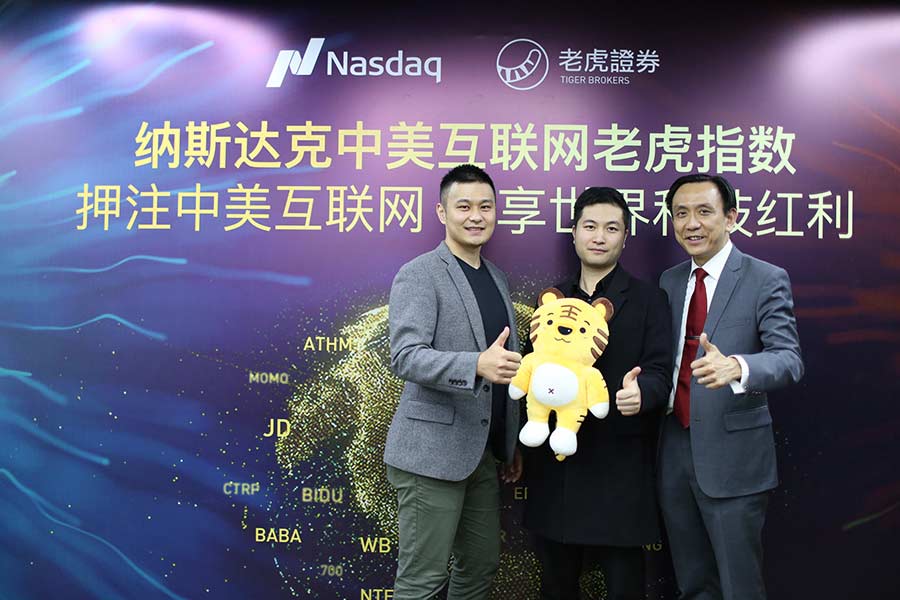 Chinese brokerage and fintech firm Tiger Brokers announced on Monday its exchange-traded fund successfully listed on the Nasdaq, tracking leading internet companies' growth in both China and the United States.
The ETF, with the code TTTN, is the first of its kind and tracks the Nasdaq China US Internet Tiger Index, which was unveiled in late October.
The index mainly measures the performance of 20 stocks in internet-related businesses, including the top 10 publicly traded Chinese internet companies, such as Alibaba and Tencent, as well as their 10 largest listed United States counterparts, such as Amazon and Google's parent company Alphabet.
All 20 companies have reported profits over the past three years. Weibo, Chinese internet company Sina's microblogging platform, has seen its profit surge by 544.89 percent in the last three years.
The ETF officially listed on Nov 7. TigerShares, Tiger Brokers' asset management arm, is the fund's advisor. The constituents in the ETF will be rebalanced quarterly.
According to Xu Yang, CEO of TigerShares, the ETF seeks to provide investment results that closely correspond - before fees and expenses - to the performance of the Nasdaq China US Internet Tiger Index.
The index and ETF were born "to seize the momentum of the internet boom", he said.
Wu Tianhua, founder of Tiger Brokers, said the ETF is a tool to provide an efficient and convenient approach for global stock traders to invest in the fastest-growing inter-net companies in China and the US.
Yang Delong, chief economist at Shenzhen-based First Seafront Fund, said that risk will be diversified if there are over 15 targets within one investment portfolio. In this sense, TigerShares' newly released ETF will incur comparatively lower risk.
The timing of the ETF issuance aims to seize the opportunity of the internet boom, but industry risk should still be considered, Yang added.
Qiu Wei, a partner at Milestep Capital, said some internet giants in China and the US have seen their share prices jump in the past few months.
Although there have been some adjustments lately, there will be limited room of growth in the near future, but the ETF is a good arbitrage tool in the long term, according to Qiu.
Chris Tse, lead sales executive for Nasdaq Global Information Services, said that the Nasdaq China US Internet Tiger Index has come about largely because these countries have become the two most important engines of the world's internet development.
Dave Gedeon, vice-president and head of research and development at Nasdaq Global Indexes, said that trade between China and the US is a powerful factor driving the world economy.
"Both countries have been at the forefront of advancing internet technologies and harnessing the internet for commerce," he said.