SF Chinatown businesses fighting to survive
By Lia Zhu in San Francisco | China Daily USA | Updated: 2018-11-15 00:07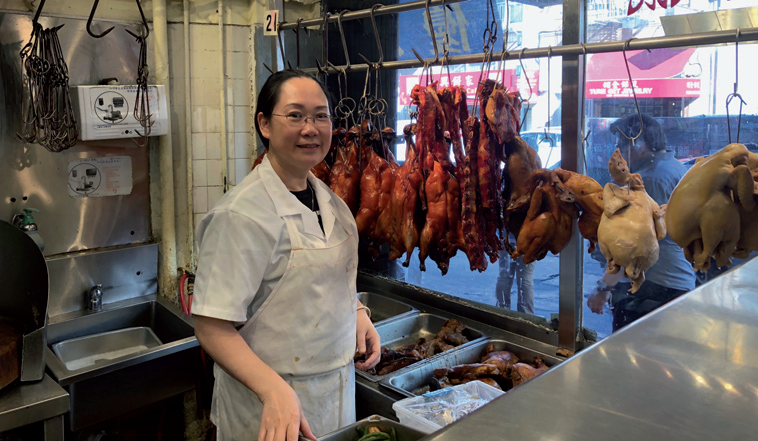 Customers don't come into Daisy Xie's restaurant in San Francisco's Chinatown even at lunch hour anymore, so she spends most of the day looking out the window.
"Times have changed," said Xie, owner of the Chinese barbecue restaurant New Golden. "Chinatown used to be very busy and vibrant".
With a history spanning more than 150 years, Chinatown, with a high density of small businesses, has long been a shopping and cultural hub and a tourist destination. But as Xie said, "times have changed''.
The compact area of Chinatown's 27 blocks house a community of more than 14,000 residents and over 900 small businesses, according to a 2017 report by the Chinatown Community Development Center.
Aging buildings and infrastructure, gentrification pressures and other factors are leaving Chinatown at a "critical juncture", said the center.
Like Xie's New Golden, most of the shops and restaurants on Stockton Street — the main shopping and business area in Chinatown — have little business on a Sunday.
Xie blamed the years-long construction of the central subway Chinatown station right in front of her restaurant.
"The businesses on both sides of the street are disrupted because of the traffic condition," she said. "I'm afraid the rent will hike after the construction is complete."
In the Stockton Street area, eight or nine other businesses have closed because their leases were not renewed. Many other business owners say that they fear the same fate as landlords favor more upscale tenants.
Across the street from New Golden, a new bubble tea shop called Subway Station' replaced a barbecue restaurant a month ago. Young people packed the small shop recently and loud pop music played.
Xie said the new shop was a good sign. "The buildings are too old in Chinatown," she said. "Every time I walk by the Italian neighborhood, I think we should learn from them. We need better planning and to smarten up ourselves."
But she said she was reluctant to invest in renovations because she didn't know when her rent would be increased to an unaffordable level.
"It's a shame to lose the cultural district," said Naveed Naficy of Seattle, while queuing outside Good Mang Kok Bakery for his favorite radish cake.
Every time he goes to San Francisco, he stops at the bakery for authentic Chinese food. "I like chicken feet as well," said Naficy, calling himself an "adventurist".
A "Sustainable Chinatown" initiative was launched last year by CCDC and San Francisco planning and environment departments to help preserve the community by increasing its affordability and resilience in the face of gentrification and other challenges.
"Chinatown has been going downhill since 10 years ago. It only got worse in the past two or three years," said Raymond Hong, 58, owner of Rainbow Photography.
"Everything is so expensive now, and it's difficult to find a parking space," said Hong, who has run the shop for 25 years on Stockton Street.
Hong declined to say how much he pays in rent, but said a shop of his size, about 800 square feet, could cost $5,000 to $6,000 a month, and a one-bedroom apartment could command $1,600 a month.
He said he has to work by himself every day to stay in business, but even then, Hong said he barely breaks even.
"I'm not worried about myself. I'm worried about Chinatown. I fear it would fade away some day, like the one in Los Angeles," he said.
Contact the writer at liazhu@chinadailyusa.com