Setting bigger goals for CSL excitement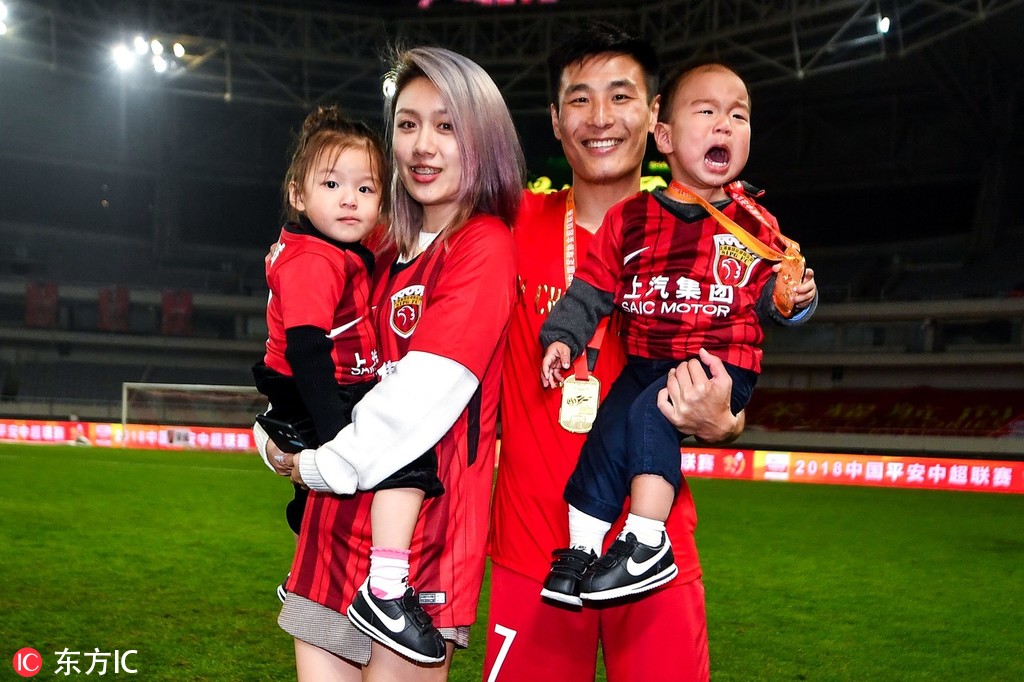 No expansion, but more excitement.
That's the Chinese Super League's recipe for success for next season.
Speculation that the CSL will grow from 16 to 20 teams led to claims that the extra competition would ramp up fan interest, but the Chinese Football Association (CFA) on Tuesday dismissed the rumors, stating on Weibo: "There are reports saying that the CSL will expand to 20 teams next season, but it is not true."
At the same time, the CFA stated some reform measures are under consideration, including curbing transfer spending and setting a salary cap.
With or without expansion, rivalry for next season's championship will still be dramatic, especially after Shanghai SIPG ended Guangzhou Evergrande's seven-year run by claiming this season's title.
SIPG was led by Brazilian duo Oscar and Hulk and starry domestic striker Wu Lei, who netted 27 goals - the most by a Chinese player since former national team star Li Jinyu in 2007.
"To be honest, I never thought I could score 27 goals this season," Wu told Tencent Sports on Tuesday. "I think the reason is that our team is stronger with the help of Oscar and Hulk. After a year together, we understand and cooperate with each other better and better."
Wu's stunning form in the CSL was in marked contrast to his showing with the national team, leading many fans to believe he's only as good as the foreign players who created chances for him.
"In the 2013-14 season, we did not have strong foreign players but I still scored a lot of goals and proved myself," said Wu. "I admit that in the national team I still have to improve a lot. I know that fans are expecting me to score more in the national team, and I'll try my best.
"After the season, I'll report to the national team for the Asian Cup. I had a great performance in the league, but I want contribute more to the national team. The 2022 World Cup is the dream of us all."
Wu is exactly the kind of player deputy sports minister Du Zhaocai had in mind when he told a CFA conference in Wuhan last week that "if there's no superstar, Chinese soccer will never step out of Asia.
"To find and nurture a major star of our own is equally important as the overall development of Chinese soccer," Du added.
Asked if he was the man to fit that bill, Wu replied: "That's overpraise, because the development of Chinese soccer cannot be done by one or two players. Everyone should work hard towards the same goal."
Meanwhile, for aging Evergrande to regain the CSL championship next season, a rebuild appears necessary.
"I still hope to bring a few new faces in and let the passion return to the team," said Evergrande coach Fabio Cannavaro, whose team is still spearheaded by 30-something players like striker Gao Lin.
Adding more intrigue to next season's campaign is the reported return of an old champion.
After earning promotion back to the big time last year, Dalian Yifang bolstered its ranks with the signings of Atletico Madrid duo Yannick Carrasco and Nicolas Gaitan. And after securing its CSL status for another season, the club is set to change its name to Dalian Wanda, according to NetEase Sports.
Under the ownership of Wanda Group, the old Dalian Wanda team won four league titles between 1994 and 1998, but success gradually deserted the club after the property giant sold it to Shide in 2000. Now, it's hoped Wanda investment in Dalian's current topflight representatives could trigger a new glory era for the Liaoning province city.