Aion S coupe embodies the global ambition of GAC New Energy Automobile
By Li Fusheng | China Daily | Updated: 2018-11-19 11:09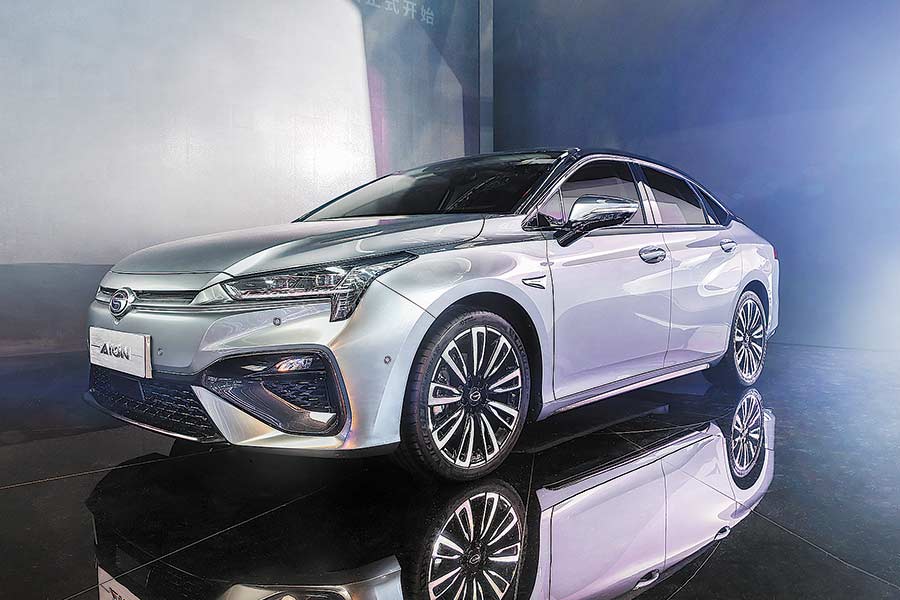 GAC New Energy Automobile Co is showcasing its Aion S at the Guangzhou auto show, which the less -than two-year-old subsidiary under the Guangzhou Automobile Group said is an indication of its ambition to become a global leader in three to five years.
The coupe, which is China's first electric model with a range of over 600 kilometers, has a top output of 150 kilowatts and a top torque of 350 Newton meters, and features a smart voice-command system co-developed with China's internet giant Tencent, according to company.
It is capable of Level 2 autonomous driving, and offers up to 144 personalized items through its app which was released at the auto show. The Aion S is also the first model to have a solar-powered sunroof, which helps charge the batteries and also serves as a ventilation tool.
"Although it is yet to excel in all aspects, I believe the Aion S is a world-leading model," said Gu Huinan, general manager of GAC New Energy Automobile.
"We will soon come up with one or two models to consolidate that lead, and it is my goal to build us into a globally leading carmaker within three to five years," he said.
The Aion S will be the first model built on the carmaker's second-generation electric vehicle platform and its production will start in April at its new facility, with an annual capacity of 100,000 units, where Level 4 autonomous vehicles are tested.
Gu said the platform will allow the carmaker to offer at least two models a year, and vehicles capable of Level 3 autonomous driving will hit the market no later than late 2019.
GAC New Energy Automobile is already one of the fastest-growing carmakers in its segment. It has received orders for around 7,000 electric GE3 530 SUVs since the model hit the market in late August. In the first 10 months this year, the company's sales totaled 13,000, triple the figure in the same period last year.
Xiao Yong, deputy general manager of the company, said: "This year marks a solid step for us into the market, where I believe we have gained a foothold."
"We have the ambition to grow our annual sales to 80,000 to 100,000 units by 2020," he said.
The carmaker is fast developing its sales network. Xiao said it now has around 50 dealerships and showrooms, and another 10 are expected to open their doors by the end of this year. The network will expand to cover 150 cities in the country in 2019 to seize a larger share of the market.
China has been the world's largest new energy vehicle market since 2015, and nearly 880,000 were sold in the first 10 months this year, up 70 percent year-on-year.
Xiao said the new energy vehicle market will surge in 2019 and then the market will see a reshuffle as China will stop its subsidies by the end of 2020, before there comes another round of growth.
"Many will lose their customers, while competitive ones will become even more competitive," said Xiao.