Long-time China resident from Belgium doing his part
By Deng Jingjing | chinadaily.com.cn | Updated: 2018-11-19 18:11
Though he was one of the first foreigners to come to China for business since reform and opening-up began, Gilbert Van Kerckhove never thought he would live in China for almost 40 years.
Before landing in China in 1980, Van Kerckhove was told by friends and family it would be too difficult to go to China. "It was very difficult at the very beginning, because in 1980 and 1981 China was still closed," he said. "There was basically nothing."
In the 1980s, Van Kerckhove set up a Chinese office for a Belgian electrical engineering company, helped with China's Henan Pingdingshan power station project and lent his expertise to secure the first government soft loan to China. He has a master's degree in electrical engineering and has lived on and off in China working for various companies, including Siemens and Alstom. At the end of 1999, Van Kerckhove and his wife decided to settle down and set up Beijing Global Strategy Consulting Co, which helps foreign companies enter China and helps Chinese companies going abroad.
After arriving in Beijing, Van Kerckhove became a senior consultant for the Beijing Investment Promotion Bureau. His work at the bureau got the attention of the organizing committee for the 2008 Beijing Olympic and Paralympic Games, who asked him to pitch in with the preparatory work.
"I was a little bit like a marriage counselor putting all the companies together to make a consortium, to deal with, for example, the Bird's Nest, the Water Cube, the Olympic Village and so on," the 70-year-old Belgian said. Van Kerckhove acted as a bridge between the Chinese administration and foreign governments, embassies and chambers of commerce when China prepared for 2008 Beijing Olympics.
It was not an easy time for Beijing, with SARS and other difficulties preparing for such a high-level event. But Van Kerckhove did more than just observe and suggest. He is not one to just make nice presentations, but instead digs in to find solutions and get things done.
"Well, I jokingly call myself a 'New Lei Feng'. Because my country of residence is China. This is my home. I think if you work in a country, you are part of the community, you have to do your part to contribute," Van Kerckhove said. Due to his achievements before and during the Olympics, he was honored with the China Friendship Award in 2005 — the highest honor bestowed on foreign experts by the Chinese government — and he was offered a Chinese "green card" in 2008.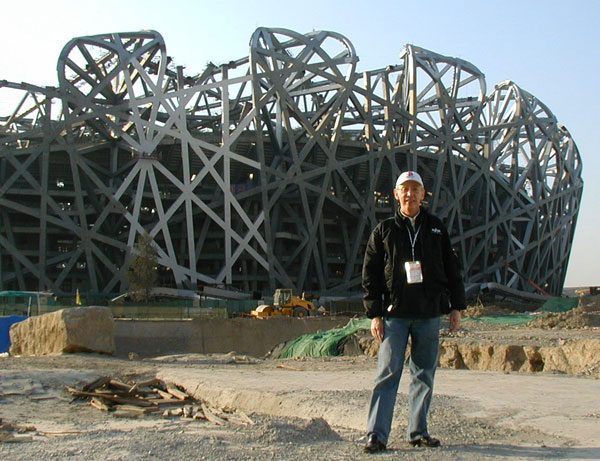 When talking about the great changes and tremendous transformations over recent decades in China, the old China hand said what impressed him most were not just the booming economy and technology changes, but also how people changed: their attitudes and changes in society.
"I like very much to talk with people. Although my Chinese is still very so-so, it's good enough to talk with people. It is incredible how easily people open up with me. So you discover a lot about how society has changed. Relationships between men and women, husbands and wives, the hidden life of the Chinese —they come with one public image, but the private life is completely different. I think it's fascinating, and you discover many times that Chinese values are not that different from what you see in Europe and in the United States," Van Kerckhove said. "People are open-minded and like to talk with each other about things."
A lot of things have been done in China, Van Kerckhove said, emphasizing the poverty reduction in China over past 40 years. These achievements, he added, are partly attributable to China's long-term planning.
"What I always say is, you look at China, they make their five-year plans. Are all the five-year plans perfect? Maybe not, but which countries in the world still have them? In my own country, I wonder if they have three-month plans, because they don't plan anything. In China, they have a very good team to work on that," he said, smiling. Gilbert Van Kerckhove also served as one of the only foreign consultant to the Committee for the Beijing 12th Five-Year plan (2011-2015).
Although some foreigners have criticized Chinese investments in infrastructure, Van Kerckhove completely disagrees with them. "I have been seeing the effects of this traveling into Xinjiang, Sichuan, Chongqing. It is incredible how central and western China have completely opened up in a matter of 10 years! This has boosted the development of these regions tremendously. This is not a waste of money."
Looking at the overall picture, the vision of opening-up was very important and China's infrastructure development is one of the examples Van Kerckhove uses to show how China has achieved progress. "Twenty years ago, the only development we had in China was on the East Coast. Everybody was going there, all the migrants were moving there. Now they don't want to go there anymore. They want to stay in their hometown, because now there are many more opportunities."
"It's always easy to criticize. You can always say, this is not good, that is not good. But if you see the overall picture, like I always say — there's no country in the world who has achieved such tremendous progress in 40 years," he said. Continuing, he asked, "Are things perfect? Of course not. But it could be much worse."
Gilbert Van Kerckhove was not like the foreigners who lived in China for many years and often told you how he loved China, nor praised it for its efforts to be the world's second-largest economy. Instead, he analysed and commented on things that happened or were achieved in China with his unique perspective and in a way of implication and giving examples, or rather suggestions — to make his own contributions to make things better in his second home, which he has no intention of leaving.
As an environmentalist, Van Kerckhove is very concerned about traffic and environmental problems in Beijing. He is ready to serve as a volunteer and report issues, just as he used to do many years ago for the Beijing government. "We are not here to criticize, we are here to give reports and suggestions," Van Kerckhove said. "We give many suggestions, because we live here, we are part of the community, we want to be proud of Beijing. When foreigners come to Beijing, I'm proud to say 'Look at what Beijing has become.' The things you read about China and Beijing in the foreign press — this is not the reality."