New chapter for relations
People's Daily | Updated: 2018-11-20 07:12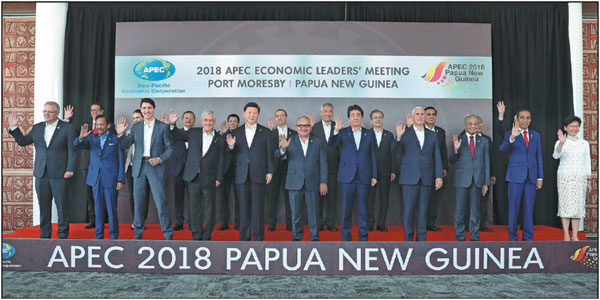 During President Xi Jinping's meeting with the leaders of Pacific island nations in Port Moresby, Papua New Guinea, on Friday, the two sides agreed to elevate their relations to the level of a comprehensive strategic partnership, featuring mutual respect, common development and all-around cooperation.
As Prime Minister Peter O'Neill said, Xi's first visit to Papua New Guinea as Chinese president was a historical moment for the Pacific island nations. The meeting deepened mutual trust and gave a strong impetus to expanding exchanges and cooperation.
During the meeting, Xi comprehensively expounded on China's policies and proposals on further developing relations with the island nations and announced some major measures to support their development and expand cooperation on the basis of sincerity, equality, mutual trust and mutual benefit.
No matter how the international situation changes, he said that China and the Pacific island countries are "good brothers" who always treat each other sincerely and with respect in pursuit of common development.
China's development of relations with Pacific island countries has a profound historical and realistic foundation. More than 150 years ago, there were Chinese people who traveled across the Pacific Ocean to these island countries to work side by side with local people. On the basis of full respect for the will of their governments and peoples and full consideration of their development needs, China has long provided assistance to the Pacific island countries within its capacity and without setting any conditions, effectively promoting their economic and social development.
China supports the island countries developing their economies, improving their people's livelihoods and enhancing their capacity for independent and sustainable development. The Belt and Road Initiative has offered new opportunities for China to do this by expanding investment and increasing its imports from the island countries, which have provided important opportunities for the island countries to take advantage of China's development.
Xi said that China is willing to work together with the island countries for mutually beneficial cooperation and common prosperity.
Given that relations between China and the Pacific island countries are at their best time in history, the two sides will surely realize a brighter future for their ties as long as they seize the opportunity and work together.