Shanghai has something cooking at Macy's
By HONG XIAO in New York | China Daily USA | Updated: 2018-11-21 00:28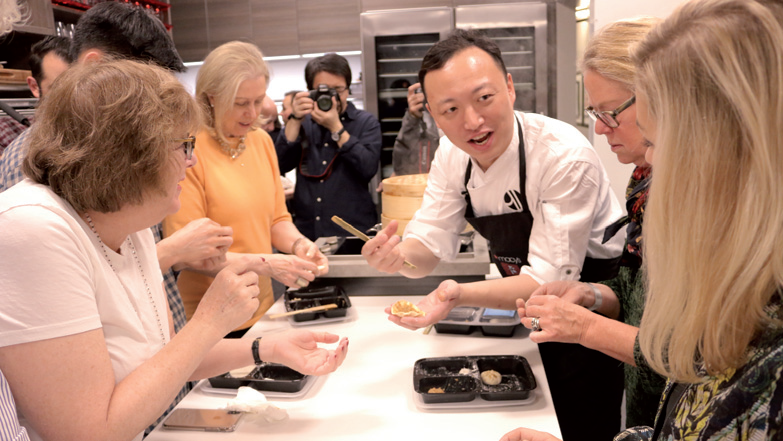 Some lucky New Yorkers and tourists are learning how to make Shanghai's signature dishes from Chinese celebrity chefs.
The Shanghai Food Festival and tourism promotion event is taking place at Macy's flagship store in Herald Square from Monday to Wednesday.
Cooking classes are being offered by the executive chefs from the Marriott Shanghai, at the De Gustibus Cooking School on the eighth floor of the building, with the objective of providing an immersive culinary experience to New Yorkers.
On Monday, the chefs hosted two hourlong cooking classes, each of which accommodates 25 students, and xiao long bao (steamed soup dumplings) was the main course.
"Delicious! This is better than what we ate here (in New York). It reminds us what we had in Shanghai," said Joel Ettinger, after tasting the xiao long bao made by the chefs on the spot.
He and his wife received an email announcing the course and immediately signed up.
The couple have visited China, including Shanghai, and got a great impression of the city.
"That was our favorite city of any city we visited in China. I'd love to go there again," said Gail Ettinger.
In the next two days, how to make Shanghai's signature foods, including qing tuan (green sticky rice mochi) and savory mooncakes will be taught.
The Shanghai delicacies will be offered to more than 1,000 visitors a day at the famous Manhattan department store.
The event, called Eat, Love, Shanghai, is sponsored by the Shanghai Municipal Tourism Administration, along with Macy's, Marriott International, China Eastern Airlines, American Airlines and the Shanghai Spring Tour.
"Great food has always been an integral part of a city's charm the world over. Tastes and flavors of a city define its character," said Cheng Meihong, deputy director of the Shanghai Municipal Tourism Administration.
She said the event is "intended to prompt more Americans to travel to Shanghai … (and) to afford a bite of Shanghai to attendees and leave them with a delicious impression of the city".
Other highlights include a themed photo booth called "Escape to Shanghai", where guests are encouraged to take selfies against a backdrop of the city's skyline at night.
A virtual reality film puts participants into a 3D interactive travel experience through Shanghai.
Cheng said the United States was Shanghai's second-largest source of international visits last year, sending 737,500 tourists, a 6 percent increase over the previous year.
Nearly 600,000 American tourists visited Shanghai in the first three quarters of 2018, a 12.3 percent increase year-over-year.
"US tourists have expressed a keen interest in Chinese culture," she added.
Data show that the number of inbound tourists in Shanghai reached 8.73 million in 2017, a 2.2 percent increase over the previous year.
In July 2016, the Shanghai Municipal Tourism Administration and NYC & Company announced that the cities had formed a tourism partnership.