'Mompetition' reflects burden on mothers
China Daily | Updated: 2018-11-21 07:08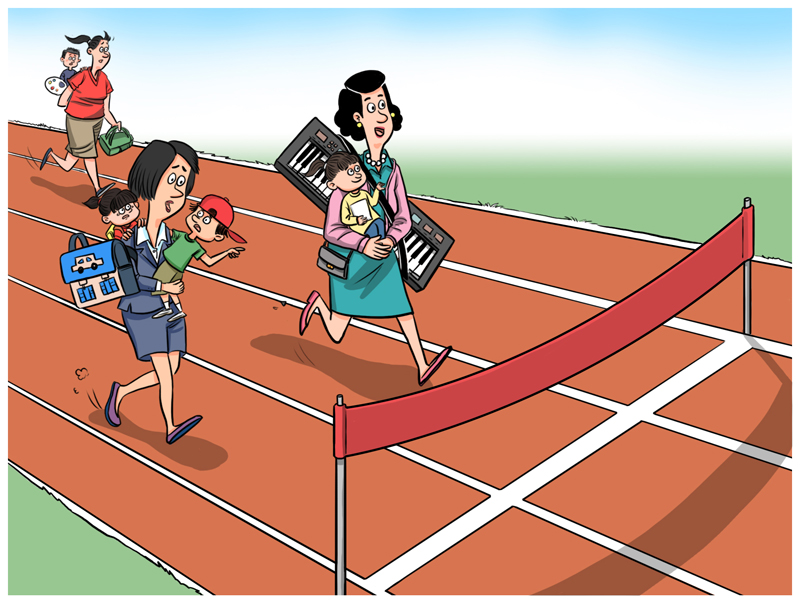 Editor's note: Yu Minhong, the founder of English-language training giant New Oriental, sparked controversy by saying the moral degeneration of women has led to the current degeneration of the country. But by saying that mothers play a decisive role in bringing up children he also put his finger on why "mompetition" is so fierce in China. One China Daily writer offers her view and two education experts share their views with China Daily's Yao Yuxin. Excerpts follow:
Society should respect working mothers
In fact, the apology Yu issued on Sunday following his remarks on Saturday shows that Chinese mothers usually shoulder burden of raising kids.
His discriminative words that Chinese women's degeneration has led to the degeneration of the country deserve strong criticism. But his belief in the decisive role women play in the development of children, which he expressed in his apology on Sunday is true. It's no secret that Chinese mothers play the main role in the education of their children.
This was backed up by a study of census data by Huang Yanhua and Qiao Xiaochun, two demographers with Peking University, who found that the influence of mothers on children's occupational status was much greater than that of fathers. The better-educated and well-off mothers are, the more financial support children can receive from their families, and more schooling guidance from mothers.
And the traditional family model, which stresses the mothers have primary responsibility role for bringing up children, has not changed much despite more women working.
That women are viewed as holding up half the sky is truly a fundamental change in China over the past decades. And that about 70 percent of China's female population has come into the labor force is a big step forward, even compared with many developed countries, which deserves applause.
However, most Chinese mothers, even though working, still have the primary responsibility for caring for children and families. Moreover, facing unfair treatment and a glass ceiling, some working mothers then invest their energies in the family and their children's education. And with the introduction of two-child policy, women will face more difficulties in striking a balance between families and work.
Yu ignited a war of words by claiming women's level represent the country's level. But it would be more correct to say that a nation's level is reflected in how the women are treated. Society should show more respect to working mothers, by introducing a more mother-friendly working environment and urging fathers to play a bigger role in their children's upbringing.
Zhu Ping, a writer with China Daily
Schools and families have different roles
In November, two mothers, one in Wuhan, Hubei province, and one in Nanjing, Jiangsu province, were reported to have suffered heart attacks while helping their children do their homework. Many mothers will understand the pressure they felt, as "mompetition" has become fierce.
Some schools encourage parents to participate in school projects with their kids saying they can promote parent-child relationships and make families more involved in children's education. But a major reason behind this is the shortage of teachers at public-funded schools. A teacher usually needs to teach nearly 100 students at least in one subject. The education burden thus falls on families, mostly on mothers.
However, the main purpose of homework is to help students master the skills to solve problems on their own, and children will not acquire them if parents do their homework for them.
In fact, schools and families have different functions in educating children. Blurring the boundaries means children rely on their parents and fail to develop independence.
Besides, teachers salaries should be increased to attract more graduates to join the profession.
Chu Zhaohui, a researcher at the National Institute of Education Sciences
Ban assigning homework to parents nationwide
Several provinces and municipalities including Beijing, Shaanxi and Shandong have announced a ban on assigning homework to parents. A nationwide ban should be introduced to ease the anxiety of parents, especially mothers.
Parents should not be home tutors as it only increases the burden on them while fostering competition among parents. Home should be a place for children to play games, form good sleeping and eating habits and learn how to behave, rather than an appendage of the exam-focused education that schools provide. Children's time should not be totally consumed by studying.
To change the current situation, reform of the education system, which now overemphasizes high grades, is the key. Instead of taking in knowledge and then regurgitating it without any other consideration, children should be developing the capability to think for themselves and learning to interact with others. Families can play an indispensable role in this aspect of their education.
And teachers shouldn't give too many afterschool assignments to children, as it is the quality not the quantity of homework that matters more.
Xiong Bingqi, deputy director of the 21st Century Education Research Institute.