Eco-tourism can protect local culture and the environment
China Reform and Opening – Forty Years in Perspective
Eco-tourism can protect local culture and the environment
Editor's note: Laurence Brahm, first came to China as a fresh university exchange student from the US in 1981 and he has spent much of the past three and a half decades living and working in the country. He has been a lawyer, a writer, and now he is Founding Director of Himalayan Consensus and a Senior International Fellow at the Center for China and Globalization.
He has captured his own story and the nation's journey in China Reform and Opening – Forty Years in Perspective. China Daily is running a series of articles every Thursday starting from May 24 that reveal the changes that have taken place in the country in the past four decades. Starting this month, China Daily will run two articles from this series each week – on Tuesday and Thursday. Keep track of the story by following us.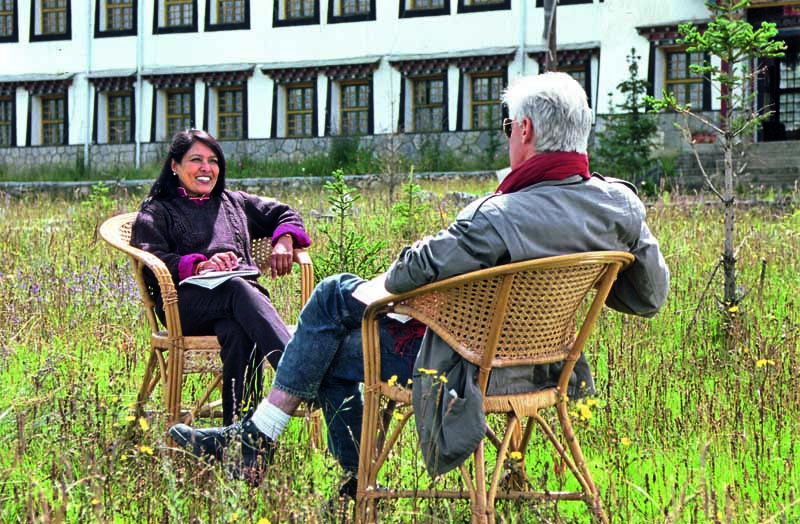 When filming Searching for Shangri-La, I met Uttara Sarkar Crees tucked in a valley surrounded by mountains in Diqing county, Yunnan province. She generated a kind of energy only found in a quiet place where intrusion is minimal. Overlooking the valley, Longda prayer flags were tied near a white pagoda. They hung between two mountains.
In both speech and movement Uttara projected a sense of oneness with her environment. Born in India, she grew up in Africa. Thereafter she spent much of her life in the Himalayas dedicated to running eco-tourism programs. Her goal was to create awareness among local people for what they had and should keep.
So she created the Gyalthang Dzong Eco-tourism Hotel.
"I decided to set up a traditional hotel, that could offer Tibetan hospitality," she explained. "Such tourism needs to establish certain management standards to protect the culture and environment of that area. It also must be sustainable. This is the basis of eco-tourism".
The principles were clear. "In fact eco-tourism does not involve all of the complicated management models and skills they teach you in tourism management schools and which require years of experience in the hotel industry" Uttara stated. "It requires common sense, establishing a philosophical platform for one's life style and then living it!"
Tourism is a double-edged sword. On one hand tourism can create jobs, bringing economic benefit to a community. It can empower local people and serve as a sustainable means of preserving and even evolving local culture. The downside however is that if managed insensitively, tourism can erode and even degrade culture. If hijacked by outside developers, it can displace local people with commercial benefits going to others.
"Maybe those searching for Shangri-la will come here, and find the opposite of what they were looking for because so many tourists have trampled over it." I said, fearing the worst.
"There is very real danger of exactly that happening," Uttara explained. "The big problem with such huge tourism is garbage. People throw their cola bottles and instant noodle packages out of the bus window, wherever they go. So we must have guidelines and education. You see here in this grassland in front of the hotel, we have at least 60 different varieties of wild flowers. Many botanic groups spend days here. Just imagine if hundreds of tourists trip all over the flowers. This is the whole point of eco-tourism as a concept. You have guidelines in place. So the flowers and trees remain protected. There is no damage to the environment, or at least minimum damage that can be reversed. Otherwise the very thing that guests come to see will be gone in five to 10 years".
"So eco-tourism encompasses not just nature but also culture, architectural heritage, the traditions and uniqueness of a region?" I asked.
"Yes. We have to find ways of protecting the bio-diversity, leaving it as natural and as wild as possible. We have a natural reserve with a whole range of mountains dotted with ethnic villages. The mountains are a treasure trove of wild flowers and plants including some very tiny plants which are gradually disappearing from other parts of the earth. There is an effort to help two of the villages earn from tourism and protect the area as it is. It is their own land, and also their sacred mountain and lake where they go to pray. But we fear big developers. They are talking about one developer taking over 50 square kilometers to set up an entertainment park. That is exactly what should not happen here. That will change Shangri-la". Uttara shook her head in frustration. "There are hundreds of entertainment parks all over China, I do not see why one needs to repeat it and have one here. Each place has its own uniqueness. Here our uniqueness is we are one of only two hundred high bio-diversity zones left in the world."
"Villages are never totally united," Uttara continued. "There are always divisions of lands and family disputes. The villagers can be bought by clever businessmen. That is the danger. But through our eco-tourism work we help them to understand what they have."
"How ?" I was very intrigued.
"We do this through a story". She leaned over, opened an old Tibetan chest and took out a roll of posters. Unrolling a simple poster it depicted two cartoon frogs jumping in a bowl.
"There is a Tibetan story about two frogs stuck in a bowl of yak cream," Uttara explained. "One frog tries to jump out but finds the cream too sticky and troublesome. Accepting his fate, he dies. The second frog never gives up. Through his continued jumping, the cream churns into yak butter. It becomes a solid base. He can then be free of the cream and jump out. That is the moral for survival of eco-tourism here. All of us who believe in sustainable eco-tourism must keep fighting. Must keep trying."
Uttara pointed to a mountain behind the hotel, covered in blue flowers. Strings of prayer flags were strung across rocks, indicating a point of spiritual power between two peaks, a passage of energy flowing between the faces of two rock surfaces. It is believed that luck flows into the valley between the two mountains.
"We renovated the white pagoda that was originally built by our local partner's great grandfather," she recalled. Renovating the pagoda was the first thing Uttara did, before building the hotel. "And every year the staff of our hotel print prayer flags and they are hung between the two mountains. The energy flows between the mountains."
She pointed to the energy.
Please click here to read previous articles.
Most Viewed in 24 Hours
China stories