Grueling days but little gains for Qatar World Cup workers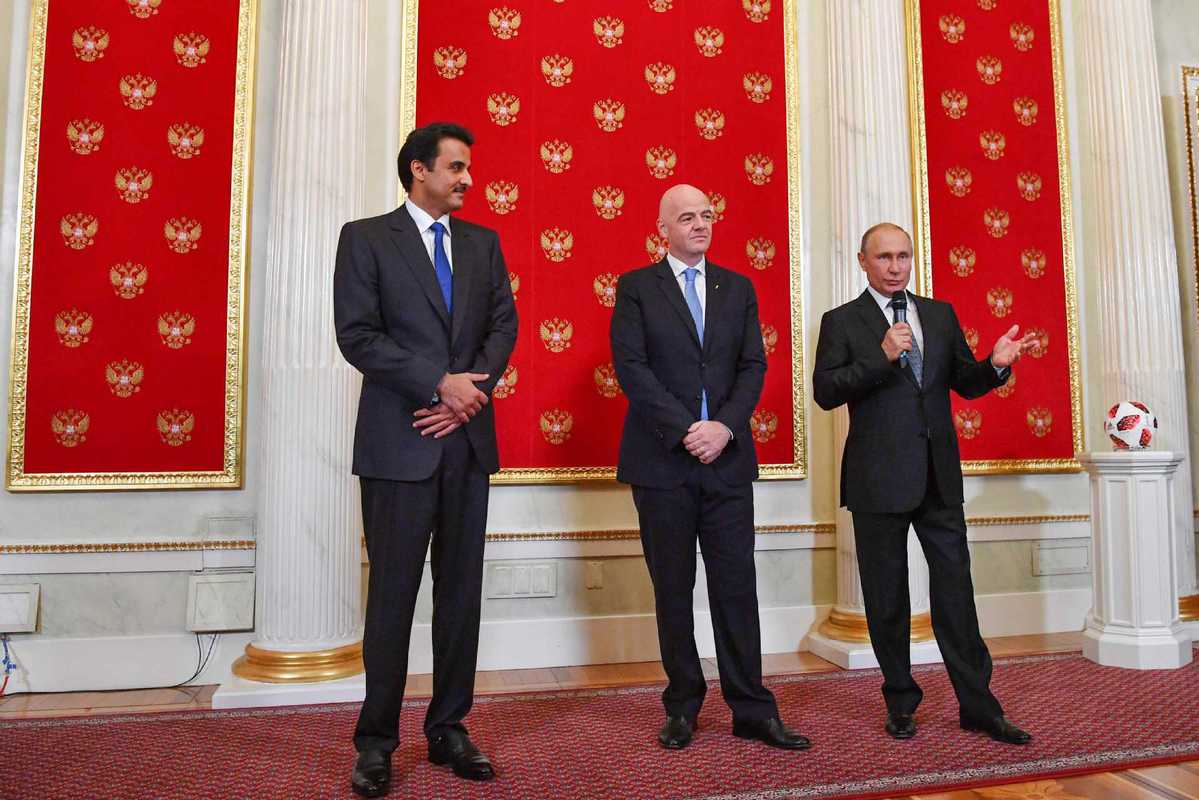 DOHA - Stonemasons Ojor and Raju take their lunch break sitting on a pavement near the smart central Doha complex they have helped build as Qatar prepares to host the 2022 World Cup in exactly four years' time.
"I made a mistake coming here," said Ojor, 22, from Nepal. "I took so much money from the bank (to pay recruitment fees), I don't have anything in my hand."
Both men have been working on the project for the past three years and earn the minimum monthly wage of 750 Qatari riyals ($205).
Raju, a 39-year-old Bangladeshi dressed in the blue overalls that have become ubiquitous in the gas-rich emirate, smiles gently as he talks about his contract finishing in a few months.
"I will never come back again," he said.
Ever since 2010 when then-FIFA boss Sepp Blatter revealed Qatar would host the 2022 World Cup - to almost global shock - the country has faced unprecedented scrutiny.
Criticism and reform
Much of that has focused on the plight of huge numbers of migrant laborers, mostly from Asia, who have swollen Qatar's population from 1.63 million at the time of Blatter's announcement to today's record 2.74 million.
Trade unions, human rights groups and recently the United Nations' International Labour Organization (ILO) have joined forces to challenge Qatar over its derided "kafala" system, which requires all unskilled laborers to have an in-country sponsor.
An international row has rumbled over the number of people killed - more than 1,200 according to one union's estimate - on construction projects.
That claim has been vigorously denied by the Supreme Committee for Delivery and Legacy, Qatar's World Cup organizing body.
But Doha has been forced into reforms including a minimum wage, salary protection and the partial abolition of the exit visa, under which workers needed a boss' permission to leave the country.
The ILO has called the move a "significant step".
More than 12,000 workers employed directly on World Cup projects are expected to share reimbursements of 52 million riyals ($14 million) for being forced to pay illegal recruitment fees to come to Qatar, says the Supreme Committee.
Evidence of Qatar's transformation, fueled by vast gas revenues, is everywhere: stadiums, roads, railways, hotels, malls, bridges and the office and residential complex where Ojor and Raju work.
'We won't see matches'
However, the World Cup, which kicks off on Nov 21, 2022, still feels a long way away for the stonemasons and their colleagues, some of whom wear the shirts of European teams such as Chelsea under their overalls.
"The expectation was that a World Cup would give me good job security," said Mukesh, a 23-year-old laborer from Nepal.
"But we have been told that by 2021 they will remove all the laborers from here."
He works 10 hours a day, earning three riyals (82 cents) extra per hour for overtime, and says he has no regrets about being in the Gulf.
"We were doing nothing at home and we are earning here," he says.
A soccer fan, he wants to watch his hero Cristiano Ronaldo in 2022 and support Portugal.
"But I don't think it is possible for any workers to see matches," he said smiling.
Workers complain about low wages, delays in being paid and the high cost of living. Almost all the workers asked by AFP say they had not heard about the international lobbying on their behalf.
But Prince, a safety officer from Nigeria, found out about the safety campaigns via You-Tube.
"I want to save to go to the US," said the 31-year-old. "I don't like the life I am living here, I do the same thing every day, it is hard work, there are no parties or anything. We are not allowed to do anything here."
Those who have been in Qatar for longer periods say their conditions have hardly changed.
Agence France-Presse