Safety the priority; profits cannot come before lives: China Daily editorial
China Daily | Updated: 2018-11-28 21:41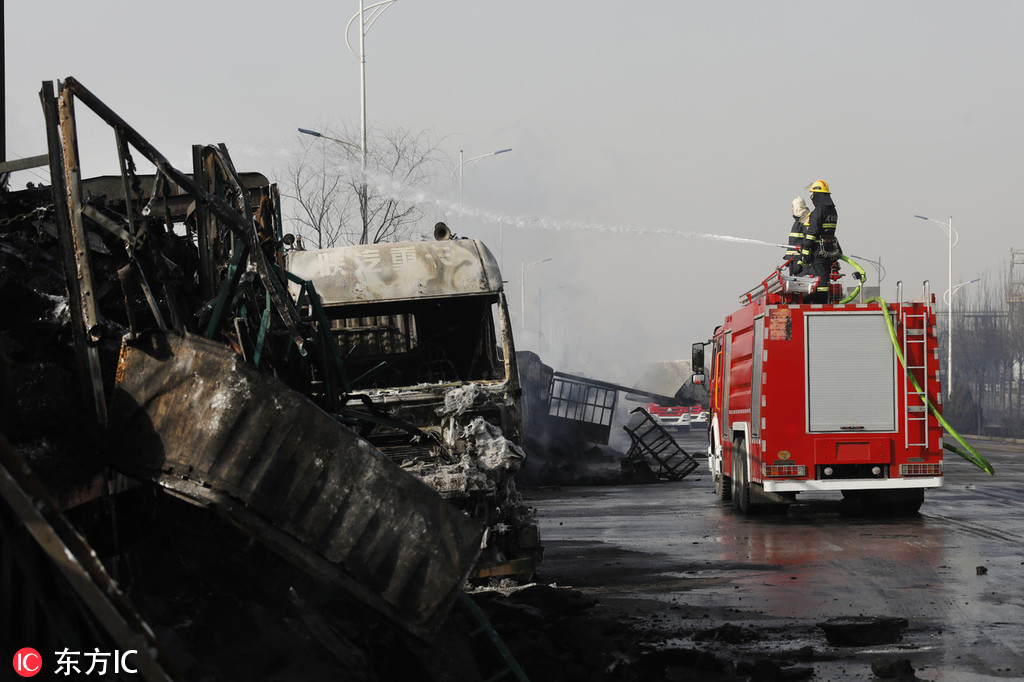 The explosion outside a chemical factory in Zhangjiakou, Hebei province, which killed at least 23 people early on Wednesday, sounded another alarm for workplace safety nationwide.
A preliminary investigation by the local fire department and power supply company found the accident, which also left 22 people injured and dozens of trucks and passenger cars, as well as power lines, destroyed by fire, was caused by a truck carrying a combustible chemical exploding while waiting to enter the plant. Why it exploded is not yet known, though.
It followed a string of "serious accidents" in the country since October, each involving the deaths of at least 10 people. And although it will take some time to get the final results of the probe into what caused the tragedy in Zhangjiakou, failure to observe safety rules and procedures in handling hazardous materials is often the cause of such accidents.
The work safety authorities had warned enterprises and officials only this month to pay extra attention to safety as the number of accidents tends to increase as the year-end draws near, as it is the peak production season for many enterprises, and accidents are more likely to happen due to adverse weather conditions such as heavy snow and extremely low temperatures. They asked coal mines, chemical plants, fireworks factories, and the power and heating supply sectors to be especially careful.
The government has sought to improve workplace safety over the years, adopting a range of measures such as amending the law to allow for heavier penalties for those violating safety rules. And it is undeniable that much progress has been made. The country saw double-digit decreases in the number of workplace accidents and fatalities, by 16 percent and 12 percent, respectively, last year.
Nonetheless, China's workplace death rate is more than 10 times higher than in developed countries such as the United States and the United Kingdom. Pursuit of higher profits at the expense of safety and lax government oversight are often cited as major reasons for this.
Which means even more stringent efforts are needed, especially in the enforcement of safety standards. It is not that there are not enough safety laws and regulations, but rather that often they are not properly enforced by local officials.
It is impossible to prevent all accidents, but as the country has already shown the number can be reduced if proper attention is paid to safety standards and procedures.