Lord mayor keen to strengthen London-China links
By Cecily Liu | China Daily UK | Updated: 2018-11-29 01:33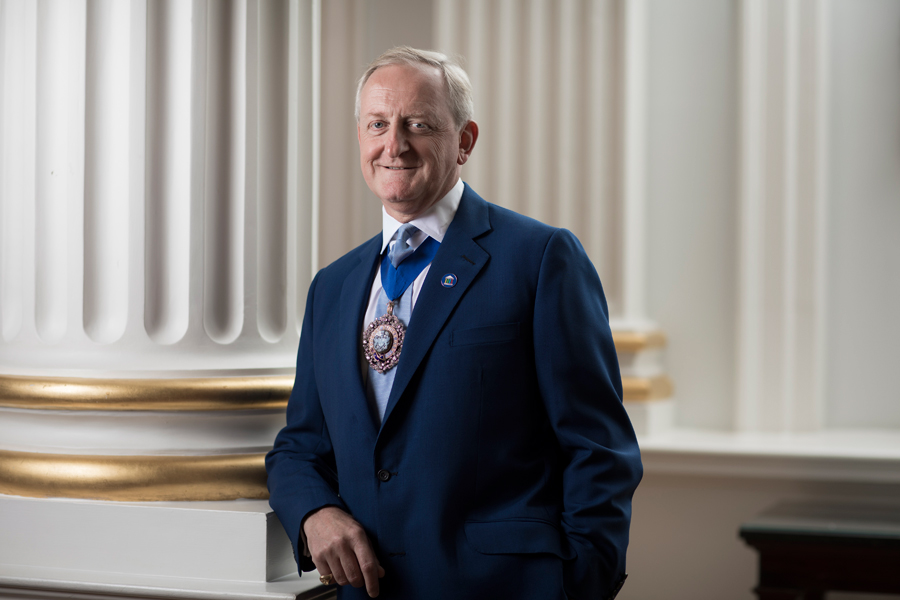 The UK is ready to work with China to foster inclusive growth and champion open trade at a time of shifting global balances, the newly-installed Lord Mayor of the City of London has told China Daily.
Peter Estlin, 57, was speaking in an exclusive interview with China Daily at his Mansion House office, located at the heart of London's historical financial district, three weeks after taking office as the 691st lord mayor.
"The desire is to drive towards free trade, remove the barriers, reduce poverty … allow a greater degree of collaboration, respect sovereignty and respect community, that's what we're looking to do as we move forward," he said.
The centuries-old grand temple portico and ornate banqueting hall of the Mansion House are reminders of the bygone era of the British empire, but Estlin acknowledges time and the world have changed.
Domestically, London is fighting to maintain its status as a leading global banking center amid the uncertainty of Brexit, and internationally the UK is defending its inherent values of market openness at a time of trade frictions and protectionist pressures.
Estlin's role as lord mayor is to be an ambassador for London's financial services sector, helping the City of London forge international partnerships. In March 2019, he will be doing just that when he leads a British delegation to China to meet Chinese financial companies and regulators to discuss further collaboration opportunities.
The day-to-day concerns of the city set the tone for his daily agenda, but Estlin said he wants to take a longer-term view to strengthen multilateralism and connectivity. As such, he said, the UK and China have much in common, highlighting the China-led Belt and Road Initiative, or BRI, as a great platform to foster shared and sustainable development
"BRI is not simply about infrastructure. Projects also contribute to local economies, and help teach local workers skills in construction and other areas," said Estlin, adding that such upskilling is already happening in markets such as Pakistan, where many BRI projects have been built in recent years.
BRI, proposed by President Xi Jinping in 2013, advocates improved connectivity of infrastructure, trade, ideas and knowledge among countries and regions.
In recent years the City of London has actively branded itself as the BRI's finance hub, in an effort to secure deals and hedge against the pessimism of Brexit uncertainties. Just last month the City joined the research arm of China's central bank to launch a new report highlighting the role of London and other global financial centers in financing BRI projects.
The report found that since 2013, more than 4,500 BRI projects have been financed globally, with an expected total project value exceeding $5 trillion. A number of British banks are heavily involved in the projects' financing. For example, Britain's Standard Chartered funded more than 50 BRI deals in 2017 alone, and last December it announced an additional $20 billion commitment to BRI projects by 2020.
A banker by trade, Estlin has enjoyed a distinguished career at Salomon Brothers Asia, Citigroup and Barclays. His work has taken him to China numerous times, giving him an insight into the country's remarkable economic transformation over recent decades.
His first visit was in 1998, just 20 years after the implementation of the reform and opening-up policy, which changed China from a planned economy to a market-driven one, allowing international companies greater access.
"China was perfectly friendly", Estlin says, recalling his initial impressions from his first visit, to help Solomon Brothers Asia build relationships with Chinese banks and regulators.
After a few moments of reflection, he added that back then China struck him as "much more cautious" in its approach to both domestic policy and growing international engagement.
"In fairness, China was still navigating its path as a country, in terms of where it is positioning itself. If I do the compare and contrast, China in 1998 was more oriented towards its domestic agenda," he said.
Three years late, in 2001, China joined the World Trade Organization, an event that paved way for China's rapid export-led growth. With that came confidence and an international perspective. "Today, China's role on the international stage is far more prominent and deserved," he added.
In 1978, the size of China's economy was just one-40th that of the US, but during the past 40 years, China's GDP has grown by an average of around 9.5 percent a year. By 2017, the size of China's economy had grown to more than three-fifths that of the US, according to International Monetary Fund estimates.
With economic growth, China also took a leadership role on many multinational issues. Key examples include China's commitment to the Paris Agreement on climate change, and championing of globalization through opening up its market for greater international access through initiatives such as last month's inaugural China International Import Expo, or CIIE, in Shanghai.
Inevitably, such engagement also led to closer collaboration between China and the UK. An example is when China used its G20 leadership to put green finance on the summit agenda for the first time, China invited the UK to co-chair this agenda.
The UK was a country of honor at the CIIE, and according to British government estimates, the hundreds of British companies that attended the expo jointly secured around 2 billion pounds ($2.56 billion) worth of orders. There are many other such examples of collaboration, especially in the "golden era" of relations since China's President Xi Jinping's UK state visit in 2015.
Estlin said meeting Xi in London in 2015 allowed him to understand China's strong international commitment.
"He showed China's interest in wanting to help to set an international framework and a recognition that if China is to continue to grow, growth has to take place internationally. We continue to be grateful to China for opening up its markets and the country has promised to look further at liberalization, to encourage more people to invest in China, which creates a sense of participation and a richer dialogue," he said.