Truck triggers chain of blasts
By Zhang Yu and Hou Liqiang | China Daily | Updated: 2018-11-29 06:58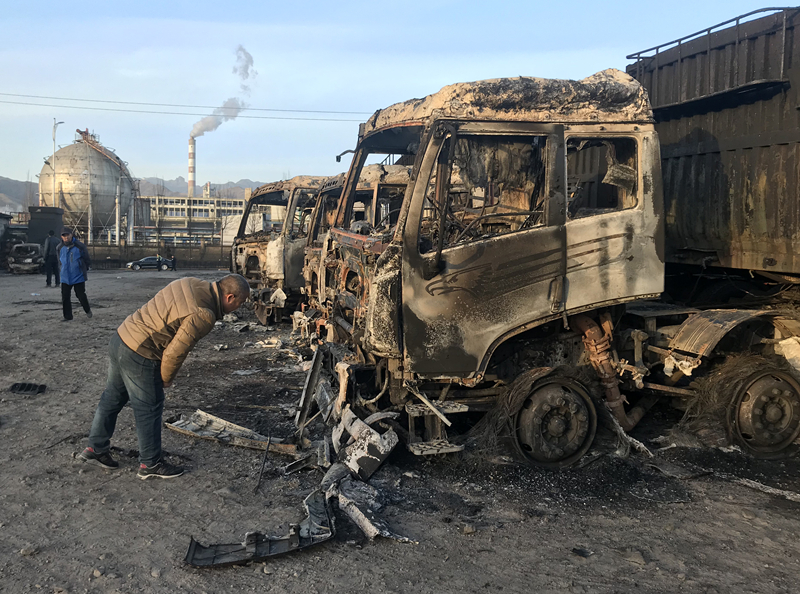 23 die as tanker explodes and ignites many other vehicles
A chain of exploding trucks, triggered by one transporting flammable gas, killed 23 people and injured 22 in Hebei province, authorities said.
The blast happened at 12:41 am on Wednesday in an area with at least 10 chemical plants in Zhangjiakou's Qiaodong district. Fire engulfed 38 trucks and 12 cars.
A preliminary investigation has found that a truck transporting acetylene, which is used to produce hydrogen, was waiting to enter HyPower New Energy Technology Co, when it exploded, igniting nearby parked vehicles, which exploded in turn, Xinhua News Agency reported.
The blasts and conflagration also damaged a high voltage cable, affecting the electrical power supply to 22 users, including several chemical and construction materials companies. The local power supplier was combing through the area to root out safety hazards and repair the damaged cable.
Meanwhile, based on data retrieved at 11 am, the blast didn't affect the air quality, said Guo Ying, vice-mayor of Zhangjiakou.
All the injured people were taken to hospital. The 251st Hospital of the People's Liberation Army in Zhangjiakou received 18 of them, but eight of them have been transferred to Beijing, according to Lu Qingjun, director of the hospital's burn department. He said six of his patients are in shock, though in stable condition.
The National Health Commission dispatched a five-member team with a burn therapist and psychologist to help treat and comfort the injured.
It said in an online media release that it has been coordinating with at least two hospitals in Beijing, including Beijing Children's Hospital, to help with treatment of patients transported to the capital in an effort to save the severely injured and minimize permanent disabilities. When China Daily arrived at the blast site on Wednesday afternoon, firefighters were busy spraying water on the charred remains of trucks, some of which were still smoldering. Debris and ruined cargo could be seen scattered here and there.
What had been a white wall at HyPower was so blackened by smoke that it looked as if it were spayed with ink, and most of its windows were broken or blackened.
"I was in my truck about 300 meters from the site when the explosions occurred. After two explosions around 1 am, I saw a sea of fire," said a truck driver who identified himself only as Li.
Li immediately started his truck and drove away, but many other drivers were not so fortunate. A local work safety official told news website thepaper.cn that many truck drivers were among the deceased.
An online video of the incident shows a long row of trucks, all apparently parked along a road, engulfed by fire.
The 40-year-old from Dezhou, Shandong province, said he was transporting industrial salt to Hebei Shenghua Chemical Industry Co, which neighbors HyPower, and arrived at the company between 7 to 8 pm on Tuesday. He was one of many drivers who had to wait there until the factory opened the next day to unload their goods.
"It's customary that we have to wait if we arrive before the plant opens," he added.
Li didn't say how many trucks were present when the blast occurred. According to media reports, there were around 100 vehicles.
"The loud explosions shook our homes. The irritating smell, which was also present before the blasts, was even stronger afterward," said Yang Xiuming, a resident of Meijiaying village, which is no more than 1 kilometer from the site of the explosion.
Fu Jianhua, vice-minister of emergency management, led a team to the site to guide the relief work on Wednesday.
Li Hongyang contributed to this story.