Ethnic group charts course to prosperity following relocation
By ZHANG LI and SHI RUIPENG | China Daily | Updated: 2018-11-29 08:50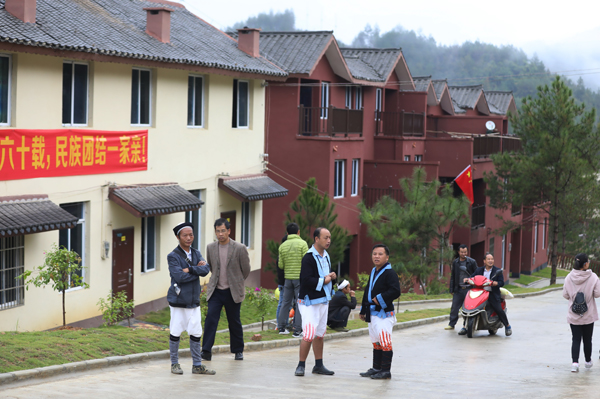 Li Zhengjun, a member of the Baiku Yao ethnic group, never expected to move out of his thatched shed in the mountains to a whitewashed brick structure in Nandan county, Guangxi Zhuang autonomous region.
The 54-year-old was born in Lihu, where the Baiku Yao people live. A branch of the Yao ethnic group, they take their name from the knee-length white trousers worn by men.
With little arable land in the rocky area, Li and most of his neighbors lived a hand-to-mouth life. After several failed attempts to help them escape poverty, the local government realized that getting rid of the barren soil was the only long-term solution for the 47,000 ethnic inhabitants.
In 2017, Nandan launched a grand relocation project in which 2,471 apartments were built to accommodate 13,500 people, with an investment of 1.37 billion yuan ($197 million) by the government.
The project consisted of three relocation sites, all rich in scenery and natural resources, providing an opportunity for the people to follow up to improve their situation.
Supporting projects such as schools and hospitals helped create a sound and comfortable community, and the tourism and performance industries would offer job opportunities.
It took half a year to complete the construction, and 13,500 people, of whom 11,070 were Baiku Yao, moved into their new homes this year.
"We managed to settle people down in a livable place, but relocation is just one of the methods to improve livelihoods. It's not the final goal of the government," said Lu Chaojin, the government head of Lihu town, one of the three relocation sites.
Nandan joined hands with a tourism development company, and with an investment of 500 million yuan began to turn the settlements into a scenic spot featuring Baiku Yao ethnic customs.
Lu said that by the end of 2019 the scenic spot is expected to be put into operation. It is estimated that it will yield a profit of around 70 million to 80 million yuan by 2020.
Li Xianwen, a resident who does odd jobs in Guangdong, decided to return home after the scenic spot opens.
"What we want to finally achieve is for people to shake off poverty while making money with their own hands," Lu said.
Contact the writers at zhangli@chinadaily.com.cn