Xi's trip to further develop the China-Spain comprehensive strategic partnership
By Alex Chan | chinadaily.com.cn | Updated: 2018-11-29 11:01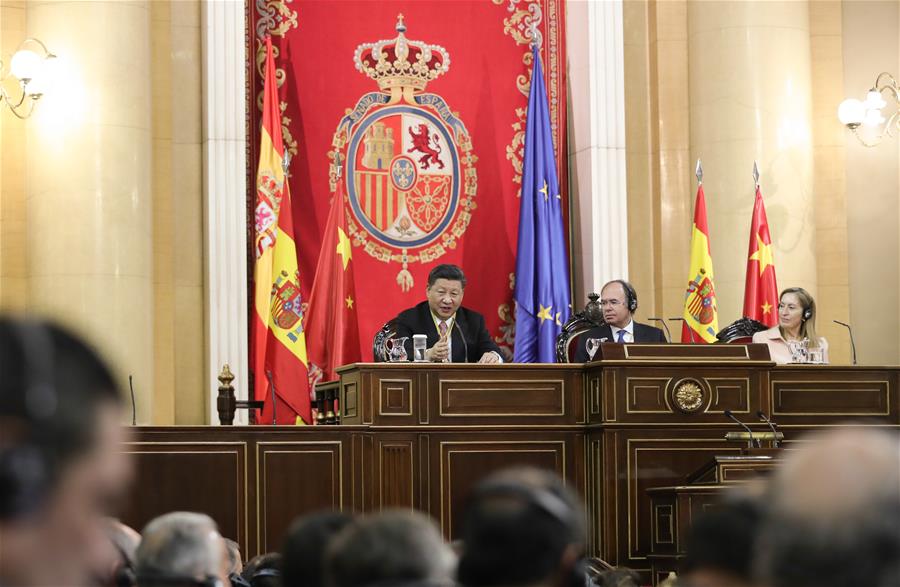 At the invitation of King Felipe VI of Spain, today President Xi Jinping started his official visit to the country. China and Spain have benefited from their relations in all spheres throughout 45 years of diplomatic ties. In 1981, the first China-Spain Joint Economic and Industrial Cooperation Committee paved the way for more intense cooperation in the economic field, which then brought about the establishment of a comprehensive strategic partnership in 2005.
During the past 13 years of strategic partnership, the two sides boosted in-depth exchange on bilateral relations, increased dialogue on China-EU affairs and other issues of mutual interest, from strengthening economic ties to cultural exchanges and cooperation in international affairs. In 2007 China held the Year of Spain, an opportunity to promote the two sides' cultural and artistic beauty. Also, China and Spain have a lot to cooperate on in the sphere of cultural and linguistic exchanges.
Increased people-to-people contact through tourism also brought more benefits in the economic sphere. In fact, in the first eight months of 2018, bilateral trade volume reached $ 22.37 billion, which was a 10 percent increase compared to 2017. Today, Spain is China's sixth largest EU trade partner and China is Spain's biggest non-EU trade partner. According to Chinese Ambassador to Spain Lyu Fan, there are many areas of cooperation between China and Spain, such as in the fields of biomedicine and aerospace.
Ambassador Lyu goes on to say that the freight train linking Yiwu, China's small commodity hub, to Madrid has become a vital bridge of interconnectivity across the Eurasian landmass, which is a result of the Belt and Road Initiative, as well. Since the Yiwu-Madrid freight route opened, Spanish exports to Yiwu have increased by more than 300 percent. Increased Sino-Spanish dialogue should pave the way for the two countries to further deepen cooperation in areas such as 5G communications, smart city development and artificial intelligence.
"Over 2,000 years ago, our ancestors, trekking across vast steppes and deserts, opened the transcontinental passage connecting Asia, Europe and Africa, known today as the Silk Road," Xi said in the opening speech of the Belt and Road Forum last year. For a country like Spain, which is strategically positioned in the Mediterranean Sea, BRI represents a vital opportunity to increase cooperation with China in the joint efforts to connect the Eurasian continent.
But most importantly, Spain's open and welcoming attitude toward the BRI and toward further all-round cooperation with China is a strong message against unilateralism and protectionism. Xi's trip serves not only as further developing the China-Spain comprehensive strategic partnership, but also strengthening the existing Sino-European friendship, while jointly working toward Eurasian prosperity.
The author is a graduate of China Studies and International Relations at Peking University and the London School of Economics. Currently, he is working in the fields of development and public policy.