G20 urged to oppose unilateral actions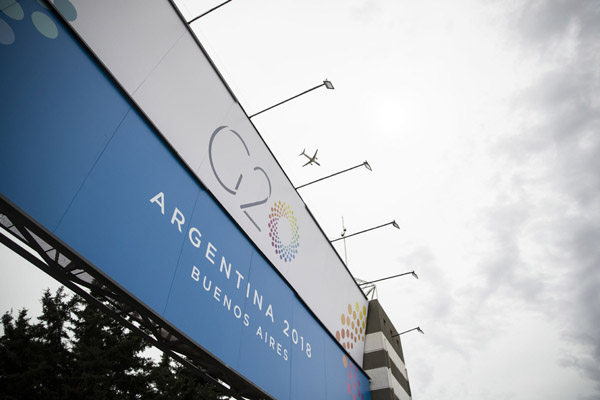 Nine international experts have called upon the G20 to advance reforms to fight unilateralism, which they see as a threat to international governance on trade, investment and taxation.
In a joint letter published in the Financial Times on Tuesday, they urged the G20 to back up its call to modernize the World Trade Organization with concrete proposals.
There is a dire need for the G20 to reform its monitoring of protectionism, take into account new trade distortions and support a fairer globalization process, they added.
The G20 should curtail harmful tax competition and countries should increase transparency on tax incentives, according to the experts.
The nine experts are members of the Think20 Task Force on Trade, Investment and Tax Cooperation. The T20 provides research-based policy advice to the G20 and facilitates interaction between its members and the political community.
The letter quoted a plea made by Zhang Jun, China's G20 affairs coordinator and assistant foreign minister, to resist protectionism, safeguard the multilateral trading system and fight inequality.
In his signed article published in the Financial Times on Monday, Zhang said that the G20's rejection of trade protectionism and fostering of globalization has helped the global economy survive the most difficult times, but this commitment is beginning to fade.
Escalation of trade tensions could slow global growth by more than 1 percent over the next two years, according to the International Monetary Fund.
More than ever, the world benefits from, yet is divided over, trade and openness, Zhang said, adding that the international order, and global and regional institutions, are beginning to be questioned, and these matters will be addressed by G20 leaders at the Buenos Aires Summit.
He urged major economies to reduce barriers and resolve disagreements through dialogue instead of taking protectionist or unilateral measures, or disrupting global value chains.
He also asked relevant parties to uphold the authority and effectiveness of the rules established by the international community and not discard them for national convenience.
Any amendment to the rules of the WTO should go through wide consultation, ensuring equal rights and opportunities for developing countries, Zhang said.
Any reform of the WTO must not deviate from or dilute its core values and basic principles, and issues relating to its function and very existence must be a priority, he added.
China is neither the rulemaker nor the biggest winner from globalization, he said, adding that the country is determined to follow the rules.
It is also committed to trade and investment liberalization and facilitation, while protecting the lawful rights of foreign investors, he said.
History tells us that trade and openness are beneficial to those who embrace them, and only by standing together can we foster a shared and better future for all our peoples, he added.