BAIC leverages on reform gains for sustainable development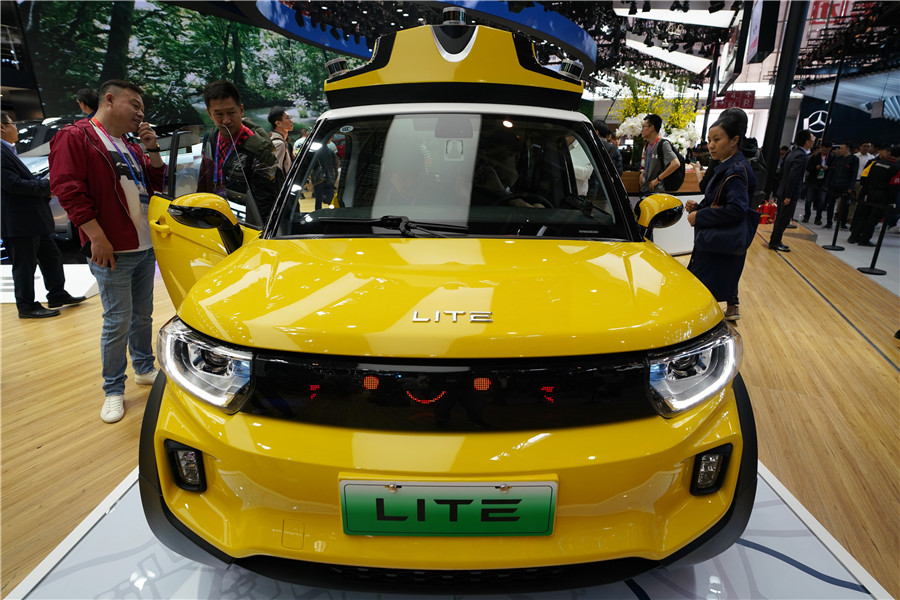 State-owned auto groups in China used to sit back and collect the easy money from joint-venture brands, but as domestic demand for auto products diversified and their ambitions grew, international markets, internet-connected and new energy vehicles have become greener pastures.
Among them, Beijing Automotive Industry Corp, one of China's five major automakers by sales revenue, plans to deploy more resources into the research and development of electrification, artificial intelligence, the internet of things and the sharing economy to further compete with other established rivals both at home and abroad.
Many opportunities have been generated by China's reform and opening-up policy, industrial and consumption upgrading, favorable policies to improve environment via new energy vehicles, as well as the tangible development of the Belt and Road Initiative and the comprehensive trade platform of the China International Import Expo, said Xu Heyi, chairman of BAIC.
With this year marking the 40th anniversary of reform and opening-up, Xu said the auto manufacturing business in the nation has already become an industry that needs cross-sector collaboration to integrate technologies and expertise from various segments such as energy, electronics, software, internet, new materials, finance, customer and legal services to remain competitive.
"We will add investment to further digitalize our entire value chain from product design to research and development, logistics, production, quality and financial services in both our domestic and overseas manufacturing facilities. All the steps have to be digitally synchronized to ensure efficient execution and complete alignment with the customers' needs," he said.
As China's commitments to the World Trade Organization have further opened the country's automotive sector including cutting tariffs, liberalizing joint-venture stocks and gradually removing subsidies from certain types of vehicles, Xu stressed, manufacturers in China must face this reality and take effective measures to seek new growth points through innovation and new business models.
Even though China manufactured and sold some 29 million vehicles in 2017, its auto plants had a combined annual capacity of about 64 million units, data from Beijing-based China Association of Automobile Manufacturers show.
Xu said most of this redundant capacity comes from Chinese brands and is partly the result of certain carmakers taking advantage of local governments' interest in the industry following China becoming the world's largest vehicle market in 2009.
He urged Chinese automotive brands to solve their problems quickly as they would face greater pressure when the sector opens up more to the global players.
China has already slashed tariffs on imported vehicles from 25 percent to 15 percent and Xu expects the government to further cut this figure in the coming years.
The country is also phasing out limits on foreign ownership in automotive joint ventures by 2022.
"Apparently, time is running out, and everybody is aware what a challenging position domestic automakers will be in, in terms of quality, branding, technology accumulation and other factors," Xu said.
Despite significant progress in recent years, Chinese brands are still considered underdogs in the domestic market. Their sales of passenger vehicle totaled 7.24 million in the first three quarters of this year, accounting for 42.3 percent of the country's total amount in this kind, dropping 0.9 percent year-on-year, according to the China Association of Automobile Manufacturers.
To meet the increasingly personalized needs of customers, BAIC will continue to add a flexible production model that combines people, machines and production processes in its business scale, allowing the automaker to produce sedans and sports utility vehicles on the same production line, even in both pure electric and traditional combustion engine configuration in the future.
BAIC has been investing handsomely in new energy vehicles to offset rising competition from companies in Germany, the United States and Japan. It will collaborate with new partners in vehicle and component manufacturing, as well as in various parts of the new energy vehicle industry.
The company's own brand sales of such vehicles doubled to 103,000 in 2017. Deliveries of its new energy models also soared by 78.5 percent to 54,000 vehicles between January and June of this year.
The Beijing-based CAAM predicted that the number of new energy vehicles will reach 5 million in the country by 2020.
Eager to enhance its earning ability, the group will provide more pure battery-powered cars under its new premium brand - Arcfox, in late 2019 or early 2020. The first model will feature a steel and aluminum body to reduce the weight while also strengthening driving safety.
BAIC has also partnered with Canadian automotive supplier Magna International Inc to jointly develop a high-end smart electric vehicle, and Arcfox-branded vehicles in Zhenjiang, East China's Jiangsu province.
Magna is one of the world's largest automotive suppliers, having 340 manufacturing operations and 93 product development, engineering and sales centers in 28 countries and regions.
In addition to manufacturing new energy vehicles, BAIC is also focusing on improving off-road vehicle offerings because customers today have higher demands for their SUVs' functionality. The company found many consumers in China love road travel and believe "bigger is better" while choosing family vehicles. Therefore SUVs have become a hot option in meeting their demand.
Statistics from the China Tourism Academy showed that the Chinese people made 223 million self-driving trips in the first half of 2017, with the average distance of 142.8 kilometers. Of the drivers, more than 80 percent were aged between 31 and 35.
The academy said these people are mainly middle and high-income earners and they are more interested in vehicle functions and travel experiences, rather than destinations.
After 60 years of development, BAIC currently employs over 130,000 staff worldwide and has built more than 20 plants, and research and development centers in South Africa, Mexico, India, Japan, the Netherlands, Spain, Germany, Italy and the US. It sold 2.51 million vehicles globally in 2017, netting 470.3 billion yuan ($68.9 billion) in revenue.
The group has subsidiary joint-venture companies including BAIC Hyundai Motor Co and Beijing Benz Automotive Co.
"The auto market is usually seen as a barometer of the macroeconomy, as it reflects the scale of GDP, consumption power, regional trade and the development of industrialization, as well as infrastructure development," said Li Guanghui, vice-president of the Chinese Academy of International Trade and Economic Cooperation in Beijing.