Seven of 23 killed in Hebei blast identified
By Zhang Yu in Zhangjiakou | chinadaily.com.cn | Updated: 2018-11-30 13:32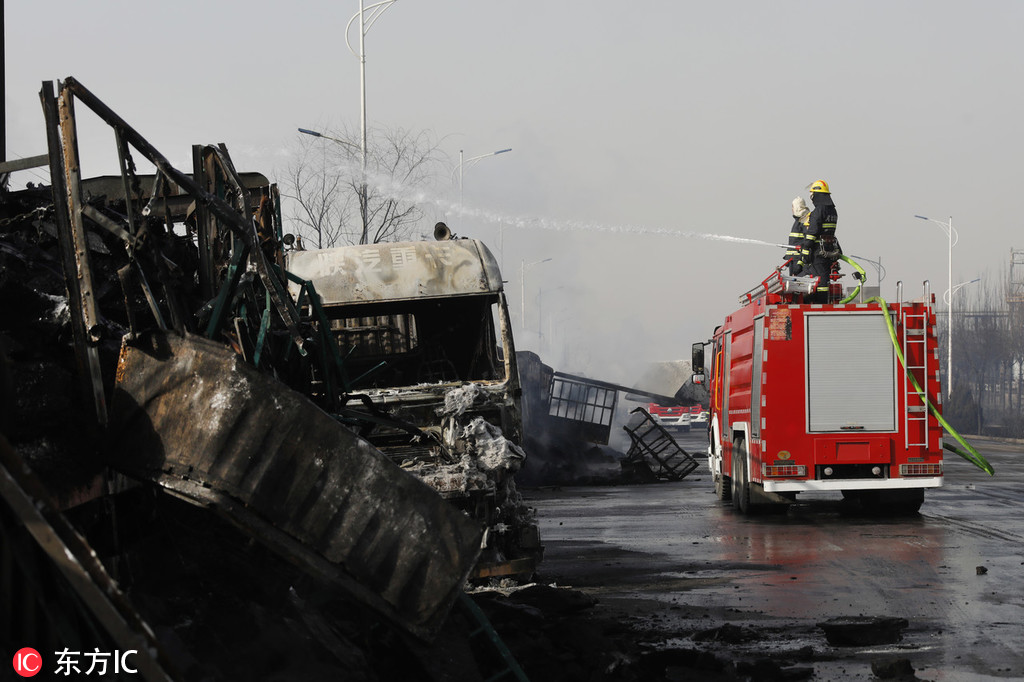 The identities of seven people killed in a blast in Zhangjiakou, Hebei province, on Wednesday morning have been confirmed through DNA testing, authorities said.
The blast, which engulfed 38 trucks and 12 cars on a road lined with chemical companies in Qiaodong district, happened at 12:41 am and killed 23 people and injured 22.
"The identification of the rest is underway," Zhangjiakou government's spokesman Zhang Wenhao said at a press conference on Thursday night.
Seventeen of the killed were from Zhangjiakou, five from Shanxi province, and one from Inner Mongolia autonomous region, he said.
All the injured people were taken to hospital, and four of them with minor injuries have been discharged.
Some earlier media reports said the blast was caused by a truck transporting flammable gas which exploded when the truck was waiting to enter a company.
But the reports were not confirmed by the government.
"Investigation for the cause of the blast is still underway," he said, adding that the investigation needs scientific appraisals.
According to Zhang, some people of related companies have been controlled. No information of the companies was disclosed.
To ensure the safety of surrounding residents, local government visited more than 6,000 households and over 16,000 residents in 14 nearby villages, some of which are just a few kilometers away, including Meijiaying, Beiganzhuang and Xiangjiaying, Zhang said.
"After a thorough check, we didn't find anybody killed or injured in neighboring villages, nor any damage to their property," he said.